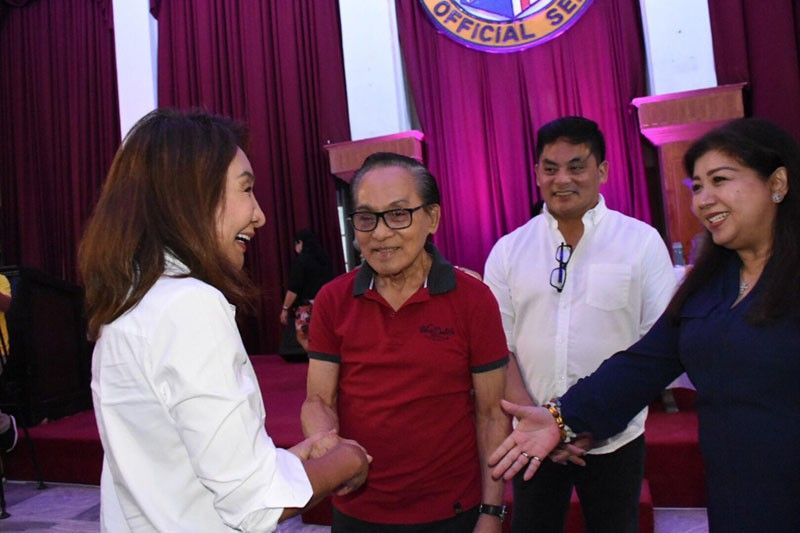 Cebu Third District Rep. Gwendolyn Garcia, apparent winner in the gubernatorial race, shares light moment with Talisay City mayor and First District congressman-elect Eduardo Gullas while waiting for their proclamation at the Capitol Social Hall yesterday.
Paul Jun Rosaroso
As Gwen poised for capitol return:Proclamation pushed back
CEBU, Philippines — Despite being ahead by 275,053 votes against opponent Agnes Magpale, Third District Rep. Gwendolyn Garcia does not want to be proclaimed governor until election results from Toledo City and Ronda are transmitted to the Commission on Elections.
Election results from the two local government units have not been transmitted as of yesterday owing to defective SD cards.
Provincial election supervisor Jerome Brillantes said the SD cards needed to be reconfigured and this led to the delay in the transmittal of the election results.
Garcia's lawyer, Coeli Fiel, manifested before the Board of Canvassers yesterday that Garcia would want to wait for the remaining data.
Based on partial and unofficial results, Garcia garnered 838,550 votes while Magpale garnered 563,497 votes.
Garcia led in almost all of the 49 cities and municipalities that have transmitted election results. Magpale prevailed in only four local government units – Danao City, Bogo City, Santander, and Samboan.
District Breakdown
Cebu has seven legislative districts and Garcia won in all seven.
In the First District, Garcia garnered 190,097 votes while Magpale got 108,680 votes.
In the Second District, she got 66,971 votes while Magpale got 49,152 votes.
In the Third District, with the exception of Toledo City, Garcia earned 123,146 votes while Magpale got 55,464 votes.
In the Fourth District, Garcia got 134, 086 votes while Magpale got 85,798 votes.
In the Fifth District, Garcia got 128, 228 votes while Magpale got 106,417 votes.
In the Sixth District, Garcia earned 121 664 votes while Magpale got 101,458 votes.
In the Seventh District, with the exception of Ronda, Garcia generated 57,189 votes while Magpale got 50,975 votes.
Asked if she expected the outcome, Garcia said, "politics is the art of expecting the unexpected."
"Let's just say that in the past months that I've gone around the province, and I have seen the reaction of the Cebuanos, I more or less had an inkling of how much they wanted me to come back and I guess that translated into votes, and that translated into this huge margin," she said.
Magpale, for part, congratulated Garcia on the outcome. She also congratulated Governor Hilario Davide for winning vice governor. Magpale and Davide ran together in this year's elections.
"I owe an enormous debt of gratitude to everyone who believed in us and supported us, who were at the forefront of our charge to deliver our promises and more, who stood their ground and fought for what is right and true. I ask that we stay faithful and committed to the ideals that brought us this far to fully realize our aspirations of a better life for our children and future generations," Magpale said.
Davide is expected to be proclaimed today.
Excluding the votes from Toledo and Ronda, he earned 730,597 votes while his opponent, Daphne Salimbagon, earned 593,675 votes.
Proclaimed
Yesterday, the Provincial Board of Canvassers proclaimed congressional winners Lolipop (Sixth District), Duke Frasco (Fifth District), Eduardo Gullas (First District), and Wilfredo Caminero (Second District).
The Board also proclaimed new Board Members Glen Soco, Thaddeo Ouano, Red Duterte, Yolanda Daan, Raul Bacaltos, and Kerie Shimura.
Shape Up
Garcia said her first order of business when she assumes office on June 30 is to ensure that all department heads of the provincial government will "shape up."
"We are going back into instilling pride in ourselves as Cebuanos and as government employees they will have to be examples of professionalism. That was what we had before," she stated.
Garcia earned a double victory in four days. Three days before the May 13 elections, the Court of Appeals junked the grave misconduct case filed against her by the Ombudsman over the alleged anomalous purchase of the controversial Balili property in Naga City.
Garcia was governor three times, in 2004, 2007 and 2010. She was also elected as congresswoman twice, in 2013 and 2016. — JMO (FREEMAN)