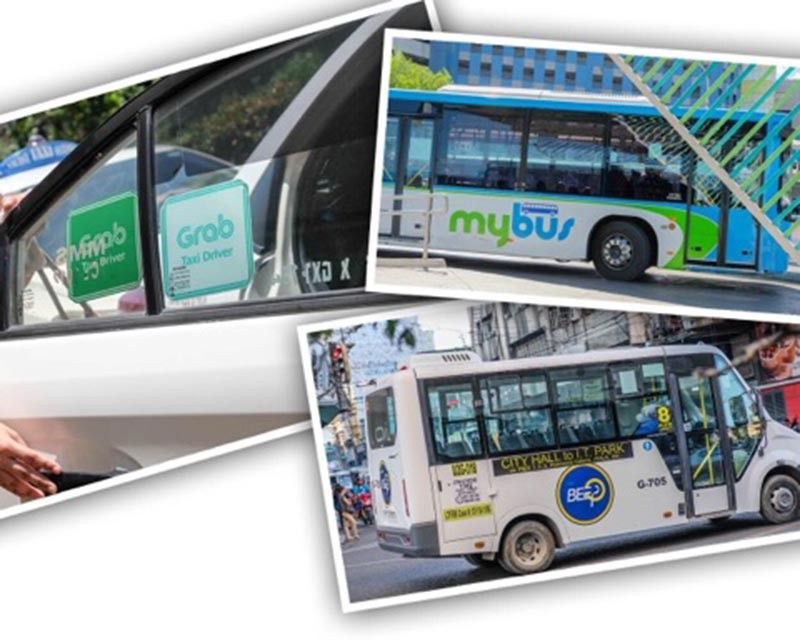 According to Gordon Alan Joseph, executive committee chairman of the Metro Cebu Development Coordinating Board, the taxi industry is likely to become a casualty of modernization unless it, too, decides to embrace innovation to stay in the game.
Clark Y. Panugalinog
Special report: Taxis dug their own grave (Second of a series)
(Read Part One of this series here)
For a few years, Rexis Jun Maamo, 25, had used the taxi to move around Metro Cebu where he currently works as a paralegal officer.
Then Angkas came.
Maamo was instantly hooked, and for good reasons – it's more convenient and its rates cheaper than those of taxi, Grab, and habalhabal. Unlike taxis, Angkas and Grab treat their customers very well, he said.
Since July 2018, Angkas has been Maamo's preferred mode of transport from his home in Barangay Tejero, Cebu City to his workplace on Mactan Island, to his school, and to any other destinations in the city.
"You arrive faster than the others. Cabs are often picky on destinations. Grab cars often get stuck in traffic," he told The FREEMAN.
Despite the risks associated with motorcycle rides, Maamo said he will keep using Angkas since, for him, benefits outweigh disadvantages.
"As I have experienced, Angkas drivers are very careful drivers," he said, leaving an unsolicited reminder to taxi drivers: "Don't be picky and improve customer service."
In the name of convenience, businesswoman and law student Jill Espinosa does not mind paying P200 to P300 to get to her destination via Grab car.
Espinosa said cab drivers are sometimes rude and reckless, even stricter than the "courteous" Grab drivers. Also, Grab cars are clean and smell good, she said.
From her house in Barangay Kasambagan, Cebu City, Espinosa usually books a car to the mall or her school. She has been using Grab and Uber services since they became available locally.
Now, she uses Grab more than often after it acquired Uber's Southeast Asia operations in March 2018.
Maamo and Espinosa are only two of the many commuters who have shifted to innovative transport choices that spell more convenience for passengers.
According to Gordon Alan Joseph, executive committee chairman of the Metro Cebu Development Coordinating Board, the taxi industry is likely to become a casualty of modernization unless it, too, decides to embrace innovation to stay in the game.
Joseph said taxis began losing their popularity with the increased traffic congestion that reduced their ability to carry passengers and augment their drivers' earnings.
The arrival of the "perceived better" services of Uber and Grab, which made it easier for commuters to hail a car and provided them with faster, safer, and cleaner units with "better" drivers, did not make things any better for Cebu's taxis.
Joseph said the people's warm reception of app-based riding services only means they have grown tired of the abusive, over-charging taxi drivers in old, uncomfortable vehicles.
Nevertheless, he believes this kind of competition is good as it forces quality improvement and reasonable pricing.
He said cab operators should take advantage of the unhealthy monopoly by Grab whose fares have increased twice or thrice, leaving commuters with no option but to continue using their services.
More choices, much better
Yet to some quarters, the struggle faced by Cebu's taxi industry is but an indispensable part of the long-term plan to provide much better transport services for Cebuanos.
Cebu City administrator Nigel Paul Villarete said the city government has to welcome any mass transport system that would discourage motorists from using their cars.
Allowing alternative transport services is the essence of good mobility for the riding public, he said, adding that the government's thrust is to ensure commuter's convenience. "It does not speak well for a government wherein a commuter is only left with only one choice, especially if it's for mobility," he said.
He said the city's mobility landscape is expected to have a major change three years from now when the Cebu Bus Rapid Transit project will be fully operational.
BRT will use a 21-kilometer route wherein buses will traverse from N. Bacalso Avenue, South Road Property, Osmeña Boulevard, N. Escario Street and Governor Cuenco Avenue. There is a pending proposal to extend the route to I.T. Park.
"Public transportation will be greatly upgraded, its services much improved, and I'm sure there will be a major shift towards this mode, hopefully from the private car trips," Villarete, also an urban planner, said.
However, Villarete believes the taxis are not really going to be extinct, as it has been shown in other countries with several modes of transportation like BRT, light rail transit, among others.
He said that while there is a need for taxis to adapt and evolve to keep up with the times, the taxi industry is unlikely to disappear as it serves a particular need.
"Even in other cities where BRT is one of the major systems, taxi services will always stay -- there will always be people who don't own cars who need to go somewhere fast. While the BRT will affect the TNVS market, including taxis, the effect can be minimized if the sector prepares itself as early as possible in anticipation," Villarete said.
And that's where the problem lies: taxi operators, in general, are ill-equipped.
Villarete said the taxi industry, as it is structured today, will fade away since it has not adapted and evolved with the advent of technology.
He said the taxi industry could have accepted the challenge earlier to upgrade their services before the TNVS invaded Metro Cebu.
"As a mode of transport, this mode will not die because the need for door-to-door transport which service can be hailed at any time, short of owning your own car, will always be needed by our people. While I will always advocate a shift to public transportation and biking and walking, these 'taxi' services will always remain because there are people who need them and the industry as it is now should accept that and work hard to adapt and evolve while there is still time," he said.
Villarete said taxi operators and drivers cannot blame the government totally because they could have pre-empted their fate when there was initial discussion about the industry upgrading to online hailing apps in 2014.
On taxi operators' suggestions to get motorcycles-for-hire out of the main thoroughfares, Villarete said the city will study this first if it involves traffic congestion issue.
If it is about competition issue, he said, governance should always be providing as many available options as possible to the commuters.
"Why should government withhold a transport mode that the commuter may want to take? Secondly, competition always brings lower prices and better services. There are many sectors that government serves and all are our constituents," he said, adding that the city should not play favorites as to the mode of transportation, contrary to the claim of taxi operators and drivers.
Mass transit needed
Joseph, who also heads the board's Integrated Development Committee which includes infrastructure and traffic, transport, and planning, said there is a need to have a mass transit in Metro Cebu.
To him, it is the only means to increase the carrying capacity of public vehicles in a place challenged by limitations such as the ability to widen roads.
Cebu's narrow and restrictive roads, he said, require careful considerations for mass transport options that once again prove detrimental to the taxis.
But why not widen the roads instead?
Joseph said once roads are widened, traffic gravitates to these roads until congestion begins all over again, hence the need for mass transport.
Studies by international traffic experts have recommended several transport schemes for Metro Cebu: Light Rail, Monorail or AGT Rail, the Bus Rapid Transit (BRT), and the modernized jeepneys as means of feeding into BRT and rail lines.
Joseph said the BRT should be implemented where it is feasible and where roads have been widened to accommodate the buses to feed into the rail line and other core mass transit modes.
Improving the traffic management systems and the creation of a modern, smart Mega Cebu-wide traffic management system and control center, upgrading of traffic enforcers, and enhancing the road network are also advised.
A more detailed traffic and transport study for the Mega Cebu Roadmap is expected to be released in the middle of this year.
Recently, the MCDCB also endorsed the aerial ropeway system of transport that can be up and running as early as in three years. The system, which is successfully implemented in South America with similar profile in Cebu, is said to be relatively inexpensive and efficient in moving passengers quickly.
However, even with the mass transit plan, Joseph said the need for jeepneys and taxis will continue to fill the mass transit gaps and to service areas with no access to mass transit.
Making cabbies stay
But to some operators, that need for taxis is being slowly squeezed.
Richielda Taxi owner Richard Cabucos worries that the taxi's end is nearing if the present situation becomes worse and their voices remain unheard by those in power.
He said taxi owners and drivers are at risk of losing their source of livelihood due to the app-based and ride-hailing services that have become the passengers' new favorites.
Cabucos also heads the Metro Cebu Taxi Operators Association that consists of 65 taxi operators with a total of 3,400 units in Metro Cebu and Cebu province.
He said he and other taxi operators have resorted to rent-to-own scheme just to retain their drivers.
Through this scheme, the drivers drive the unit for a fixed term and when the period expires, the ownership will be transferred to them without spending a penny. This excludes the Certificate of Public Convenience, though.
"Imong capital kay kahago lang. Drive lang ka. After ana, imo na ang unit (All you need is industry. You just drive. After that, you own the unit)," he said.
He said units that are eight years old are rented for one year, two or three years old for two to three years, while those that are brand-new are rented for five years.
While renting, the drivers will still have to remit daily boundary fees that range from P800 to P1,200 throughout the period. So far, 10 drivers have availed of the rent-to-own system at Richielda.
Cabucos also built a lodging house within his garage for drivers coming from different towns and provinces so as to encourage them to stay.
He said he cannot force his drivers to stick with him since they also need to eke out a living for their families. Many of his drivers have quit and transferred to app-based and motorcycle-for-hire services.
Due to shortage of drivers, only 50 out of his 136 units are running while the rest remain parked in his garage in Sitio Tagunol, Barangay Basak, Cebu City. Some of the old units are sold at junkshops for P8,000 to P10,000 per unit.
Cabucos, a taxi player for four decades now, said he will never shift to Grab or Angkas.
"It is against my principle. Kompitensya na nako," he said.
For his part, Joseph made it clear that taxi operators who are not upgrading and adjusting with the changing situation on the street will soon kill the industry.
No one else can be blamed if it happens, unless the cab operators coalesce for a competitive response and work together to increase the overall quality of the services they offer.
"If they do not, the weak operators will surely fall away, and leave the fittest and most customer-responsive taxi operators on the road. Taxis will always be needed -- unless the operators themselves tie nooses around their own necks by not responding to the challenges. This is survival of the fittest," Joseph said.
The uneducated though licensed drivers hitting the streets and the poor implementation of the laws hound the current traffic situation in Cebu, according to the MCDCB chair.
Another problem, he said, is the seemingly lack of political will in revamping the licensing system, modernizing traffic control equipment, and training drivers and enforcers at present.
"You can have all the infrastructure in the world and all the different modes of transportation, but if the laws are not respected, there will always be traffic chaos," he said.
He said the surge in demand for motorcycle-for-hire drivers, who provide fast and convenient services, are driven by the terrible traffic conditions and even by politicians.
"Too many hours of our lives and productive working lives are spent in traffic that is avoidable and manageable," Joseph said. "People have no choice but to use other forms of transport, however dangerous." —/JMD