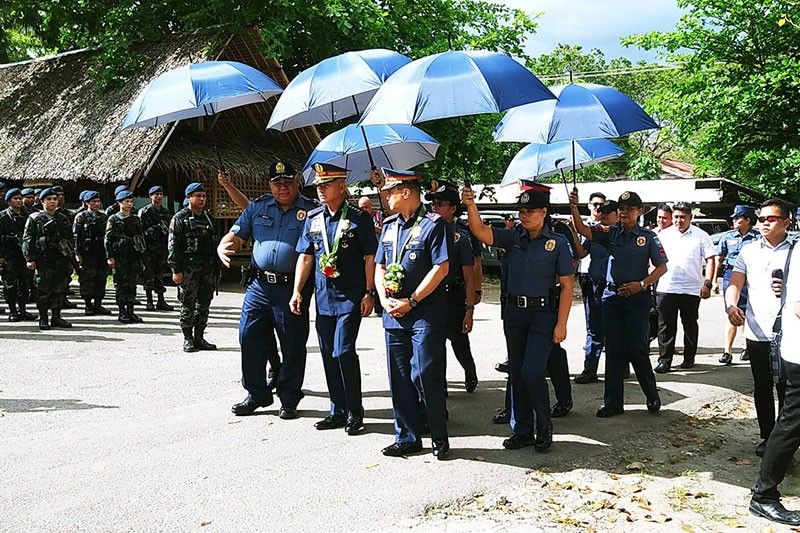 PNP Chief Oscar Albayalde (foreground center) arrives at Camp Dagohoy in Tagbilaran City, Bohol where he announced the arrest of another suspect in the brutal killing of 16-year-old Christine Lee Silawan yesterday.
Rowena D. Capistrano
Christine Silawan killing: Police arrest new suspect
CEBU, Philippines — Authorities have arrested a new suspect in the killing of 16-year-old Christine Lee Silawan in Lapu-Lapu City, Cebu in March.
This time, however, the arrest was made by the Police Regional Office-7. The first suspect, Silawan's 17-year-old ex-boyfriend, was arrested by the National Bureau of Investigation.
PRO-7 Director Debold Sinas confirmed yesterday they have a 42-year-old suspect in custody.
"Yes, naa mi nadakpan. Naa na mi person of interest. It's different than the primary suspect pinpointed, but we will not give you details prior to conferring with NBI-7 (Yes, we have arrested someone. We have a person of interest. He's not the same person identified by the National Bureau of Investigation. We will give you details after we confer with the NBI)," Sinas told reporters yesterday.
Sinas also said that the man has executed a statement admitting to the crime.
"Yes, he made an extrajudicial confession. I will not comment further," Sinas said.
The man was reportedly obsessed with Silawan and he reportedly had a history of duping girls.
"During initial interview, obsession with the girl. Nag-obssess siya sa babae kaso kahibalo na siya sa babae whom he knew sa social media and through texts (During initial interview, it's obsession with the girl. He was obsessed with her, although he already knew her through social media and through texts)," Sinas said.
Yesterday, the Lapu-Lapu City Police Office sued the man for possession of firearms and violation of the Comelec gun ban since he was arrested with a .45 caliber pistol.
Sinas said their suspect is in the watchlist of the Lapu-Lapu City Police Office for drugs. He is a resident of Lapu-Lapu and has a live-in partner and five children.
Footage from closed-circuit television (CCTV) cameras and statements from the ground reportedly led the police to the suspect.
'Re-enactment'
Yesterday, wearing shades and a mask, the suspect traced his steps with the police – from the Sacred Heart Parish in Barangay Pajac, Lapu-Lapu City to the crime scene in Sitio Mahayahay, Barangay Bankal.
In a report by GMA-7 Cebu, the suspect told authorities that he sent a text message to Silawan at past 6 p.m. on March 10 while he was outside the Sacred Heart Parish. Silawan reportedly did not respond so he waited for her to come out of the church. When she came out, he invited her for a walk but Silawan reportedly refused because she was meeting someone at that time.
He still reportedly walked with her to sitio Mahayahay and even used his phone to light the way as it was dark.
He reportedly asked Silawan to have sex with him but when she refused, they ended up having a heated argument, ending with him slapping the girl twice. He reportedly punched and beat her out of anger but Silawan was reportedly noisy while pleading for her life so he stabbed her using a pair of scissors until she fell to the ground.
"Sige siyag ingon, ayaw lagi kuya. Niya saba man kaayo mao ako gidunggab hangtod malubog na siya. Ni-aksyon nakog hubo sa iyang (shorts) (She told me to stop but she was getting so noisy so I stabbed her until she fell to the ground. Then I started pulling her shorts down)," the suspect told the police.
He then reportedly skinned her face but did not mention what he used to do it.
After that, he reportedly threw his bag with belongings at a grassy area still in sitio Mahayahay and then went to a well nearby to wash the scissors.
"Nakonsensya gyud ko sa nabuhat nako, kato kang Christine ug kato sa bata nga gidakop sa NBI nga wala gyud toy sala. Grabe gyud nako ka salbahis (I have been bothered by my conscience for what I've done to Christine and for the arrest of the boy. He is innocent. I am a bad person)," the suspect told authorities during the re-enactment.
Case continues
Earlier, the NBI arrested Silawan's former boyfriend based on circumstantial evidence he was the last person seen with Silawan before the girl was killed on March 10. Silawan's body was found at a vacant lot in Lapu-Lapu City the following day.
In an interview with The Freeman yesterday, NBI-7 Director Tomas Enrile said they take the arrest of the new suspect positively but will continue with the complaint they filed against the boy.
"Siyempre, it will bolster the case… kami ay nagtutulungan talaga diyan… we take it as a positive development; walang problema if PNP or NBI-7 (It will bolster the case. We're working together… we take it as a positive development. Either the PNP or NBI made the arrest is not an issue)," he said.
"Naka-file na yun. That will stand. May ebidensya kami doon kaya tuloy na yun (We have filed the case. That will stand. We have evidence to support the case so that pushes through)," he said.
The NBI sued the boy for murder in relation to the cybercrime law.
Far from solved
Meanwhile, the Philippine National Police Chief Police Director, Police General Oscar Albayalde during his visit in Camp Francisco Dagohoy the headquarters of Bohol Provincial Police Office said Christine's case is far from solved.
He said they will continue to look for additional evidence.
"No we do not consider it as solved we have not filed a case yet. Malaki ang chance na siya ang nakapatay but will conduct further investigation in respect to NBI," he said.
Albayalde said they will coordinate with NBI and present findings and name of suspect today (Thursday).
Asked if the results of the investigation would be contrary to the NBI-7's results, Albayalde maintained that it is the reason why they have to talk to NBI-7 first.
"The public can expect that we will investigate that and we will make sure that whoever yung nakuha natin siya talaga yung totoo kaya we don't want to present kaagad nakuha natin we have to wait for the follow up conducted and the one from SOCO," Albayalde said. Hanna D. Tejada (FREEMAN)