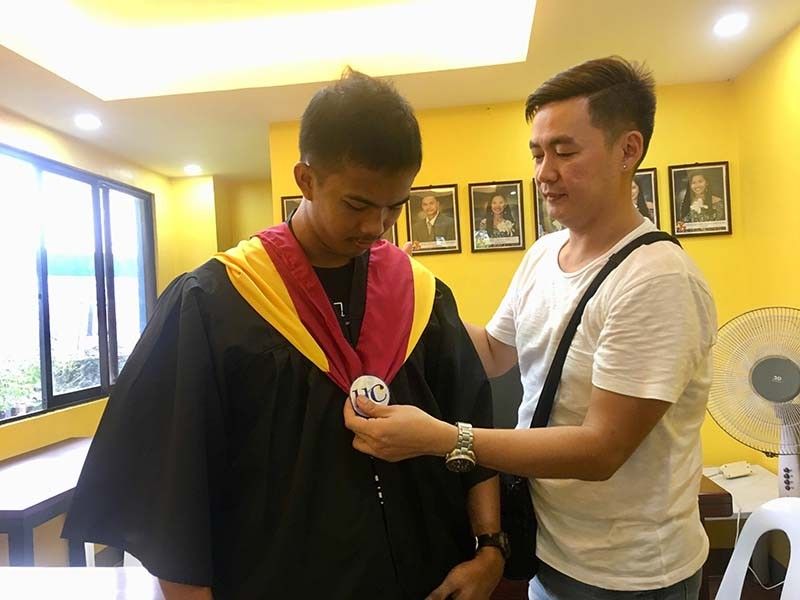 Tan, then 18, began working as a village watchman or tanod – a rather odd sideline to most youngsters – of Barangay Kalubihan, Cebu City to help finance his civil engineering studies at the University of Cebu.
File
Student by day, tanod by night; Janryl Tan gets diploma with flying colors
CEBU, Philippines — In 2015, one in 10 Filipinos aged 6 to 24 was considered an out-of-school youth, according to a survey by the Philippine Statistics Authority. Janryl Tan refused to be part of the statistics.
Tan, then 18, began working as a village watchman or tanod – a rather odd sideline to most youngsters – of Barangay Kalubihan, Cebu City to help finance his civil engineering studies at the University of Cebu.
Today, the 23-year-old is finally reaping the fruit of his toil: a college diploma with Latin honors.
In his barangay, Tan's main job is to ensure peace and order, but his life is far from that. For one, he comes from a broken family. After his parents separated, he, his father, Jerry, and his siblings moved to Cebu City from their hometown of Alubijid in Misamis Oriental to seek greener pasture.
In Cebu City, the family was nearly vagrant, hopping from one place to another at least 13 times. They even used to stay at the stall of his grandmother at the Tabo sa Banay, a popular dry goods market in downtown Cebu.
The family has no home to this day. Tan and his father are only temporarily taking shelter at the multipurpose hall on the fourth floor of Kalubihan barangay hall, using a small bench to sleep on.
As if things in his life were not bitter enough, Tan lost two of his four siblings to dengue.
But amid the tumult, he quietly mapped out his future, holding on to a personal promise to one day give his family a house of their own, the very same reason why he took up engineering in the first place.
His father was hired as a lupong tagapamayapa during the administration of former barangay captain Carmilo Millan but his meager honorarium could not send him to college. Soon, when a job as a tanod became available in their barangay, Tan, ever persevering, seized the opportunity.
As a scholar, he was already getting P15,000 every semester from the Commission on Higher Education. Thankfully with his work as a tanod, he receives an additional monthly honorarium of P6,500, which he then uses to pay off tuition fees ranging from P19,000 to P23,000.
Tough Life
Although he has been an achiever since he was a child, graduating as class valedictorian in elementary and high school, Tan admitted that college life was different.
"It's tough," Tan told The FREEMAN in Cebuano in an interview yesterday. "There are times when you just can't help it but feel sleepy."
Tan's daily routine starts at 6 a.m. when he prepares for school. He then attends classes during the day.
By 6 p.m., his shift as a barangay tanod begins. He joins roving patrols, monitors the closed-circuit television cameras in the barangay, writes blotter reports, and attends to residents in need.
Kalubihan barangay captain Rex Millan said Tan's achievement brings pride to the barangay, especially as he is not ashamed of his work as a tanod while studying.
"Kugihan gyud kaayo ni siya. Bisan og unsa among ipamalihug kay duty siya sa gabii, mobuhat gyud. Dili moreklamo," he said.
Rosalina Durano, chief of tanods, said Tan works hard and does not care about overtime pay.
"Dili gyud na siya magkwenta sa oras og trabaho. Akong ganahan ana niya kay focused kaayo sa eskwela bisan og trabaho pa sa gabii," she said.
Tan, second youngest among the barangay's tanods, roams around Colon, Junquera, and portions of Carbon area to apprehend pickpockets and other petty criminals.
Tan was aware of the risks inherent to his job, especially when he joins in apprehending mischievous persons. He is grateful for his older colleagues who back him up, and as a sign of gratitude, he offers his achievements to them as well.
By midnight, Tan finally gets a chance to do his homework or study for his exams. When he is free during work hours, he glances at his notes, too. Many times, he reported to school deprived of sleep.
"There were times maka-question ko sa akong self, kaya pa ba nako kay stressed na kaayo," he said. The demands of school life became even more daunting in the last three of five years in college due to hard subjects and projects that needed more of his time and energy.
'Work for your dream'
Tan used to be an athlete and dreamed of representing the country in international competitions. When he reached fourth year in high school, though, his dream shifted to becoming a civil engineer to build a home for his family.
"I never experienced [how it feels like to have] a home. I want to know how to build my own house. The fact nga 13 times na siguro mi naka-live og mga balay na dili amo-a, I never felt naa mi kaugalingong balay," he said.
After graduation, which will be witnessed by his mother from Mindanao, Tan will prepare for the board exam in November. He also plans to continue working as a tanod, this time to finance his review.
As he marches down the aisle today to receive his honors as a cum laude graduate, Tan leaves the youth with a piece of advice:
"If you have dreams to study, pursue it. Poverty is not a barrier. Be resilient and be positive. Do not rely on your parents for help. Instead, you should understand their situation – kung kaya pa ba nila or dili.
"You have to work for your dream." — JMD (FREEMAN)