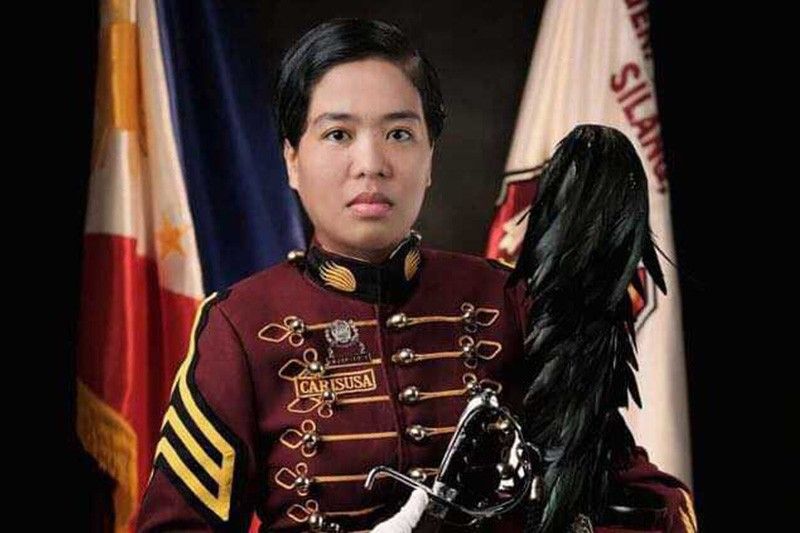 Merriefin Carisusa was on the verge of leaving the country to work abroad when she saw the PNPA ad which rekindled her passion to serve the country.
Courtesy John Destacamento
Cebu farmer's daughter graduates as PNP Academy salutatorian
CEBU, Philippines — Merriefin Carisusa was working from home as a software developer in 2015 when she stumbled upon an advertisement online calling for applicants to the country's police academy.
Only 21 that time, she was on the verge of leaving the country to work abroad.
But the ad, she said, rekindled an old flame in her: the passion to serve the country and be a role model for youth.
"Nakaagi ra ko og ad about (Philippine National Police Academy). I tried to apply online maski daghan og bugs ilang website. I did not expect nga mapadalhan ko og notice of examination (I came across a PNPA ad. I applied even if their website had lots of bugs. I did not expect to receive a notice of examination)," Carisusa told The FREEMAN in a Facebook chat.
She signed up anyway and got a letter allowing her to take the test.
The rest, as they say, is history.
Four years later, Carisusa would finish salutatorian of the academy's SANSIKLAB Class of 2019, joining five other female cadets in the top 10. The graduation rites are set for March 22.
Now 25, Carisusa, a native of Barangay Dalingding Sur, Medellin town, more than 120 kilometers north of Cebu City, turned emotional as she recalled her family's sacrifices to send her to school.
Her father, Rodel, tilled sugarcane and corn and raised pigs at home. Her mother, Rita, used to earn meager honorarium as a daycare worker but had long stopped working when the administration in her barangay changed.
When she was younger, Carisusa once took it upon herself to help the family make ends meet by preparing and selling "budbud" — sticky rice wrapped in banana leaves — to neighbors. The preparation was tedious as it involved manually husking the coconut, extracting its meat and milk, cooking the rice and rolling it into the leaves before steaming.
Carisusa's original dream was to become a doctor but because of poverty, she chose to take up computer science through the scholarship of the Department of Science and Technology-Science Education Institute.
"I was able to work in a private company as software developer for about a year and a half. However, my ideals to influence the youth to become effective and responsible members of our society urged me to pursue my dream of becoming a public safety officer," she said.
While finishing college at the University of the Philippines-Cebu, she also dabbled into doing tutorials with students to earn extra income.
Life inside
"It's challenging," Carisusa described the life inside the academy in Silang, Cavite, as everything there is bound by rules. That added to the pressure of having to live on her own, away from the comforts of home and family.
Another challenge, she said, was getting sick and coping up with the physical activities.
"[We live in] a regimented way inside. Kung anong suot o ginagawa ng isa, yun din sa lahat. A lot is prohibited inside. We're not allowed to use phones unless approved by our authorities," she said.
But Carisusa, ever-persistent and focused, did not mind the rules and devoted her energy to the training.
Until one day, in a tactics class, she fell and broke the tendon that connects the two bones in her right knee.
She underwent what is called an anterior cruciate ligament reconstruction but kept everything from her family until just recently, saying she wanted to spare them from the worries. The operation was successful.
Asked if there was a disparity of treatment inside between the male and female cadets, Carisusa said: "No, girls equal boys. Walang gender-gender dito, sir. However, males are trained to become gentlemen. So mo-help ra gihapon sila namo, especially sa mga bug-at nga buluhaton (The boys help us in the heavy tasks)."
'Do good everyday'
Cadets in the academy earn a monthly training allowance that goes straight to the trainee's savings account and can be used after they have left the academy.
They are also given a monthly allowance to pay for their laundry, haircut and other necessary expenses.
During her graduation ceremony on March 22, along with 200 other cadets, Carisusa will receive the following awards: Vice President Kampilan, Journalism Kampilan, Best in Public Safety and Best in Leadership and Management.
For her, the iconic statement of former US President John F. Kennedy still rings relevant to this day: "Do not ask what your country can do for you; ask what you can do for your country."
She also said: "Always be yourself and be a blessing to others. Everyone has a role to play in the community. Small things matter. Think of 1,000 young people. If all of them do good every day, that's 7,000 good deeds in a week.
"Before we know it, this nation will be a better place than before."