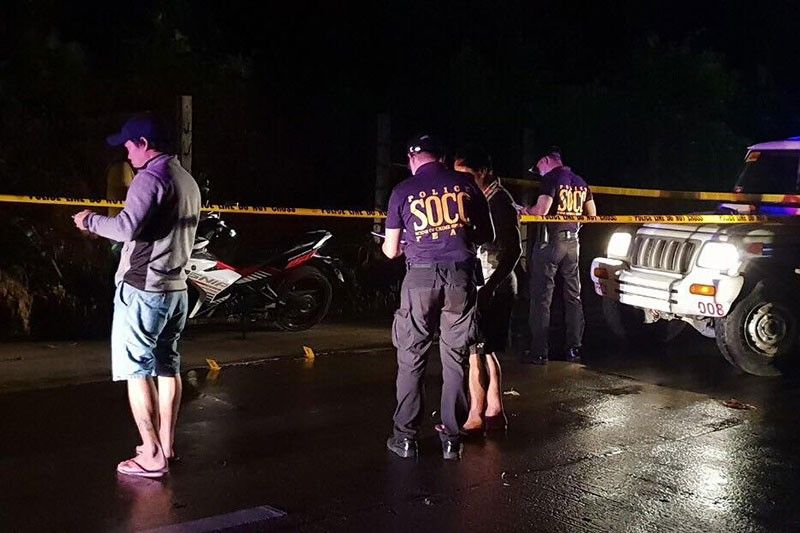 Crime scene investigators examine the area where two drug suspects were killed in a shootout with police operatives in Balamban, Cebu Wednesday night.
Photo courtesy of CPPO
A bloody Wednesday: 4 dead, P16M drugs seized
CEBU, Philippines — Four more people, including a gunman working for self-confessed drug lord Franz Sabalones, have been added to the long list of drug suspects killed during anti-illegal drug operations in Cebu.
In at least three operations on Wednesday, police hauled a combined P16.7 million worth of illegal drugs from several suspects across the province.
In the mid-western town of Balamban, Quazar Quiachon and Don Sevilla San Diego, both residents of Talisay City, were killed when they allegedly engaged the police in a shootout during a drug sting in Barangay Prenza past 11 p.m.
Cebu Provincial Police Office director, Senior Supt. Manuel Abrugena, said at a press conference yesterday that when Quiachon, the subject of the operation, sensed he was transacting with the police, he reportedly started shooting at them.
Abrugena added that San Diego also fired shots towards the authorities, prompting the latter to retaliate and eventually kill the two.
The duo was declared on arrival at the nearest hospital, while the police decoy was safe as he was wearing a bullet-proof vest.
The operation, a joint effort of Provincial Intelligence Branch, Provincial Drug Enforcement Unit, Philippine Drug Enforcement Agency and Balamban Police Station, also resulted in the confiscation of 2.1 kilos of shabu valued at P14.68 million.
The other seized items included two units of caliber .45 with a magazine.
Emerging drug group?
Quiachon was linked to an emerging drug group in Cebu, according to Abrugena.
"Base doon sa ating pag-aaral doon sa kanyang mga records, may certain Rimmel Cortes, dun po siya nakalinya. Isa rin ito sa mga emerging drug group dito sa Cebu (He is linked with the group of Rimmel Cortes. It's an emerging drug group)," said Abrugena.
Police will check whether Cortes is related to any known drug lord in Cebu such as Steve Go and Sabalones.
Abrugena said Quiachon has been involved in illegal drugs since 2014. The lucrative business enabled him to buy a house and lot in Balamban.
To avoid being tracked down by the authorities, Quiachon would allegedly move from Balamban to Talisay every now and then.
Based on intelligence reports, Quiachon distributed illegal drugs in Minglanilla, Talisay, and other parts of southern Cebu.
Abrugena said the suspect sourced his drugs from Luzon.
"Galing sa Luzon ang supply. And then itong si Quiachon, may tatawag sa kanya to meet somebody na may dala nang drugs, and then si Quiachon ang magbebenta (Someone would meet him, bringing drugs that he would eventually dispose)," said Abrugena.
Sabalones trustee
Several hours later, an alleged gunman and trustee of Sabalones was also killed in a police shootout in Barangay San Isidro, San Fernando town yesterday morning.
Roed Cabrera, 43, had been under police surveillance for the last week after reports that he was into the illegal business.
Chief Inspector Lymel Pasquin, chief of San Fernando police, told The FREEMAN that they were able to confirm this when Cabrera agreed to sell illegal drugs to a police decoy.
Pasquin said that during the buy-bust operation, Cabrera noticed the undercover cop's gun protruding from his side, which led the suspect to grab his .38 revolver and shoot the operative.
Before he could do this, though, the operative grappled with Cabrera, who eventually dropped the gun. This gave the cop a chance to draw out his own firearm and neutralize the suspect.
Cabrera expired while being rushed to the hospital. He yielded 11 sachets of shabu.
"Fortunately, no one was shot from the side of the police. We will have Cabrera's firearm undergo ballistics examination," said Pasquin.
Investigation showed that Cabrera had served as a gunman of Sabalones, assigned to those who failed to remit proceeds from the illegal trade.
Recent monitoring, however, indicated that Cabrera had not been involved in gun-for-hire activities.
So far, there was also no evidence linking Cabrera to the recent spate of killings in San Fernando.
Bulacao
In Barangay Bulacao, Cebu City, a high-value female target identified as Lourdes Abella, 43, resident of Barangay Suba, was caught with P2.1 million worth of drugs in a buy-bust on Wednesday evening.
Chief Inspector Regino Maramag Jr., chief of Pardo police, said Abella's name had been mentioned by drug suspects previously arrested.
Abella is said to be a bigtime seller who got her supplies from those in jail. She yielded several sachets of drugs weighing 310 grams and worth P2,108,000.
In Suba, Abella is reportedly on the watchlist of the Barangay Anti-Drug Abuse Council. She allegedly dabbled in selling viands while doing the illegal business.
Argao
On Wednesday afternoon, a certain Richard Padin, resident of Barangay Tanke, Talisay City, was also killed in a buy-bust operation in Barangay Taloot, Argao town.
Chief Inspector Rolan Aliser, chief of Argao police, said his men ended up shooting Padin when the latter attempted to pull out his .38 revolver during the operation.
Police also arrested Padin's common-law partner, Virgie Sumalinog, who would reportedly take over the illegal business of Padin when he reports for work as a sawmill worker. Marjory D. Enriquez and Imarie Jane D. Madarieta (FREEMAN)