1 dead, 3 nabbed, P1.8 million drugs seized
January 10, 2019 | 12:00am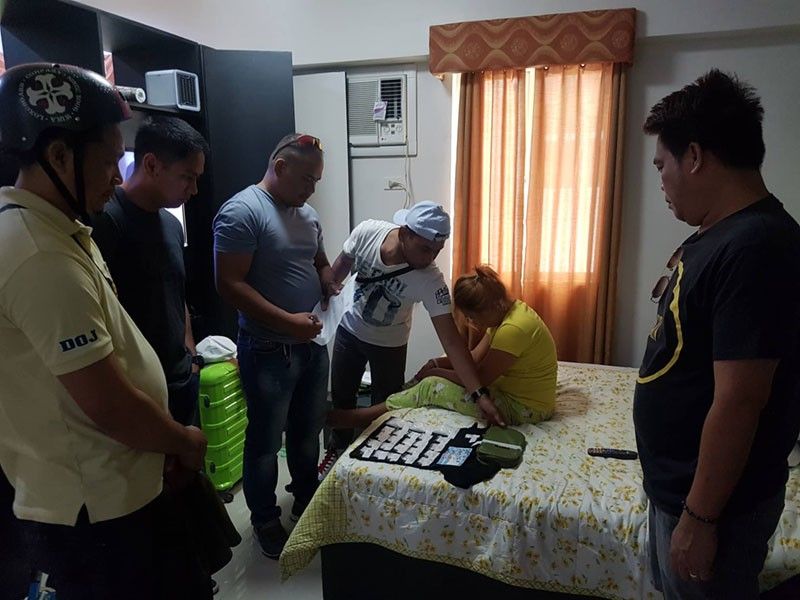 CEBU, Philippines — A young woman tagged as a high-value target by police was nabbed for alleged possession of P1.7 million worth of illegal drugs in an apartment in Barangay Kalunasan, Cebu City, Wednesday morning.
Police identified the suspect as Lorry Jenn Pitong, 22, a resident of A Lopez St. Brgy. Mahayahay, Cebu City.
Chief Inspector Keith Allen Andaya of Punta Princesa Police Station said Pitong asked her friend to rent the apartment for her since it would require identification cards and other documents. She then lived there for four days prior to the arrest.
Andaya added that the suspect is considered a high-value target since she has connections with a drug personality inside Bagong Buhay Rehabilitation Center (BBRC.)
However, Pitong did not specify her drug source because she fears that she and her family might get killed.
"Prisoha nalang kuno siya kaysa motug-an siya, half kuno sa iyang tiil naa sa minteryo," said Andaya. (She opts to get jailed than reveal her source as she fears for her life.)
The operation stemmed from information the operatives got from those they arrested previously.
Pitong was named as their drug source. Also, she was convicted for possessing illegal drugs before.
Police subjected the suspect to surveillance for at least two months and it was yesterday morning when her illegal operation was confirmed.
Seized from the suspect were 20 medium and three large packs of illegal drugs, one small sachet of illegal drugs, and P2,000 buy bust money.
The confiscated shabu weighed 250 grams and has an estimated value of P1.7 million.
The suspect admitted that she is an illegal drug peddler and user.
Andaya said the suspect sells drugs in different areas in Cebu City.
"Di na siya mo transact lower than 100 grams," Andaya added. (Her transactions do not go below 100 grams.)
Another Arrest
Meanwhile, a 31-year-old man was arrested in a buy-bust operation in Sitio San Pedro, Barangay Basak Pardo, Cebu City last Tuesday evening.
The Drug Enforcement Unit of Mambaling Police Station led by Chief Inspector Randy Caballes arrested John Anthony Jumawan, a resident of the area.
Seized from the suspect were five medium packs and 34 small sachets of illegal drugs weighing 27.1 grams, valued at P184,240.
Also confiscated was one small sachet of illegal drugs which he sold in the buy-bust, one coin purse, P200 buy-bust money, and P600 believed to be proceeds from the illegal drug trade.
Killed in Mandaue
In Mandaue City, a 46-year-old man died while his companion was arrested during a buy-bust operation in Barangay Umapad.
Arman Barrientos Sungahid was shot by police for allegedly resisting arrest during the operation at around 1:10 a.m., according to Chief Inspector Mercy Villaro, information officer of Mandaue City Police Office (MCPO).
Emily Suarez Remedio, 41, was arrested by personnel of Opao Police Station 5 in Purok Tambis of the barangay.
Villaro said that during the negotiation with the police poseur buyer, Sungahid sensed that he was dealing with a police officer.
Sungahid, who was with Remedio, pulled out his firearm and aimed to shoot the poseur-buyer. One of the police backups shot Sungahid to neutralize him.
Sungahid was brought to Mandaue City District Hospital but was declared dead on arrival.
Seized during the operation were six sachets of suspected shabu, a . 22 magnum revolver loaded with six live ammunitions.
The confiscated drugs weighed 2.5 grams with an estimated value of P7,500.
Remedio was arrested and detained in the holding cell of Opao Police Station.
Indicted
On the other hand, a 50-year old man, an alleged known drug pusher is facing a non-bailable offense before the court for allegedly selling dangerous drugs.
Arnel Adorable alias Ankol, a resident of Tres de Abril St., Barangay Labangon, Cebu City, who used to operate in Labangon, A. Lopez, Tisa, and Mambaling, was arrested in a buy-bust operation on December 12, 2018.
In their joint-affidavit, Police Officer 3 Jonathan Baquiler and other Mambaling police, said on December 11, at 10:50 p.m. an informant appeared before their station and reported the alleged illegal activity of a certain Ankol, a known drug pusher, who was currently staying at a pension house in Barangay Punta Princesa.
Allegedly, the informant knew Adorable because he was enticed by the former to look for a buyer of shabu, for a commission. He disclosed that Adorable would not stay longer at the same place to avoid being caught.
Operatives then proceeded to the pension house for verification and at 12:10 a.m. of December 12, the operation was conducted that leads to the arrest of Adorable.
The operatives were able to recover 150.03 grams of shabu worth at least P1 million from Adorable's possession.
In an inquest proceeding, Adorable chose not to undergo preliminary investigation to answer the allegations filed against him. Instead, he manifested to face the charges in court.
Prosecutor II Cesar Gariando indicted Adorable for violations of Sections 5 (selling of shabu) and 11 (illegal possession of shabu), Article II of Republic Act 9165 or Comprehensive Dangerous Drugs.
Adorable is now detained in Cebu City Jail. — Marjory D. Enriquez, USJ-R Intern, MBG (FREEMAN)