Firms tied to medical wastes facing fines
January 10, 2019 | 12:00am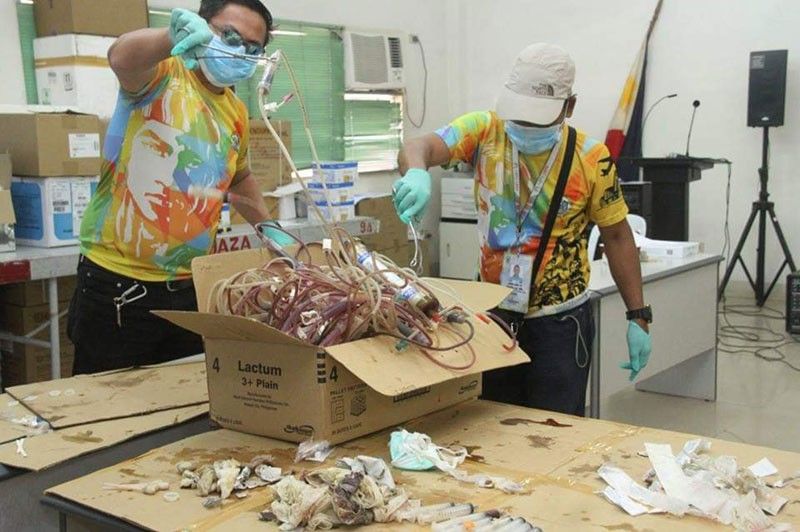 CEBU, Philippines — The Environmental Management Bureau-7 is set to issue a notice of violation against two firms in Mandaue City tagged in the medical wastes found floating in the seas off Lapu-Lapu City the past few days.
The agency said Davao City Environmental Care Inc. (DCECI) and Chong Hua Hospital Mandaue and Cancer Center (CHHMCC) were found to have committed lapses that merit the imposition of penalties against them.
DCECI is a treatment, storage, and disposal (TSD) facility that uses autoclave and charring method as treatment for its medical wastes from the University of Cebu Medical Center (UC Med), St. Vincent Hospital, and CHHMCC.
On Saturday, a team from EMB-7 met with Lapu-Lapu City Health Office personnel who presented the collected healthcare wastes found floating on Mactan Channel, particularly along the side of Sitio Sta. Maria, Brgy. Ibo in Lapu-Lapu City.
The wastes included a bottle which bore the name of CHHMCC. Other wastes, however, could not be traced to a specific hospital.
With the information on hand, EMB-7 subjected CHHMCC and DCECI to inspections and found lapses.
DCECI presented manifest forms and certificate of treatment for collected and treated healthcare wastes of CHHMCC but only up to September 2018. DCECI personnel disclosed that the facility has continuously collected and treated the latter's healthcare wastes up to January 2 this year.
According to the bureau, this is a violation of Section 7 of DAO 2013-22, which carries a penalty of P50,000.
It was also found that DCECI has already exceeded the allowable eight metric tons of annual treatment capacity, which is in violation to the environmental compliance certificate (ECC) conditions issued to them on April 16, 2013.
Under Presidential Decree 1586, non-compliance with any of the ECC provisions is deemed a ground for the cancellation or suspension and/or imposition of a fine of up to P50,000.
CHHMCC, for its part, could not present any manifest form for the previous and current collections of healthcare wastes by DCECI. Instead, it presented signed waste pull-out forms from DCECI, which is also in violation to Section 7 of DAO 2013-22.
Further, investigation also uncovered that the data the CHHMCC declared in its self-monitoring report (SMR) for the third quarter of 2018 did not match the data of the waste pull-out forms they presented to EMB-7.
EMB-7 has therefore ruled that DCECI and CHHMCC have failed to properly transport and dispose of infectious wastes, which resulted to their non-compliance and discrepancies of some data reflected on the SMR.
In an earlier statement posted on its official Facebook page, Chong Hua Hospital explained that it outsources the proper disposal of all its biohazard waste to DCECI.
"Upon hearing the news, Chong Hua Hospital immediately initiated an investigation and will now work closely with DENR and other concerned government agencies. We intend to revisit our outsourcing processes and audit protocols to ensure the highest compliance to the DENR regulations and standards as well as protect the safety and welfare of the general public and our environment," the hospital's statement red.
CHHMCC and DCECI will be called for a technical conference today, January 9, to apprise the two firms of their violations. Representatives from Lapu-Lapu City government will be invited to the conference as well.
Possible Cases
The Lapu-Lapu City government has advised coastal residents not to swim nor pick seashells in areas the medical wastes were discovered.
A total of 50 kilos of medical trash was picked up by the personnel of City Environment and Natural Resources Office (CENRO) in the past four days in Barangays Ibo, Pajo, Poblacion and Pusok.
Lapu-Lapu City health officer Agnes Realiza said the nurses from the City Health Office (CHO) were sent to the barangays to remind them to report to their office or to CENRO any further sightings of such wastes.
Yesterday, several used blood bags attached with small hose, as well as another tube used for dialysis treatment, were discovered anew in Sitio Kamansi, Barangay Pajo.
CENRO chief Rodericko Taga-an said this is in violation of Republic Act 9275 or the Philippine Clean Water Act of 2004 and RA 6969 or Toxic and Hazardous Waste Act.
Under RA 9275, Taga-an said, the fines for these violations may reach up to P200,000 per day, depending on the court.
Meanwhile, Mandaue City Mayor Gabriel Luis Quisumbing said his team, which includes Mandaue CENRO, is now coordinating with the hospitals in question.
"CENRO has been coordinating with the hospitals in question since the incident to find out their practice for the disposal of medical waste," he said.
"If found to be negligent, we will not hesitate to institute sanctions. However, if their service provider has not been following DENR standards, then we will work with them to correct," he added. — JMD (FREEMAN)