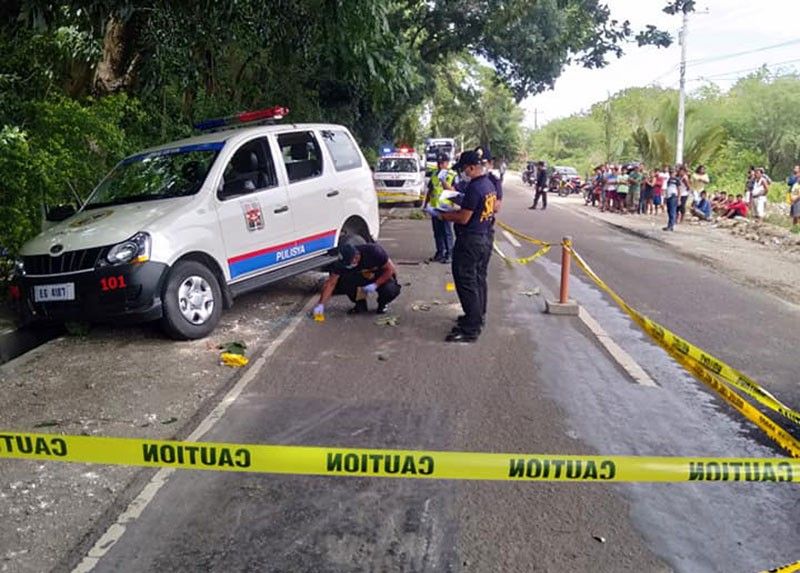 Police probers gather evidence at the scene where drug suspect Tocillo Debaculos Ababon (left) was killed in an ambush while being transported by police to the Regional Trial Court in Argao, Cebu yesterday morning.
Photo Courtesy of Dario V. Gil
2 police escorts survive ambush in Argao: Drug suspect slain
CEBU, Philippines — Tocillo Debaculos Ababon did not live to see his day in court.
Ababon and two police escorts were onboard a police patrol car on the way to the Regional Trial Court in Argao town, southern Cebu when three unidentified assailants onboard a motorcycle suddenly peppered their vehicle with bullets upon reaching Sitio Lalaan, Barangay Bulasa.
Ababon was killed instantly.
Police have accused the 49-year-old of being a high-value target and an underling of suspected Cebu drug lord Franz Sabalones. He fell into the hands of authorities in an operation at Sitio Bilibid, Barangay Casay of the same town last December 27, yielding 1.5 kilograms of shabu worth P10 million.
The two policemen who were with him during the shooting yesterday morning, PO3 Ruel Patalinghug and PO3 Crescenciano Alajid, were unscathed. They and Ababon were wearing bullet-proof vests.
Chief Inspector Jose Rovic Villarin, the chief of Argao Police Station, told The FREEMAN in a phone interview that the police car was waylaid by three motorcycle riding-in-tandem assailants.
Villarin said it was apparent that the target of the assailants was Ababon, adding that the police officers would have been collateral damage if they were also killed in the process.
"Either kontra or kauban to niya kay gipangagpas guro nga mokanta to siya. Hilumon siya kay nahadlok nga naa isulti. Mao to giunhan na lang, pero pasiuna pa na nato nga gilantaw (An enemy or cohort could have done it, expecting that Ababon would reveal their identities in court. They wanted to silence him because he had a revelation. That's our initial view)," Villarin said.
Villarin said that a bullet was supposed to hit Patalinghug's back but he was saved by his vest.
As a standard operating procedure, the two cops were still checked by medical personnel for further injuries.
"Gipada sa nato sa hospital, kay naa man dugo ang awto. I-check lang to see if wala ba gyud sila injuries (We sent them to the hospital to ensure they did not suffer any injuries)," he said.
Investigators were still collecting information from witnesses that can describe the assailants.
The Scene of the Crime Operatives were still conducting an inventory of evidence recovered. But police initially reported seeing visible empty shells of a .45 caliber pistol in the area.
Villarin said that nearby police stations were informed of the incident. He directed his men to conduct checkpoints immediately after the incident in an effort to catch the assailants.
Police Regional Office-7 director Chief Supt. Debold Sinas has also directed the local town police to dig deeper into the case.
"I told the director (Senior Superintendent Manuel Abrugena) to investigate the case kung ngano nahitabo, but the point is, ang drug suspect nga nadakpan ang namatay so basin, away-away na pud ni nila run. Fortunately, wala'y namatay sa atong pulis," Sinas said.
Based on previous reports, Ababon was the former right hand of Sabalones. — JMD (FREEMAN)