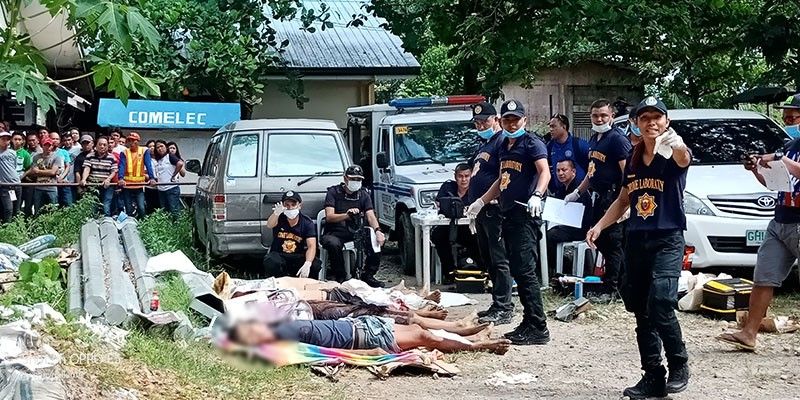 Police investigators check the bodies of six people killed in a series of operations in Guihulngan City, Negros Oriental yesterday. The fatalities were the subjects of a search warrant for illegal possession of firearms.
Choy Gallarde
7 killed, 20 arrested in simultaneous raids
CEBU, Philippines — Seven people were killed while 20 others were arrested, including two barangay officials in Guihulngan City, Negros Oriental, during a simultaneous police operation against all forms of criminal activities across the region yesterday.
Operatives of the Provincial Intelligence Branch of Cebu Provincial Police Office killed Dexter Rabago, 43, resident of Barangay Jaclupan, Talisay City, during a drug buy-bust operation yesterday morning. PIB chief Senior Insp. Alejandro Batobalonos said Rabago shot it out with the operatives while trying to evade arrest.
His cohort, Willy Labitad, managed to escape from pursuing police operatives. The police, however, arrested three people, including a minor. They were identified as Josepino Salonoy, 43, his minor son, and Levin Doronia.
Batobalonos said the three acted as caretakers of the illegal gambling machine operated by Rabago. Police seized three units of video karera machine, one caliber .45 pistol with seven rounds of ammunition, one 9mm pistol with four rounds of ammunition, illegal drugs worth P817,088, and drug paraphernalia.
Batobalonos said Rabago and Labitad were known underlings of drug personalities the police previously neutralized in the area.
Negros Oriental Raids
Meanwhile, six people were killed yesterday during a synchronized implementation of 101 search warrants in Negros Oriental.
The fatalities were identified as Reneboy Fat, Jaime Revilla, and Demetrio Fat, all residents of Barangay Hilatan, Guihulngan City, Negros Oriental; Dondon Isugan, of Barangay Buenavista, Guihulngan City; Jun Cabul, of Barangay Trinidad, Guihulngan City; and Constancio Languita, of Barangay Kabukalan, Sta. Catalina, Negros Oriental. All six were subject of a search warrant for illegal possession of firearms.
Negros Oriental Provincial Police Office chief Senior Supt. Raul Tacaca said the operatives were fired upon as they were closing in to serve the warrants resulting in a shootout.
"Bumunot sila ng baril as our operatives are approaching to serve the warrant kaya walang nagawa at magretaliate in defense, lahat ay legitimate operations," he said.
Tacaca said the fatalities are suspected members of the New People's Army (NPA). He, however, clarified that the simultaneous serving of 82 search warrants in Guihulngan City was not directed against the communist rebels who claimed responsibility in the recent killing of Senior Insp. Porferio Gabuya Jr., deputy police chief of Guihulngan City.
Tacaca said the operations were part of the police crackdown on all forms of criminalities.
Police Regional Office-7 director Chief Supt. Debold Sinas explained why most of the warrants were concentrated in Guihulngan. He said the city was classified under the election watchlist for the upcoming 2019 elections because of the presence of armed groups and history of violence.
As of 4 p.m. yesterday, there were already 17 people arrested. The number was expected to increase as the other teams are yet to report. Among those arrested was Melbourne Bustamante, president of the Association of Barangay Councils in Guihulngan City, and councilwoman Abraham Erlinda Tacpao. — FPL (FREEMAN)