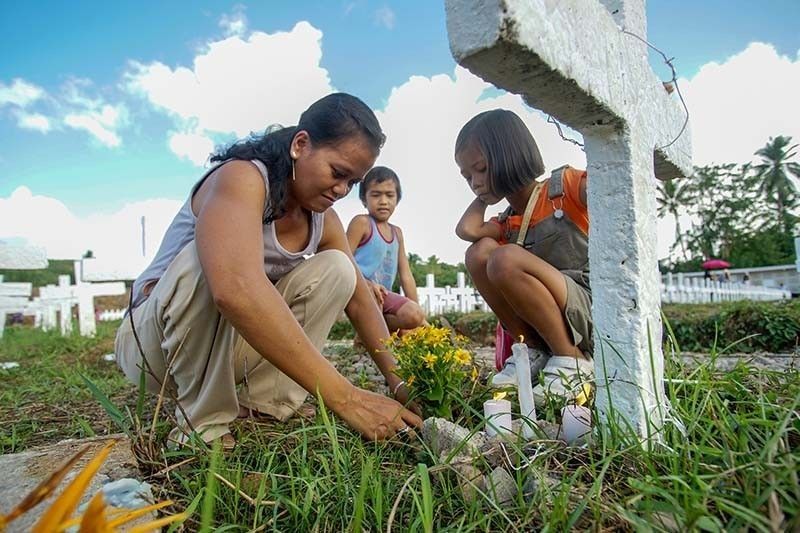 Super Typhoon Yolanda Victim
File
Unfinished housing projects: Typhoon survivors air frustration
CEBU, Philippines — Five years after Super Typhoon Yolanda struck, some displaced survivors have united to share their woes through photographs of their community today, highlighting the inability of the government to finish the permanent housing projects on 'safe zones.'
The photos are exhibited at a local mall were taken by residents who continued to live in a Tsunami Hazard Zone.
One of the featured photographers is 18-year-old John Rey Dela Rosa from Barangay Anibong, the place where at least six ships were swept off from shore to dry land that crushed lives and property.
He took a photo of a man building a concrete house on a 'Tsunami Hazard Zone'.
Dela Rosa said that his neighbor is aware that no permanent structure should be built on the area but he had to because his family had no sturdy shelter.
"Yun yung kinunan ko kasi kahit concrete (ang bahay) pero parang hindi safe kasi nasa 'No Build Zone' siya," he said.
Permanent housing with suitable living conditions remains the outcry of the survivors.
Macelinda Cepi, national leader of the Tukod Project, said only a small percentage of the housing promised by the government was actualized.
Worse, the houses built do not have basic amenities, like water.
"Walang tubig doon kahit atabay. Alam niyo, tatlong beses nagrarasyon ng tubig ang water district dun (housing area) at marami sa mga survivors ang hesitant na lumipat. Yung iba nga na-force lang," Cepi said.
The same statement was affirmed by Yolanda survivors Lani Navales, Jam Moron, Analisa Caca, Fe Abalye, and Jacqueline Francisco.
The six survivors, including Dela Rosa, shared their Yolanda stories during the launch of "Yolanda Retold; A Demi-Decade in Danger Zone" photo exhibit.
It will run until December 8 at the Cube Wing of SM Seaside City Cebu.
Through the photos, the survivors hope that their voices will be amplified and their woes, particularly on the housing, will be answered.
Aside from sharing their issues and concerns, the survivors also sent out a message of hope to their fellow Filipinos to never give up and continue to rise after every disaster.
The event was mainly organized by Postcards from Disasters (PFD) and Tukod Project, both aiming to empower and elevate the stories of those who survived Yolanda.
"Mas marami pa yung makaalam. We are on a campaign na half a decade, ganito pa rin," said Julie Nealega, co-founder of PFD.
Aside from the photos, PFD also launched yesterday the first of its online documentary series showing the living conditions in Tacloban today.
When asked by the audience, Dela Rosa remarked that the living conditions now are worse compared before Yolanda happened even if it is already five years since it happened and despite the international aid they were supposed to get.
Tukod Project is an initiative sponsored by the Global Affairs Canada, which gave them the seed money for listed survivors to start their own business.
PFD, on the other end, is a group that trained the survivors to take photos of their place to retell their stories. — GAN (FREEMAN)