Victim had to clear name in 'drug war': Cop, 3 others die in ambush
October 13, 2018 | 12:00am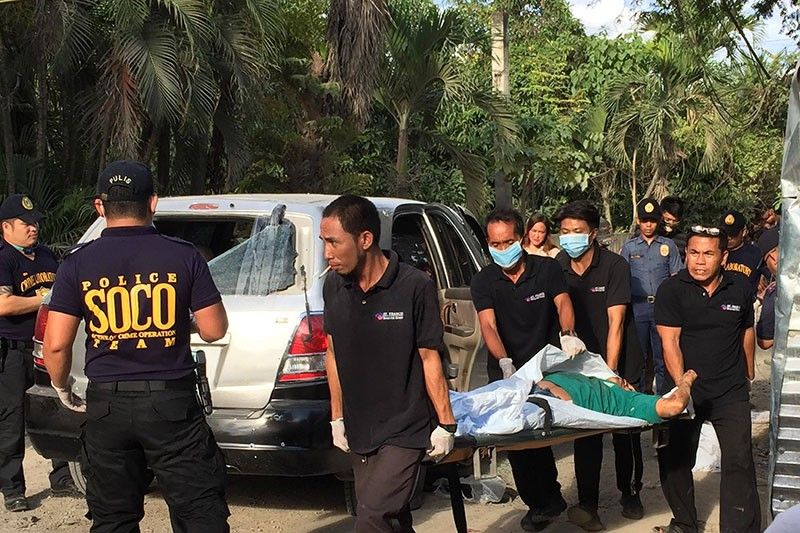 CEBU, Philippines — A policeman and three others were killed in an ambush in Sitio Ranger, Barangay Pooc, Talisay City past midday yesterday.
The victims were identified as PO3 Micahel Santinno Cortes, Jose Soroño, and Dennis Patiluna, and Cresenciana Ranghos.
Santinno, Soroño, and Patiluna were on board a sports utility vehicle with plate number JDU 934 while Ranghos was picking up scrap metal nearby when the incident occurred and she was hit by bullets.
Police Supt. Marlu Conag, chief of Talisay City Police Station, said the vehicle the three men were riding was peppered with bullets all over.
He said that based on the bullets' entry and exit points, an exchange of fire must have ensued between the victims and the perpetrators. Police found the vehicle about 500 meters away from Cortes' residence.
Cortes was found at the passenger's seat and Soroño was found at the back seat. Patiluna, the driver, was found on the ground and Conag said he might have crawled out of the vehicle in an attempt to escape.
MISTAKEN IDENTITY?
Cortes' wife, Leda, said her husband may have been a victim of mistaken identity. In 2016, President Rodrigo Duterte made public a list of cops allegedly involved in the illegal drug trade, including a certain "PO2 Michael Cortez."
Leda said that her husband even had to go to the Philippine National Police headquarters in Camp Crame to clarify the differences in the spelling of the two names.
"Ni-report siya sa Manila kay i-clear up unta niya iya ngalan kay ang naa ni Duterte MICHAEL CORTEZ; and tumoy Z. Ang iyaha, kay MICAHEL CORTES man- S. Niadto lang siya para maklaro," Leda said.
The PNP headquarters reportedly responded positively.
"Na-clear up na daw siya… dali ra pag-interview sa iya…ang uban, dugay nag-interview, ang uban naa pa lie detector test," she said.
That same year, Cortes was transferred to Julu, Sulu in Mindanao from the police station in Barili, Cebu.
Cortes came to Cebu this week to celebrate his 45th birthday with his family on October 8, and to attend court hearings.
"Niadto siya Barili gud kay hearing… niuli na siya kay taga diri man siya… ganina kaadlawon, pagkahuman sa hearing, nanawag siya, 'Mi padung na ko uli'… wala ko kahibaw gyud mao na to last… ang mga silingan, nanuktok, naghilak nagpahibawo nako patay siya," Leda said.
Cortes' sister, Delia, said she does not want to blame the police for what happened but she no longer trusts them.
"Wala na ko salig sa pulis gyud," she said.
She asked Duterte for a speedy delivery of justice for her younger brother. (FREEMAN)