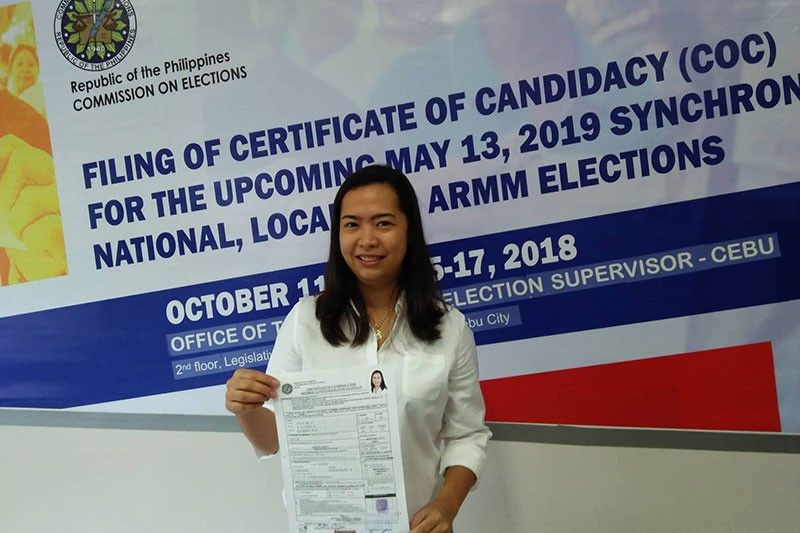 Reelectonist Cebu Provincial Board Member Victoria "Tata" Corominas-Toribio of the third district poses with her certificate of candidacy at the Commission on Elections yesterday.
Mitzi Ambrad
COC filing: Just a few early birds
CEBU, Philippines — Only a few candidates showed up at the offices of the Commission on Elections in Cebu yesterday to file their certificates of candidacy (COCs) for the midterm elections in May.
At the provincial Comelec office, only two aspirants filed their COCs: incumbent Provincial Board Member Victoria "Tata" Toribio and Toledo City councilor Leo Dolino.
Toribio said she sees no reason delaying the filing of her COC as her decision to run again for the PB was already firm.
"Last 2016, ako pud toy apil sa first nga mi-file. Para nako, fixed na man akong decision to run again. Walay kuan nga maghulat ko'g some other time to file. Ato nalang sugdan as early as possible," she said.
If elected again next year, it will be her second term as a PB member. Not discussing specific details, she said there are legislative measures she wishes to finish under her current term that have not been discussed yet in sessions.
Consultations have been underway for such measures, she added.
Toledo City Councilor Leo Dolino was also among the early birds, filing his certificate of candidacy to run for board member representing Cebu's third district. This is his first foray into the provincial-level politics.
Serving his last term in Toledo, Dolino, a practicing lawyer, plans to expand free legal services for Cebuanos.
Toledo City Mayor John Henry Osmeña and his council allies accompanied Toribio and Dolino yesterday at the Comelec to show their support to the two "independent candidates."
Cebu City
At the Cebu City North District Comelec office, no aspirant filed a COC yesterday, according to election officer Marchel Sarno.
"Nag-anticipate ta nga next week kay diyutay ra man mo-file gud. Dili pod ta mo-encourage nga file dayon kay we know nga we can accommodate them even on the last day sila mo-file sa certificates of candidacy," Sarno told reporters.
Sarno said the office even catered to more than 2,000 aspirants during the May 2018 barangay elections. The 40 estimated aspirants expected to turn up at his office for the midterm polls can easily be served in just a day.
The slate of Bando Osmeña-Pundok Kauswagan group, headed by Mayor Tomas Osmeña, is expected to file its COCs after hearing a Holy Mass on Monday morning.
The lineup of Barug-PDP Laban group, led by Vice Mayor Edgardo Labella, is set to file its COCs on Wednesday, October 17, the last day of filing. Labella will face Osmeña in the race to the mayoralty seat in Cebu City.
Mandaue City
Meanwhile, it was no different in Mandaue City yesterday. Elections officer Anna Fleur Abelgas-Gujilde said the silent Day 1 was expected because some of the candidates maintain some sort of "beliefs" to increase their chances of winning.
"So far wala. Expected man na nato nga on the first day, wala kaayo. Although, depende na kay naa man gud uban motuo anang feng shui. They think naay swerte on the first day pero usually, padung na gyud sa last day na ang atong gi-expect nga mag-file sa COC," Gujilde said.
Even if it was a quiet day, personnel from Mandaue City Police Office (MCPO) were already stationed at the Comelec office to ensure security.
Gujilde said as their office is now in a new location, particularly on the ground floor and right side of the City Cultural and Sports Complex, it is now more accessible, especially to the senior citizens and persons with disabilities, who no longer have to use the stairs to reach the office and process their documents.
"Now that we are on the ground floor, accessible na siya. At the same time, duol-duol ta sa highway so ang mga tawo nga maglakaw at least duol nalang, especially sa mga vulnerable sectors, sa mga PWDs sa mga senior citizens. Di na kailangan mosaka sa taas kay medyo taas baya to amo office and very steep ang hagdanan, so di kaayo safe," Gujilde said.
She also said that while candidates can take their supporters with them, the latter can only stay outside while the filing is ongoing to ensure smooth processing.
At least 225,000 voters are registered in the city. Gujilde said no area in the city has been tagged as an election hotspot.
People before self
Cebu Archbishop Jose Palma, for his part, yesterday reminded political aspirants that pursuing public office will be pointless if it is only driven by personal interests.
Palma said political aspirations of candidates should be focused on the welfare and best interest of the people.
"Kay kamatuoran kon ang atong katuyoan personal lamang, kon ang atong katuyoan dili kaayohan sa katawhan, kawang lang kini," he told reporters after celebrating the morning Mass on Thursday at the Cebu Metropolitan Cathedral.
The 68-year-old prelate expressed hope that aspiring politicians are mainly motivated by good intentions to indeed serve the public and become instruments of positive change.
"Go ahead. I will encourage them to file. But I repeat, purify your intentions and pray that if it is God's will that they will be given the opportunity, may they contribute to the solution of the problem than be additional burdens to the problem," he said. (FREEMAN)