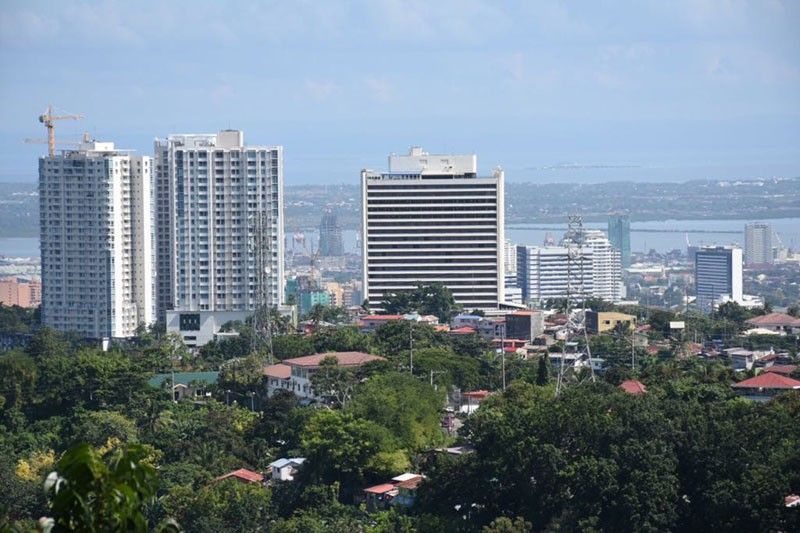 Skyscrapers stand out in this view of Cebu City, one of the most preferred outsourcing destinations in the world.
Paul Jun E. Rosaroso
Annual Tholons ranking:Cebu is 11th 'Super City'
CEBU, Philippines — Cebu City has climbed a notch higher in Tholons' 2018 Services Globalization index, as it lands in 11th place in the world's top Super Cities.
While it showed improvement from its 12th place last year, Cebu needs to work harder if it wants to return to its 8th place ranking as most preferred outsourcing destination in the world in 2016.
Still, landing 11th is no mean feat, as the city competed against big cities in the world, including Bangalore (1), Metro Manila (2), Mumbai (3), New Delhi (4), Hyderabad (5), Krakow (6), Dublin (7), Pune (8), Montevideo (9) and Buenos Aires (10), said Wilfredo Sa-a, Jr., managing director of the Cebu IT/BPM Organization or CIBO.
While this is so, Councilor Alvin Garcia said the city should not be content on its current achievement.
"That's very encouraging ranking. However, we should not be content with just that. We should aim higher and be motivated to get into the top 10 next year," he said.
Most of the cities in the Top 10 have between three million to 26 million in population with the exception of Krakow, Poland and Dublin, Ireland.
Metro Cebu, on the other hand, only has about 2.5 million people.
According to the report released by Tholons, Cebu is ahead of Singapore, Seoul, and even Tokyo in the 2018 Top 100 Super Cities, basing on the cities' ability to do outsourced services combined with criteria on digital adoption and the innovation ecosystem.
What needs to be done?
Tholons Chief Executive Officer (CEO) Avinash Vashistha suggested that Cebu catch up in developing its infrastructure support, as well as in building up its innovation ecosystem if it were to aspire in improving its ranking as one of the top 10 Super Cities in the world.
Vashistha highlighted Cebu's lack of infrastructure support such as cyber parks and a strong and unified ecosystem that could hatch a good innovation culture.
She said Cebu needs to build more "A-class" infrastructure and it can do so at the South Road Properties (SRP).
"Other countries in the top 20 are wrapping up faster. Cebu should look at these countries [for benchmarking]," Vashistha said.
Helping the start-up community develop is also important for Cebu to earn a prestigious position in the world's city competition game.
Nanette Garong, head of the city's call center program, encouraged residents here to grab the work opportunities offered by various BPO companies.
"With the help of the mayor, we are talking to different schools and universities, also other communities in the barangays, nga i-improve ang education sa katong naa'y skills," Garong said.
She is hopeful that the construction of the "Call Center City" at the South Road Properties can help boost the BPO industry here. Construction is expected to begin by May 2019 after the midterm elections.
The Call Center City will have educational facilities, restaurants, a gym, a boarding house, and the offices for call center agencies in one building.
Security
As far as support to the BPO industry is concerned, the city government will create a bus transportation system that will cater to call center agents who work at night to ensure their safety in the streets.
This after a call center agent was killed in a robbery along Pope John Paul Avenue in Barangay Mabolo last October 3.
Garong said the BPO companies have agreed to the city's plan to designate pick-up points where they can ride buses to and from work. The city will provide the buses and parking spaces.
In a Facebook post, Mayor Tomas Osmeña said Governor Hilario Davide III has agreed to let the city use its property along Salinas Drive as parking area for the buses. Agents who have their own vehicles can also park there.
Most of the call centers in Cebu City are located at the I.T. Park along Salinas Drive.
"In the project, the agents will be fetched in groups and will be shuttled to their respective companies in I.T. Park, Lahug. Wala pa tay idea kung libre ba or nay bayad ang pag-travel, ang ato lang gi-andam lang sa ni sa atong mayor," Garong said.
Garong said the city also plans of providing a transportation system for agents who work at call centers at the Cebu Business Park, J. Y. Square, and Panagdait.
She said the city also plans of putting up more Closed Circuit Television Cameras (CCTV) in the streets and organize volunteer groups at crime prone areas that can escort those who work at night like call center agents, nurses, and others.
Scenario
There are six major Philippine Cities in the Top 100: Metro Manila at No. 2, Cebu at No. 11, Davao City at No. 75, Sta. Rosa at No. 87, Bacolod at No. 89, and Iloilo at No. 92.
The Philippines is now number two in terms of country destination, just a notch behind India.
Sa-a said the recent completion of Terminal 2 of the Mactan Cebu International Airport has contributed to Cebu's climb on the list.
Sa-a expressed optimism that Cebu will regain its top ranking in the next few years, as the Cebu City government is serious in its commitment to support the Business Process Outsourcing industry.
"Since we are competing in the global arena of digital transformation, there must be a significant focus on creating an environment of digital skills, culture of innovation, and entrepreneurship. The start-up ecosystem must be strongly supported by the gov't, academe, and the industry," he said.
The Tholons Services Globalization Index 2018 (TSGI) is the flagship research report and ranking of the Top 50 "Digital Nations" and Top 100 "Super Cities" of the full-service Strategic Advisory firm for Global Outsourcing and Investments.
Services Globalization (outsourcing) industry has been shaken by the paradigm shift and big industry leaders are grappling to align their business model to the new world of enterprise digital innovation and transformation.
Tholons introduced innovation, startup ecosystem, and digital transformation as key components to define its index for Top 50 Digital Nations and Top 100 Super Cities.
"In our current release of TSGI 2018, we have included, cyber security, digital skills, scale and global competiveness to gauge the wider aspects and impact of the digital ecosystem," Vashistha said.
The Tholons Services Globalization Index (TSGI) is published annually. — Carl James T. Cabarles, USJ-R Intern, JMO (FREEMAN)