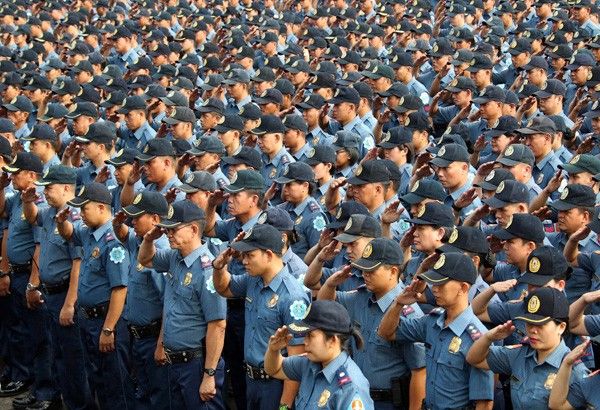 The 19 municipalities include San Fernando, Carmen, Sibonga, Osob, Tabogon, Madridejos, Borbon, Sogod, Moalboal, Santa Fe, Tabuelan, Poro, Ronda, Malabuyoc, Alcoy, Boljoon, Ginatilan, Pilar, and, Tudela.
File
19 police stations to get additional personnel
(The Freeman) - May 25, 2018 - 12:00am
CEBU, Philippines — About 93 Cebu Police Provincial Office (CPPO) cops who recently graduated from their training will be assigned to 19 different police stations to fill out the lack of personnel, following the failed assassination on Daanbantayan Mayor Vicente Loot and family last May 13.
The 19 municipalities include San Fernando, Carmen, Sibonga, Osob, Tabogon, Madridejos, Borbon, Sogod, Moalboal, Santa Fe, Tabuelan, Poro, Ronda, Malabuyoc, Alcoy, Boljoon, Ginatilan, Pilar, and, Tudela.
CPPO Director Manuel Abrugena said that these police stations belong to category B and C, which means the municipalities are not as modernized as compared to stations which belonged in category A, such as, Danao City.
Abrugena said that Daanbantayan is generally a peaceful town, however, it was only disrupted once, with the failed ambush on the Loot family. It is back to normal now, the police said.
"Daanbantayan ay peaceful naman nagkaroon lang ng kaunting disruption during the incident, but after the incident ay okay naman," he said.
Abrugena added the cops will be deployed next week.
The CPPO has a total of 2,000 personnel.
At present, the region's ratio of policemen to an individual is 1:572, as compared to the ideal of 1:500.
On a separate development, in line with the first Brigada Eskwela tomorrow, Abrugena said that policemen will also be assisting schools, not just for security but also for cleaning.
"Saturday mag-Brigada Eskwela na, as usually tumutulong ang kapulisan sa mga gawain at implementing plan para organized," he said.
School Security
Meanwhile, Police Regional Office (PRO)-7 Deputy Spokesperson Senior Inspector Reslyn Abella assured that the police will be deployed to secure schools and other educational institutions during the first day of classes.
However, the number of cops will be based on the discretion of the provincial and city commanders.
She added that immediate schools around the area such as Abellana National School and City Central School will have cops detailed in police assistance desks.
"We will ensure nga naa ta i-deploy nga mga pulis during the first day of classes. We will ensure the security of the students and teachers," she said. — Mae Clydyl L. Avila/GAN
Over 100 arrested for drugs
More than a hundred alleged drug personalities were arrested and over P2.1 million worth of drugs were seized by different enforcement units carrying out operations in Cebu last Wednesday.In Barangay Ermita, Cebu City, last Wednesday afternoon almost P340,000 worth of suspected shabu were seized by the authorities from two drug personalities.
They were identified as Arnulfo "Poloy" Abellar, 55; and Renato "Bagol" Empuerto, 48, both residents of the same barangay.
"Niresponde mi sa tawag sa concerned citizen informing us sa rampant drug activities sa area…na timing-an g'yud namo ang duha nga nag tinunolay," said Senior Inspector John Escober, deputy chief of the City Intelligence Branch of Cebu City Police Office.
Escober added the suspects already named their source, but this is still subject for validation.
Abellar yielded a medium pack and 63 small packs while the operatives found from Empuerto a medium pack and 65 small packs of suspected shabu. All weighed approximately 28.2 grams and was estimated at worth P333,468.
In Danao City, a total of P1.3 million worth of suspected shabu was seized during an operation by the Danao police from Wednesday evening until early dawn yesterday.
Twelve alleged drug pushers identified as Mark Gala Lucero, Bebelyn Puebla Almacen, Jeffrey Cano Mahinay, Maria Asuncion Sacedor Durano, Anthony Laurente Gorre, Kenneth Gianco, Niño Mamites, Christian Collonia Aroma, Arnold Durano Gallego, Kristina Casandra Hermosilla, Noli Mangas Granada, and Maria Clarissa Mamitez Manulat were arrested.
Also arrested were alleged drug users Rhymar Ababon Gallera, Arnold Noval Taño, Tomas dela Cerna Rosal, Joseph Arenas Gerebese, Nepol Baylosis Malagapo, Eric Perales Aguilar, Alexter Calo Calvara. Alleged suertres usher Adrian Gian Monte was also arrested after being found with alleged shabu.
Two medium and 67 small sachets of suspected shabu weighing of 111.39 grams were found from the suspects. All of them are now detained at the Danao Police Station.
Meanwhile, an estimated P170,000 worth of illegal drugs was seized in different buy-bust operations in the City of Naga and Talisay City last Wednesday.
In Sitio Magay, Barangay Tangke, Talisay City, police seized P110,500 worth of suspected shabu from Rodney Anga Marinas, 30, of Sitio Kamanggahan, Barangay San Roque; and Christian Obrero Yares, 27, a resident of Sitio Magay, Barangay Tangke.
Marinas yielded a medium pack and ten small packs of suspected shabu worth P40,500 while Yares was allegedly found with two medium packs and 15 small packs of suspected shabu, worth P70,000.
In Barangay Colon, City of Naga, Saldy Laput Hermoso, 35, a resident of Suba, Tuyan, City of Naga, was arrested during a buy-bust operation on Wednesday and was found with P59,590 worth of suspected shabu.
In Cebu City, police also arrested 87 personalities, 43 of whom were allegedly involved in illegal drug activities, from during their "One Time Big Time" pursuit from last Wednesday to yesterday.
Confiscated from the suspects were an ampoule of nubain and five medium packets and 146 small packets of suspected shabu weighing 51.25 grams and estimated worth P605,650. — Shaira Nicole M. Ymbong and Patricia Faith T. Santillan, STC interns, and Chelsey Gaile B. Lapingcao, CNU intern/BRP (FREEMAN)