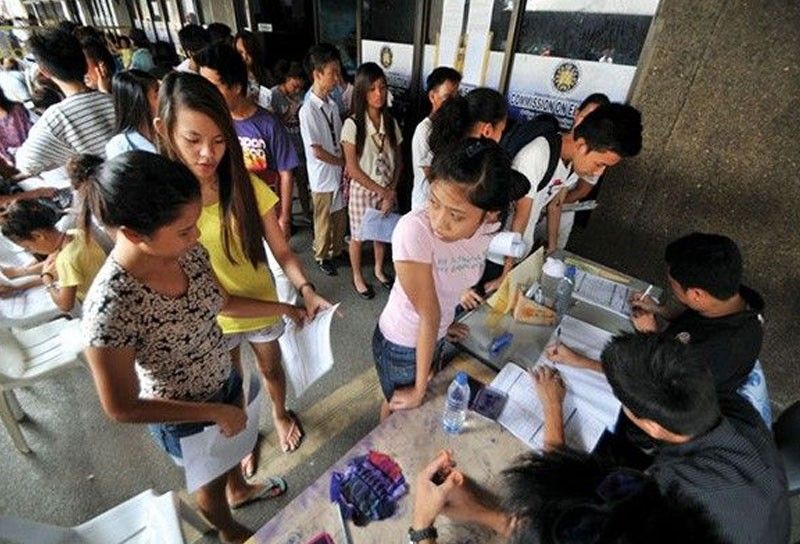 So far, at least 795 filed their COCs in Cebu Province while 121 others filed in Cebu City.
File
On first day in Cebu City, province: More than 900 bets file COC
CEBU, Philippines — The first day of filing of certificates of candidacy for the upcoming barangay and Sangguniang Kabataan elections went smoothly in Cebu yesterday with at least 900 hoping to be elected.
So far, at least 795 filed their COCs in Cebu Province while 121 others filed in Cebu City.
Of the 795 in Cebu Province, 62 are running for barangay captain while 490 are running for barangay councilman.
Forty-four are running for SK chairman while 199 are running for SK councilman.
In Cebu City, seven are running for barangay captain while 78 are vying for barangay council posts.
Eight want to be elected as SK chairman while 28 are gunning for posts at the SK council.
"So far, relatively peaceful ra man ang filing sa COC and naa na puy ubay-ubay nga ni-file. As to the number, mas mingaw before kay wala may SK elections; karon kay naa na," said Anna Fleur Gujilde, election officer of Cebu City's South District.
Candidates have until April 20 to file their COCs. Campaign will begin on May 4 and will end on May 12.
Those filing for COCs have to bring four pieces each of a notarized COC, passport size photo, and document stamps. Comelec will be open even on weekends to accept COCs, from 8 a.m. to 5 p.m.
Provincial Election Officer, Atty. Ferdinand Gujilde reminded government appointees who wish to run that they must resign from their posts before filing their COC.
He said only those holding elective positions in government are allowed to carry on with their duties even after filing a COC.
Regional election officer, Atty. Rafael Olaño, reminded candidates that campaigning before the campaign period is illegal. Those caught campaigning prematurely may face up to six years in jail.
"It doesn't mean nga naka-file na sila og candidacy, pwede na dayon sila mangampanya. Dapat maghulat sa election period because violation na ang premature campaign," he said.
Olaño said social media is one of the major challenges Comelec faces during elections, as the agency does not have enough manpower to monitor candidates and their executions there.
"Atong problema sad ang social media, like, kinsay mubantay ana? Limited ra ang among mga personnel, especially sa mga lungsod, mao nang maglisod mi og monitor kay dili man pud kasagaran active sa social media. Di pud pwede nga magsige ta'g trabaho, magsige pa gyud tag Facebook," he said.
COMELEC is still finalizing the official list of Election Watchlist Areas (EWA), which will contain the names of the towns and cities that have to be supervised by the police based on recorded untoward incidents there during elections.
Eight areas in Cebu Province were placed in the list in the 2016 polls.
Aspirants
Among those who filed his COC yesterday was 84-year-old Dionisio Miñoza who wants to be elected as councilman of Barangay Budlaan in Cebu City.
He does not consider his age as a hindrance to service and is even considering of spending his salary for others.
"Didto sa Budlaan, daghan kaayo og pobre pareha nako. Daghan ko'g plano. Naghuna-huna ko nga dili ko modawat og sweldo kon makadaog. Akong sweldo, akong ipalit og tambal para sa mga pobre sa barangay," he said.
Meanwhile, 71-year-old Abraham Diaz, a member of the Lupong Tagapamayapa in Barangay Inayawan, Cebu City said peace and order is his priority in the barangay.
"Paningkamutan namo nga mupatigbabaw gyud ang kalinaw kay karon, na-control man namo (the moment I became a member of lupon)," Diaz said.
Adrian Pacaldo, 18, said he believes in the SK because it can help the barangay officials create and implement programs for the youth.
He said that as long as the SK officials are aware of their duties, their age should not be a problem.
Miñoza, Diaz, and Pacaldo said they are willing to undergo a test to show voters they are not using illegal drugs. Christell Fatima M. Tudtud , Staff Members Ivory Pauline Escarro and Mary Kristine Cameros CNU Interns — /JMO