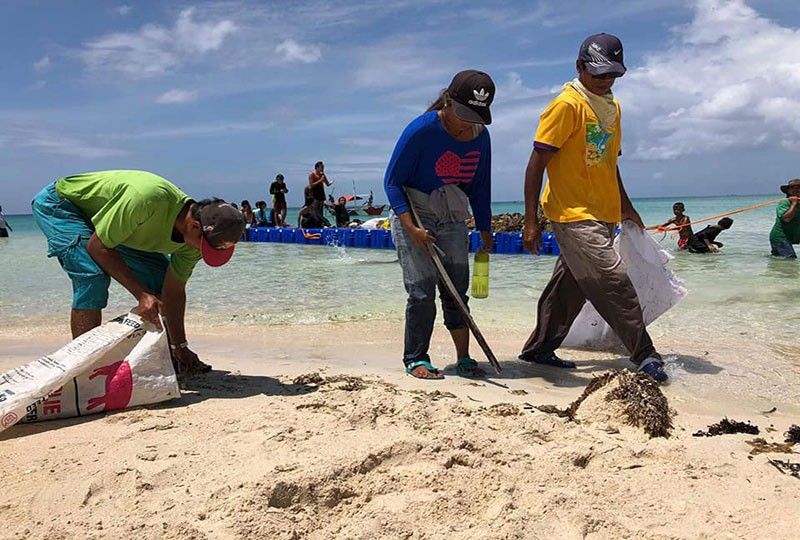 Locals join a cleanup drive on the shores of Sta. Fe town, Bantayan Island early Black Saturday morning.
Jay Rommel Labra/Contribtued Photo
Sta. Fe government might close beach line due to wastes
CEBU, Philippines — The local government of Sta. Fe might close not only certain business establishments along the beach line but the whole tourism area if people continue not to follow waste management laws.
Sta. Fe Mayor Jose Esgana said that they do not want that what happened in Boracay will also happen to their island.
The national government is eyeing to close Boracay Island because of violations of environmental laws.
Esgana said what happened in Boracay is a warning to them being considered as one of the top tourist destinations in Cebu.
"The failure in Boracay should not happen here. Puwede ta masunod sa Boracay. Layo na ang 3 years kung dili nato masugdan pa karon ang mga programa dayun," said Esgana.
He added that the Department of Environment and Natural Resources (DENR) has already communicated with them and started visiting particular areas in Sta. Fe.
"Ikaupat kuno ni nga ilang tutokan og bisitahon," Esgana said.
In order to address the issue, the LGU of Sta. Fe already passed a septage code which is for responsible management waste and waste water treatment.
Under the ordinance, the municipality will inspect all the establishments in Sta. Fe, particularly near the coastal area, to check their waste disposal and to determine if the 20-meter easement rule is followed.
"Tan-awon nato if there is still ang ginaingon nato nga mga bottomless nga mga septic tank. We have to inspect that and we have to review and we will be giving warning to them. If they do not change that kind of septic tank, we have to be more aggressive not only a warning but precisely after 1-2 years, we have to close that establishment," Esgana said.
He said the wastes in Sta. Fe do not only come from the people and business establishments but also from the shipping companies based at the Sta. Fe port.
"We also have to ask them what remedy they are doing to prevent the problem later on," said Esgana.
Another environmental issue that Sta. Fe is facing now is the coastal erosion particularly in Barangay Talisay from Sta. Fe port.
Meanwhile, Sta. Fe Tourism Officer Melanie Loyao encouraged local and foreign tourists to observe responsible waste management.
"Right now, we are serious in promoting responsible tourism. When we say responsible, we are not only encouraging local and international tourist to come and enjoy Sta. Fe but also teaching them to become responsible of their waste," said Loyao. —MBG. (FREEMAN)