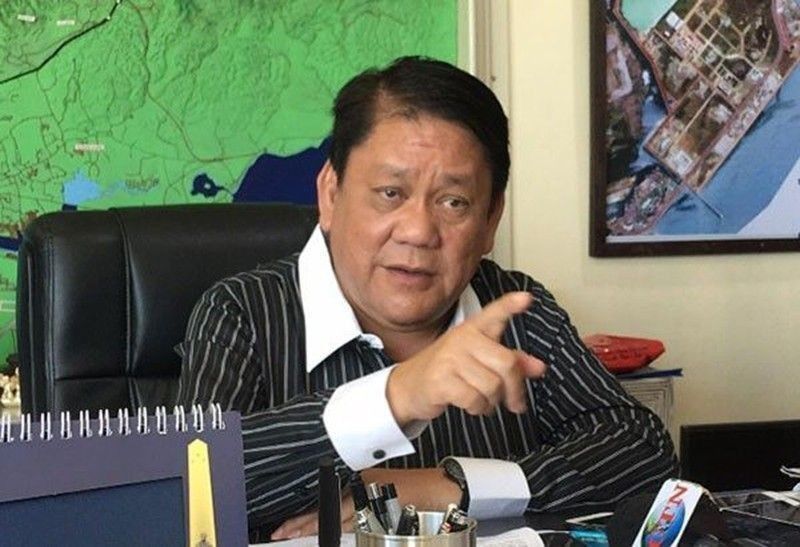 "If you ask me, from where I stand, it's from China. It's certainly not from America, not from Japan, possibly Taiwan. Even in the laboratories in Manila, they're all made in China.
File
Osmeña says: Drugs linger because Du30 is 'scared of China'
(The Freeman) - April 1, 2018 - 12:00am
CEBU, Philippines — Cebu City Mayor Tomas Osmeña said the drug problem will persist unless the Duterte administration will make a move against China, which he believes is the source of drugs in the Philippines.
"If you ask me, from where I stand, it's from China. It's certainly not from America, not from Japan, possibly Taiwan. Even in the laboratories in Manila, they're all made in China. I wonder what the government will do about this," Osmeña said on the sidelines of a luncheon meeting with officials of the Cebu City Police Office on Saturday.
He hosted the lunch to congratulate the city police for seizing nearly P8.8 million worth of drugs in buy-bust operations conducted over the last four days.
Osmeña said while Duterte has done a lot in the campaign against illegal drugs, it is hard to address their proliferation because they spread like "cancer" in the community.
"The president has done so much. The question is why is he seems to be afraid to move against China. The issue might be addressed by having all those containers (thousands of containers from China) to make them go to Singapore," he said.
The mayor went on to congratulate the police for their relentless efforts to combat drugs.
"It's a real sacrifice what they're doing especially with the perceived deterioration with all these murders and ambushes happening around our neighborhood," he said, adding that the CCPO has nothing to do with the issues surrounding the police force.
Explaining why he treated the police officers and officials to lunch after the good work, Osmeña said the police need this kind of boost to let the public know that they are doing something for the community.
When asked if the illegal drugs situation in the city has become better now, the mayor responded that the people should be the judge.
"Every mayor will say it's better than before. Just ask the people. Is it better now than before? I know drugs will never disappear. Crimes will not disappear," he said, adding that pushers have continued to operate even within the confines of jails.
Police Station 10 Chief Inspector Henrix Bancoleta, in a separate interview, expressed his gratitude to the mayor as they see the latter's gesture as a "morale booster."
Bancoleta said initial investigation into their buy-bust operation on Friday revealed that the arrested person, Mario de Jesus Jr. alias "JR", has connections from the City Jail.
"Naa siyay igsuon sa BBRC. Mao daw to ang modala sa transaction. Mao to ang mo-contact ug ihug lang sa gawas. Ang nadakpan ang supplier," he said.
Productive Week
According to the police, more than 750 grams of suspected shabu were seized over the last four days in Cebu City alone, with their estimated value pegged at P8,868,396.
Bulk of the stash, about P4.7 million, came from de Jesus, 34, a resident of Bontores Street, Barangay Basak San Nicolas, who was subjected to a joint buy-bust operation by Punta, Mambaling and Pardo police stations.
De Jesus yielded one medium and four large packs of suspected shabu, weighing around 400 grams in total.
Bancoleta, the newly-installed station commander of Punta Police Station, said it only took them three days of surveillance and monitoring to validate information that the suspect was selling drugs in bulk.
He said a joint operation was initiated since the suspect lived at the boundary of the station's area of responsibility.
He added that the suspect yielded to cops peacefully, but still refused to talk during their interview with the police.
CCPO Director Senior Superintendent Joel Doria confirmed that de Jesus sourced his supplies from Cebu City Jail in Barangay Kalunasan.
He said that if de Jesus received an order, he would communicate with someone inside the rehabilitation center. An unidentified carrier would then drop it off at his house.
Since March 28, the CCPO Drug Enforcement Units (CDEU), City Intelligence Branch (CIB) and several stations' dedicated drug enforcement personnel have netted 11 additional drug personalities in separate anti-illegal drug operations.
On the evening of March 28 in Sitio Romblon, Barangay Inayawan, CIB operatives arrested a drug suspect, Orpheus Pangilinan, 26, for possession of three large packs of shabu weighing 240 grams and worth P2,832,000 based on Dangerous Drugs Board value.
The buy-bust against Pangilinan was hatched after reports from the community about his illegal activities. During the operation, police caught him red-handed.
At dawn of March 29, along C. Padilla Street in Barangay Duljo-Fatima, police also arrested Maybelyn Cabellon, 26, who yielded 94 small pieces of suspected shabu weighing 7.2 grams and worth P84,960. Later that day, on F. Gochan Street, Barangay Mabolo, police arrested suspects Reychillo Valdez alias "Cheng," a high-value target, and Raymond Englatera, 31, a street-level target.
Confiscated from the two were 17.7 grams of shabu worth P208,860.
The following day, on March 30, cops apprehended a married couple in a buy-bust operation in Sitio Puntod, Alaska Mambaling. Suspects were identified as Marcelo and Yolanda Silverio, 50 and 49, who yielded 13 grams or P153,000 worth of illegal drugs.
Loremar Carcueva, 37, and Mark Brayn Lopez, 34, were also arrested with 25 grams of suspected shabu worth P295,000.
Two more suspects were nabbed in Sitio Mercado, Barangay Tisa. They were identified as Arnolfo Diol and John Paulo Pena, who yielded 35 grams of shabu worth P413,000.
Yesterday, two simultaneous operations resulted in the arrests of Nino Llamdo, 28, in Sitio Proper, Barangay Ermita, and Erwin Reyes, 28, in Sitio Looban, Villagonzalo Dos, Barangay Tejero. Llamado yielded 10 grams of shabu worth P107,000 while cops confiscated from Looban 6.32 grams of shabu worth P74,576.
Doria said the drug personalities must have gone on with their illegal transactions considering that the public was observing the Lenten week.
"Alam na man nila na busy yung mga pulis para anti-criminality efforts ngayong Semana Santa. Kaya siguro naglakas sila ng loob," Doria said.
He also said the recent drug haul proves that only a few cops are lured by money and risk their career in exchange for a little sum of money.
Metro drug busts
In other parts of the metro, police were also busy snaring drug suspects last week.
At least five persons were arrested by the Lapu-Lapu City police personnel in separate buy-bust operations on Wednesday.
Operatives from LCPO City Intelligence Branch (LCPO-CIB) arrested Reyhomer Zapanta, 27, and Bonifacio Gomez III, 35, and Liza Amistoso Ompad, 41; her cousin Nilo Amistad Ompad, 47; and Vengie Mendoza in Barangay Pusok.
Senior Inspector Genesis Aniversario led the operation supervised by Superintendent Mark Gifter Sucalit, chief of LCPO CIB. The confiscated shabu was estimated to be worth of P33,040.
The operation was in coordination with the City Drug Enforcement Unit (CDEU). After the arrest of Zapanta and Gomez, Sucalit said, police confiscated seven small packs of suspected shabu worth P13,924 and weighed around 1.18 grams.
Police also seized from other suspects five small sachets and a medium pack of suspected shabu with an estimated value of P19,116. Aside from drugs, they also confiscated P1,070 cash proceeds from the illegal activity.
In Talisay City, three were arrested in a buy-bust operation conducted by Talisay police on Thursday in Barangay Tanke.
Suspects were identified as Diosa Maloto, 36, a resident of Sitio Lower, Barangay Mohon, who was also the subject of the operation.
Also arrested were Renan Cañeda, 34, a resident of Ruiz Compound, Barangay Tabunok, and Arsenio Barliso Jr., 20, from Sitio Dedos, Barangay Linao, who were both caught in the act of possessing illegal drugs. — with Iris Mariani B. Algabre and Christell Fatima M. Tudtud/JMD (FREEMAN)