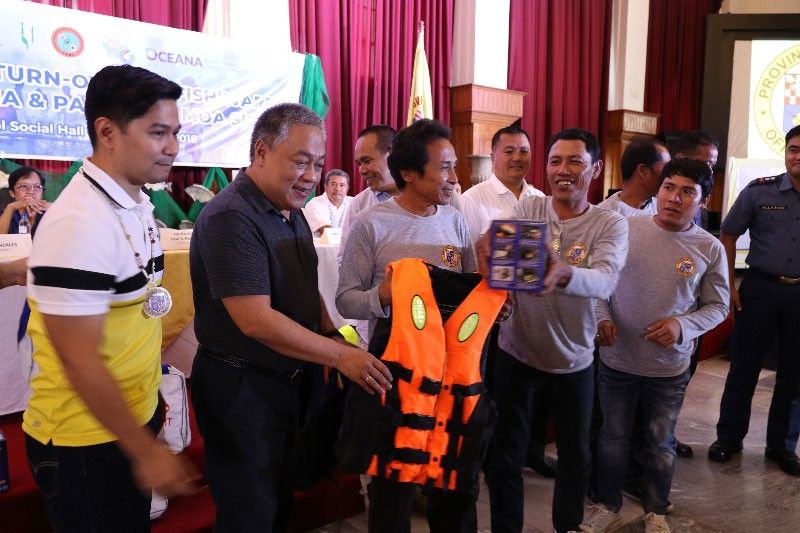 Cebu Gov. Hilario Davide III leads the distribution of fishing para-phernalia after making an announcement that all deputized fish wardens will each receive P2,000 monthly allowance.
Photo cour-tesy of the Provincial Information Office
Fish wardens get P1M worth of gear
(The Freeman) - February 22, 2018 - 12:00am
CEBU, Philippines — Deputized fish wardens in Cebu received yesterday P1 million worth of fishing paraphernalia from the provincial government.
The paraphernalia include 205 life jackets, 51 first aid kits, 51 rechargeable flashlights, 35 binoculars, and 26 megaphones. The budget was sourced from the Provincial Disaster Risk Reduction and Management Organization (PDRRMO) fund.
Aside from the paraphernalia, handbooks and posters containing fishery laws and penalties written in Cebuano language were also distributed to fish wardens.
Aproniano Templado, 63, said the fishing paraphernalia are really of great help to them, especially in the conduct of patrol operations against illegal fishers. Templado has been a fish warden in Alcantara town for 15 years.
PDRRMO Head Baltazar Tribunalo said the move in equipping the fish wardens and environment protection stewards should be holistic. "It should not only be exclusive to one Capitol department," he said.
Governor Hilario Davide III also promised to give P2,000 monthly cash allowance to the wardens, who have been helping the government in protecting and conserving marine habitat.
Cebu has around 200 deputized fish wardens.
The governor urged the fish wardens to help their respective communities in eliminating illegal fishing activities that have resulted in the decline of fish production in the past years.
In a separate development, deputized fish wardens and police chiefs from different cities and towns in the province took oath yesterday as marine life protectors.
The oath taking serves as a symbolic declaration for fish wardens and police officers' commitment and dedication in strengthening law enforcement efforts against illegal fishing activities.
The police commanders took the oath to signify their fortified allegiance to the advocacy of protecting the local waters, including the Tañon Strait Protected Seascape (TSPS), from commercial fishing operators.
Tañon Strait is a narrow body of water between the islands of Cebu and Negros. It covers 521,018 hectares and borders 677 kilometers of coastline in three provinces.
According to Oceana, an international marine conservation organization, Tañon Strait is known as the playground of cetaceans, with at least 14 species of whales and dolphins found in its waters. It also harbors a diverse range of marine habitats including 26 species of mangroves; and seven species of seagrass, according to various studies.
It was declared a protected seascape by virtue of Presidential Proclamation 1234 signed by then President Fidel V. Ramos on May 27, 1998 in recognition of its extraordinary abundance and diverse assemblage of dolphins, whales and other marine species.
Moreover, the event's attendees — Oceana and Rare, both are non-government agencies advocating for the protection of marine protected areas, and representatives from the National Bureau of Investigation(NBI), Bureau of Fisheries and Aquatic Resources(BFAR), Department of Environment and Natural Resources(DENR), and the Department of Justice(DOJ)— also signed the manifesto of support. (FREEMAN)