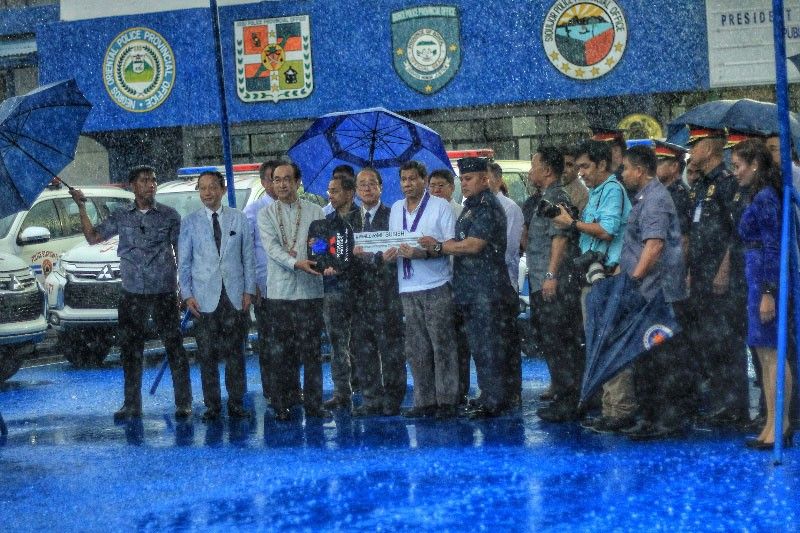 Despite the downpour, President Rodrigo Duterte and officials from the Japanese Embassy in the Philippines participate in the ceremony at the Police Regional Office - 7 in which 20 brand new patrol cars donated by the Japanese government were turned over to the Philippine National Police.
Aldo Nelbert Banaynal
Duterte pledges P50M for medical aid shop
(The Freeman) - February 13, 2018 - 12:00am
CEBU, Philippines — President Rodrigo Duterte has pledged to give P50 million for the Malasakit Center he inaugurated at the Vicente Sotto Memorial Medical Center (VSMMC) yesterday.
It was unclear, however, if the P50 million will be a one-time donation, said Department of Health Director Jaime Bernades.
The Malasakit Center is a one-stop-shop where government medical financial assistance may be given to those who need it most.
Presidential Assistant for the Visayas Michael Dino said the Malasakit Center will amplify the Duterte administration's advocacy of streamlining government processes, especially the services needed for the poor.
"We intend to simplify things and cut down the requirements as part of the President's mandate to streamline processes of government services. This way, patients do not need to undergo the tedious and often repetitive processes of securing requirements and going from one agency to another," Dino said.
Partner government agencies such as PhilHealth, DOH, DSWD, and PCSO will operate at the center.
Dino said PAGCOR will also roll out its assistance services through the Malasakit Center.
He said the construction of the Malasakit Center at VSMMC was at no cost to government as it was the Sacred Heart School Batch 1985 Foundation that funded the project.
"Our partners in the private sector believe in their role to achieve the President's promise of change. They know President Duterte cannot do it alone, and like all of us here from government, we all know that we have our roles to play in our quest to achieve change," Dino said.
From VSMMC, Duterte led a joint command conference of the Philippine National Police (PNP) and Armed Forces of the Philippines (AFP), at Camp Sergio Osmeña.
There, he also witnessed the turnover of 20 brand-new mobile cars from the Japanese Government, fully equipped with dash cameras.
The President also awarded PO2 Aristeo Tampus with the Order of Lapu-Lapu Rank of Kampihan.
On February 4, Tampus got wounded in the elbow after the subject of a buy-bust operation, Benjamin Acero, wrestled the firearm away from the policeman. (FREEMAN)