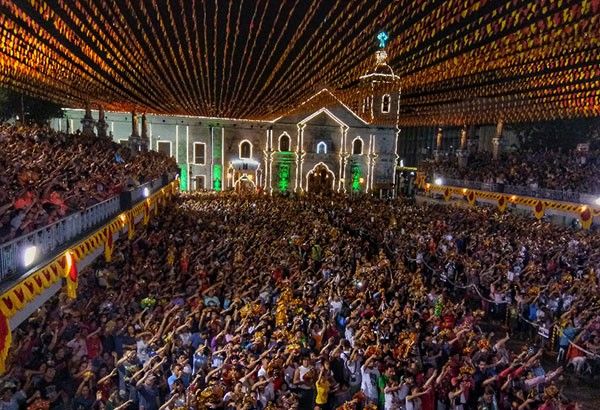 Devotees wave their hands and their images of Señor Santo Niño while singing the Gozos at the Basilica Pilgrim Center after the procession from Fuente Osmeña.
Aldo Nelbert Banaynal
Mammoth crowd 'walks with Jesus'
CEBU, Philippines — He may not have feet, but he has faith.
That faith prompted polio victim Julio Potencioso to wake up as early as 3 a.m. yesterday to join 80,000 Catholics in the penitential Walk with Jesus that formally opened the Fiesta Señor in Cebu City this year.
Paralysis rendered Potencioso immobile for three years now, and with no feet to walk by, he masterfully maneuvered his wheelchair among the thick crowd that marched 2.3 kilometers to send the image of the Holy Child from Fuente Osmeña to its home, the Basilica Minore del Sto. Niño.
Potencioso did not have a companion.
His wife died in 2016 because of a heart problem. Together, they were blessed with seven children who now have families of their own.
Despite his condition, Potencioso did not pray for healing as he said he has come to accept his fate. His petitions were simple: good health and a peaceful community.
As the vast crowd of devotees moved along, Osmeña Boulevard transformed into what seemed to be a river of light.
The devotees carried with them lighted candles, rosaries and different sizes of the Santo Niño images adorned in various eye-catching garments.
According to Cebu City Councilor David Tumulak, deputy mayor for police matters, around 80,000 people were estimated to have gathered during the dawn procession, including those who attended the first Novena Mass at the Pilgrim Center that followed shortly after the walk.
Basilica rector Father Pacifico Nohara Jr. of the Order of Saint Augustine, in his homily, said the penitential walk symbolizes the spiritual journey of Catholics as they prepare themselves for the big celebration of the Child's feast on January 21.
The feast falls every third Sunday of January.
Nohara quipped that the walk was also a form of exercise, but he was also quick to point out that "it is sacrificial and a manifestation of our faith and evangelizing act as devotees of the Holy Child."
Citing the Fiesta Señor's theme this year, Nohara said the Santo Niño "inspiration of renewed disciples for new evangelization."
Catholics are therefore called to be agents and evangelizers, or instruments of spreading God's words, he said.
Though becoming real disciples is not an easy task, especially in these modern times, he said this mission is more significant to Cebu, where the natives received the first evangelization through the devotion of the wooden miraculous image of Santo Niño.
"Because of Him (Santo Niño), our ancestors were Christianized and that religious tradition we still carry on today," said Nohara.
History has it that Christianity first came to the country's shores through Cebu, which is widely known as the cradle of Christianity in Asia.
"We should realize how blessed we are that the original image is here with us, always with us and constantly guiding our way, that is why it is fitting for us to praise and thank Him," said Nohara.
"The miraculous image always hears our prayers, grants our very desires, gives us hope, protects us away from misfortunes, preserves us all through the years, survives all forms of calamities, embraces us in our sufferings and inspires us to be better person, perhaps renewed disciples," he added.
Whatever the circumstances are, Nohara urged the faithful to always "choose the camp of righteousness; choose to be servants of the Lord; and choose to participate in the mission of the Church as renewed evangelizers."
"Truly, we are a pilgrim Church (or a community of believers) growing in faith, journeying towards holiness and continuously proclaiming the good news and missions in obedience and faith," he said.
As for Potencioso, his devotion for the Child Jesus is more than just appealing for an answered prayer. He said one should not seek refuge to the Santo Niño only when they are in need of help.
Devotion, he said, should be anchored on the belief that Jesus is the one who saves people not only from the earthly miseries but from spiritual poverty.
Police Chief Inspector Jacinto Mandal, ground commander during the Walk with Jesus, said the event was generally peaceful with zero crime incidents recorded in all stations.
"Generally peaceful.Ang mga tao very cooperative," he said.
Mandal said that because of the "effective" security framework yesterday, he does not see any reason to change security preparations for the upcoming Walk with Mary on January 19. —Clydyl L. Avila (FREEMANNEWS)