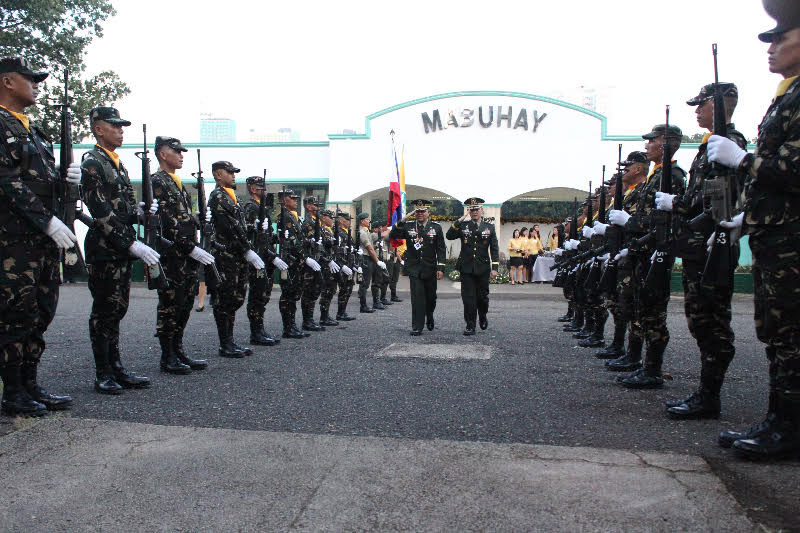 AFP Chief of Staff Rey Leonardo Guerero is escorted by Major General Paul T. Atal during the traditional pass in review following the latter's installation yesterday as the new commander of the Central Command. Tristan T. Laput
New CentCom chief to rebels: Live for peace
(The Freeman) - December 8, 2017 - 4:00pm
CEBU, Philippines — The new Armed Forces of the Philippines-Central Command (AFP-CentCom) chief has promised to address insurgency in Central Visayas.
Speaking before the military officials and officers during yesterday's turnover ceremony at the CentCom headquarters, Major General Paul Atal encouraged rebels and outlaws to "come back to the folds of the law and live for peace." Atal, from the 5th infantry division of Philippine Military Academy "Maharlika" Class of 1984, replaced Lieutenant General Oscar Lactao.
"War only leaves death and destruction. The military fights not because we want to but because we need to," he said.
He also reminded the public and his troops to stay on full alert on possible conduct of atrocities following the termination of peace talks and President Rodrigo Duterte's proclamation branding the National Democratic Front-Communist Party of the Philippines–New People's Army as terrorist group.
Military Spokesman Major-General Restituto Padilla earlier made similar advice to government troops to stay alert on possible retaliatory attacks from 3,800-strong leftist fighters.
To maintain peace and progress, Atal vowed to suppress insurgency in the region as his top priority.
He said the job of AFP goes beyond protecting structures, confiscating weapons or addressing threats but also fighting the ills that plagued society nowadays.
Atal's other priorities are keeping a consistent line of communication with the regional and local officials for them to be updated with AFP campaign plans; and conducting capability enhancement programs for soldiers, among others.
With the advent of technology, he also wants his soldiers to be as versatile as possible and be adaptive to its advancement as threats also change over time.
"We are likewise now faced with its changing security environment with emerging major threats on cyber security concerns," he said.
Atal also said he will continue with the existing plans and program of Lactao and improve those that need refinement.
He admitted though that he has still big boots to fill as he assumed post as the commander of AFP-CentCom.
"His (Lactao) example as a snappy, excellent and formidable commander will be a constant reminder of high standards of which I and the officers of the Central Command, including all of his units must continue to meet," he said in his speech.
Atal served as an assistant division commander when Lactao was the Division Commander of the 4th Infantry Diamond Division.
Lactao, in his speech, thanked his mentors, saying "Thank you for showing me the right way doing my job of serving our country and people and for giving me opportunities to expand my horizon and acquiring wisdom along the way."
"Gusto ko ring pasalamatan ang mga officers, men and women who were under me...I would have not come this far if not for your efforts, support and cooperation," he added.
Lactao received a command plaque, plaque of honorable service, encased Philippine Flag and medal frame for his 37 years of service. (FREEMAN)