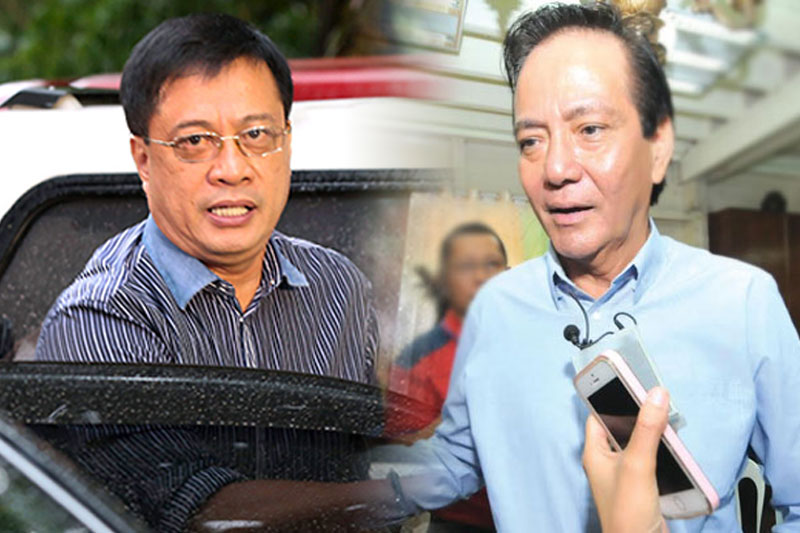 Mayor Vicente Loot(left) said, "The PNP is my protector and not an aggressor. We both knew the rules of engagement and I'm the last person to defy police authority." former mayor Michael Rama(right), for his part, said he is unafraid because he has not done anything wrong. He has since denied any involvement in illegal drugs. Boy Santos/ Paul Jun E. Rosaroso/Philstar.com/File
Following death of Parojinogs: Loot, Rama not worried
(The Freeman) - July 31, 2017 - 4:00pm
CEBU, Philippines - Daanbantayan Mayor Vicente Loot and former Cebu City mayor Michael Rama are not worried even after the death of Ozamiz Mayor Reynaldo Parojinog last Sunday.
Loot, Rama, and Parojinog are in the list of alleged narco-politicians President Rodrigo Duterte made public last year. Parojinog, his wife Susan, and several others were killed during a raid in Ozamiz City, Misamis Occidental.
But Loot said, "The PNP is my protector and not an aggressor. We both knew the rules of engagement and I'm the last person to defy police authority."
He said he did not even hire private security when the Criminal Investigation and Detection Group (CIDG) -7 investigated and cleared him in November 2016.
He said the CIDG-7 cleared him of alleged involvement in drugs and criminal activities, his alleged failure to implement the anti-drug and criminality programs of the Department of Interior and Local Government, as well as his alleged unexplained wealth.
Loot said he was targeted by those who wanted to tarnish his name.
"It's also very clear during (the) Senate investigation that I am a victim of influence peddling by subordinates who want to take advantage of my name," Loot said.
He said he is ready to cooperate in any investigation.
"Anyway, I'm willing to submit myself again to any investigation if so required to clear my name," he said.
Rama, for his part, said he is unafraid because he has not done anything wrong. He has since denied any involvement in illegal drugs.
"Wala gyod tay mahimo ana (Ozamiz incident). We just wish nga ang ilang gihuna-huna dili maabot nato," Rama told The FREEMAN.
He said he continues to work to clear his name but he may just have to give up on his efforts to speak with Duterte as he was not granted an audience even after almost a year.
He said he will not surrender to authorities, especially that no case has been filed against him.
"Dapat silay (police) moadto sa balay, mobantay nako. Dili akoy mobuluntaryo nga mo adto sa police. Wala ko nag huna-huna ana because wala man koy kahadlok ug wala man koy laing gibuhat," he said.
Like Loot, he has not hired security personnel and is willing to face any investigation.
The death of the Parojinogs came as good news for the police.
Police Regional Office (PRO) -7 Director Jose Espino said Sunday it may mean one less headache in Central Visayas.
"In my assessment, Central Visayas will now be safe from the threat (of) robbery from the criminal group of the so called Ozamis Kuratong Baleleng and lessen the trafficking of illegal drugs since there were so many intel reports, (previous and now) that point to the Parojinog of Ozamis," Espino said.
The criminal group is notorious for robbery, holdup, and extortion activities nationwide.
In Ozamiz, the Parojinog clan is reportedly considered the main elders of the criminal group.
Ozamiz Vice Mayor Nova Parojinog Echaves was also arrested after a raid in San Roque Lawis yielded firearms and shabu.
Malacañang said the raids were part of the government's intensified drug war.
"The administration vowed to intensify the drug campaign," Presidential spokesperson Ernesto Abella said in a statement.
In a statement issued yesterday, the Kilusang Pagbabago-Visayas lauded Duterte's resolve in cleaning the country of illegal drugs.
"We, members of Kilusang Pagbabago-Visayas, lauded the administration of President Rodrigo Roa Duterte. This triumph signals sincerity in eliminating major criminal gangs along with their political infrastructure," said Doris Isubal-Mongaya, lead convenor of KP -Visayas.
KP-Visayas hopes this success will create the momentum to vanquish other syndicates in the country and take down big drug lords and their protectors.
Watch list
Meanwhile, the Department of Justice has ordered the Bureau of Immigration to put Peter Go Lim known as "Jaguar", Rolan "Kerwin" Espinosa, Peter Co, Marcelo L. Adorco, Max Miro, Lovely Adal Impal, Ruel Malindangan, and Jun Pepito on its watch list.
The eight are allegedly involved in illegal drugs, violating Republic Act 9165 or the Comprehensive Dangerous Drugs Act of 2002.
Section 5 of the RA 9165 is the sale, trading, administration, dispensation, delivery, destruction and transportation of dangerous drugs and /or controlled precursors and essential elements.
"In view of the gravity of the offense filed against the above-named individuals, there is likelihood that they might leave the country to place themselves beyond the reach of the lawful process of the concerned offices," reads the memorandum issued on July 11 and signed by DOJ Secretary Vitaliano Aguirre.
Cebu businessman Peter Lim has already denied links to the illegal drug trade and even met with Duterte in an attempt to clear his name. — with Mitchelle L. Palaubsanon (FREEMAN)