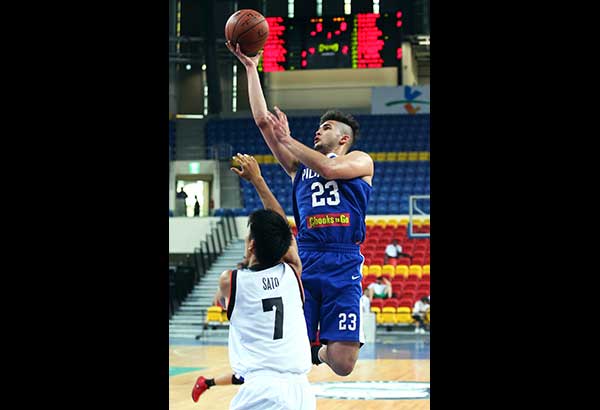 Team Gilas Kobe Paras soars over Japan's Takuma Sato for an easy drive. https-//goo.gl/ZPbgXs
Capitol to boost southern biodiversity
CEBU, Philippines - The Cebu provincial government is gearing towards preserving and promoting the natural wonders of the southern town of Alcoy, particularly its lush forest in Barangay Nug-as.
Nug-as forest is home to 40 endemic bird species, including the Cebu Black Shama (Copsychus cebuensis) and Cebu Hawk Owls, as well as endemic tree species like Cebu Mistletoe and Cebu Cinnamon.
Joselito Costas, provincial tourism officer, said the province is doing its best to protect and promote the forest as an eco-tourism site.
"We brought it to the next level. We wanted biodiversity conservation and tourism kay pwede man diay na siya. There are successful models in the world which use biodiversity as a tool to advance the livelihood of the local communities through tourism. So mao ni atong gibuhat ron nga model," Costas said.
He said the forest's tourism and economic opportunities have been very slim since 1986 which is why the province has decided to intervene.
"They've been here since 1986, wa lang gyud kaayo opportunity and wala lang gyud na-tap," Costas said.
Alcoy Mayor Michael Angelo Sestoso said the municipal government is doing its best to promote the forest.
"Karon nag-sige pa mi og promote. Karon pa mi magsugod," he said, adding that the forest wardens are helping them in protecting and promoting the forest.
However, the water system, facilities, accommodation, fees, and roads leading to the forest reserve are yet to be addressed before officially opening it to the public, he said.
Nug-as has 22 forest wardens who were trained by the provincial government. At the same time, they continue to function as barangay tanods.
The forest is about 1,600 hectares and is considered as the biggest forest in Cebu, according to Sestoso.
Costas, for his part, is optimistic that the promotion of the Nug-as forest will be successful.
"Because we know one of the major industries of Cebu is tourism man gyud so we might as well use tourism as a tool to advance their (constituents) livelihood," Costas said.
He urged the municipal government to pass an ordinance on the proper regulation and management of the forest.
The enchanting town of Alcoy is among the province's "Big Five," which will be launched next month featuring the scenic town of Alegria, mouth-watering delicacies of Argao, natural wonders of Aloguinsan, and the mesmerizing museums of Boljoon.
The five towns promote conservation of natural and cultural heritage and engaged in community-driven tourism by providing alternative livelihood to the locals. (FREEMAN)