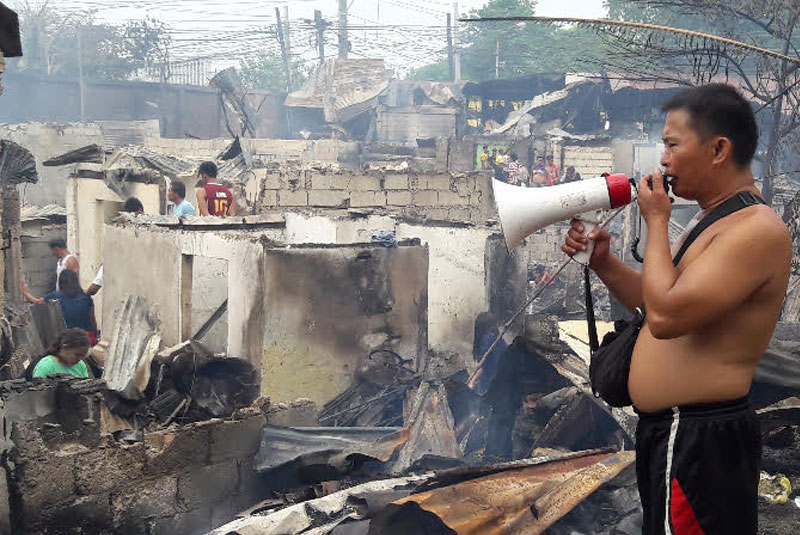 Residents of Sitio Malibu, Barangay Subangdaku, Mandaue City believe that arson was involved in the recent fire. They are asking help for President Rodrigo Duterte to look into the incident. Joy Torrejos
Fire in Subangdaku: Victims seek Digong's help in 'arson' probe
CEBU, Philippines - Residents of Sitio Lower Malibu, Subangdaku, Mandaue City are suspecting that arson was involved during a June 12 dawn fire when about 50 houses were razed.
This prompted 70 individuals to sign a petition asking President Rodrigo Duterte to order an investigation into the "highly suspicious" fire, as they strongly believed it was deliberately done by a big businessman in the city.
Initial investigation showed that the blaze started at the kitchen of Candida Tuston, a pungko-pungko vendor who was cooking around 4:18 a.m. for her business. The kitchen was made mostly of light materials, so the fire immediately spread to neighboring structures, destroying properties worth P300,000.
"Among paimbes-tigahan kay sa among huna-huna, dili kini aksidente tungod kay usa ka Candida Tuston nga among silingan ang nisulti ni Franjo dela Victoria nga adunay tawo nga nagdala og bag unya gilabay sa among dapit ug kalit nga nibuto ug hinungdan sa among pagkasunog," read the letter.
They also reported that last May 22, somebody took pictures in the area. The residents had the incident in a police blotter.
The petition letter and its attached documents were sent yesterday to the Office of the Presidential Assistant for the Visayas Michael Lloyd Dino.
"(We) would like to respectfully request your honorable office to intercede for us, the affected house owners who have lost our homes due to the said fire, that this will reach the Office of the President," read the cover letter signed by Cora Mather addressed to Dino.
In a certification dated June 6, 2008 signed by Police Senior Inspector Edilberto Castañeda of Mandaue City Police Office Station 2, Mather, together with Roy dela Victoria, Leonila Borja, Imelda Ochea and Betty Delicano, all residents of Lower Malibu, alleged that in the afternoon of April 8, 2008, a certain Rowena, secretary of Constancio Sy, uttered to them an arson threat.
"Maypa sunogon ang squatter para malimpyo ang among project," they quoted her as saying. The words, they said, caused fear and anxiety to the residents.
Another certification issued on May 22, by Chief Inspector Genilo Veraque of MCPO Station 2 also stated that a certain Joan dela Victoria, 30, single of Lower Malibu, reported that at around 9:30 a.m. of the same day, Sy, Ariel Collantes, and Rowena approached and took pictures of their residences.
"Amo ni-e-blotter kay wa mi kahibawo unsay dangatan namo ug dihang lugara sila ra baya sige'g Kodak wa mi kahibawo og unsa ila intention," dela Victoria told the police, as mentioned in the report.
The police had referred the matter to the barangay, which called for a conference.
Sy and other respondents, however, reportedly failed to appear despite being summoned three times, prompting Barangay Captain Ernie Manatad to issue a Certification to File Action Wednesday last week for the case to be filed at the proper court. (FREEMAN)