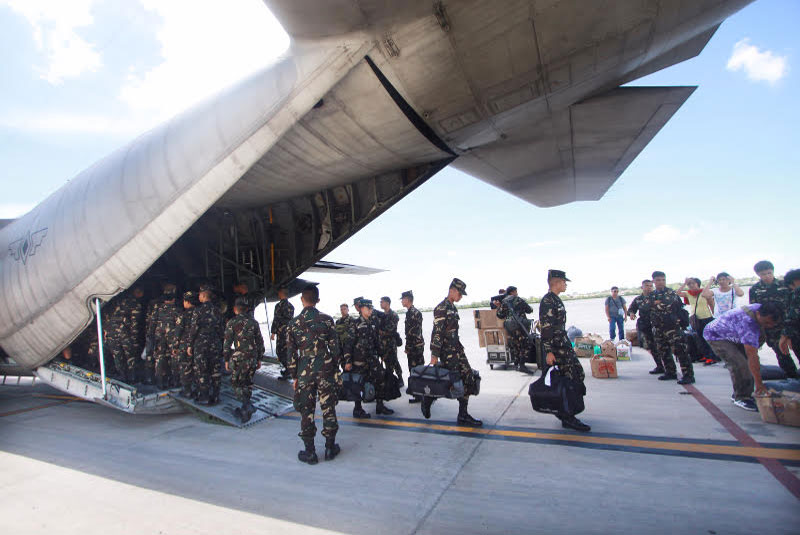 Some 279 cadets and cadettes of the Philippine Military Academy Mabalasik Class of 2019 arrive in Cebu today for a five-day goodwill visit. Joy Torrejos
PMA cadets arrive in Cebu for five-day immersion
CEBU, Philippines - The Mabalasik Class of 2019 of the Philippine Military Academy (PMA), arrived yesterday at the Mactan Benito Ebuen Air Base (MBEAB) in Lapu-Lapu City for a five-day orientation and immersion activity as part of their training as aspiring military officers.
"We just came from Palawan, Zamboanga and Davao (for the same purpose)…this is for them to market PMA as part of recruitment," said Lt. Col. Reynaldo Balido, Assistant Chief of Staff of Civil Military Operations of PMA.
The 279 third year cadets composed of 77 females and 202 males will be familiarizing themselves with units of Philippine National Police, Armed Forces of the Philippines and the local government unit of Cebu City.
Balido said they will also have a program with the foster parents, who will adopt and house the 279 cadets her in Cebu City. This is a means for the cadets to connect and interact with several communities.
"The foster parents will provide them a home away from home. They will help in bringing the PMA to the Cebu City communities," Balido added.
The cadets landed on the tarmac of MBEAB past 10 a.m. yesterday on board a C-130 aircraft from Davao City and were welcomed by military staff from MBEAB.
Today, the cadets will perform silent drill exhibitions at 10 a.m. at the Cebu City Sports Complex and tomorrow, they will have a tour around the city and will intermingle with fellow youth from the University of Southern Philippines Foundation campus on May 22.
A PMA night party, known as "Hop" will take place on the evening of May 22.
Of the 279 cadets of the PMA Mabalasik Class of 2019, five are Cebuanos: John Leden Bongbanua, Jr., 20, of Mabolo, Cebu City; Jose Miguel Abellanosa, 23, of Barangay Pardo, Cebu City; Gedeon Diamos, 19, of Barangay Basak, Lapu-Lapu City; and Mar Kyle Casinillo, 19, of Punta Princesa, Cebu City – all ranked as cadet second class.
Abellanosa in an interview said he entered PMA because he did not want to burden his family with college expenses.
"… Ang kanang kwarta, gipangita na sa imohang ginikanan kay siyempre wala man koy trabaho, estudyante pa ko. Pagkahibawo nako sa PMA, nga mao ni siya, wala na ko'y gihuna-huna nga kwarta nga gastohonon, sa pag-eskwela, libre tanan, and standard sa PMA dili low, pang-world class siya," Abellanosa said.
Already a student leader when he was still in high school, Casinillo did not have second thoughts about entering the PMA, as it was the same school of nation leaders to whom he looked up to.
"Ako ever since nag-eskwela ko sa Cebu City National Science High School, student leader na gyud ko. I became a leader didto…didto nako na-realize nga i-continue siya kay na-inspire ko sa mga leaders sa Pilipinas nga ni-enter sad sila sa PMA. Nisud ko sa PMA kay basin dako ko og chance na masundan nako ang mga yapak nila," Casinillo added. (FREEMAN)