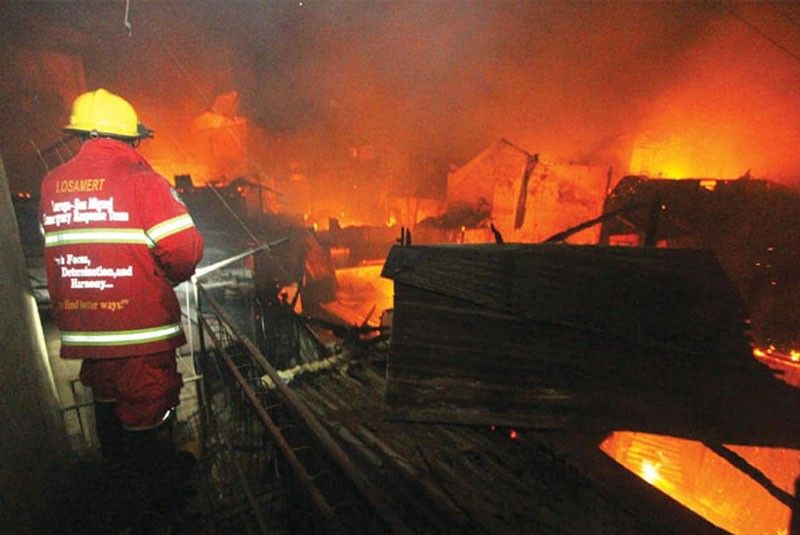 Five houses were burned down while one was partially damaged. Damages were pegged at P90,000.
Philstar.com/File
Butane causes another fire in Cordova town
(The Freeman) - May 6, 2017 - 12:00am
CEBU, Philippines - Another fire involving butane broke out Thursday in Sitio Bliss, Barangay Ibabao, Cordova town, burning down five houses.
Investigation led by Senior Fire Officer 4 Mario Randy Cuizon revealed that the fire started around 5:28 p.m. at the residence of Joel Camaso after a butane canister that was left open reportedly exploded.
The fire quickly spread in the area as surrounding houses were made mostly of light materials. Five houses were burned down while one was partially damaged. Damages were pegged at P90,000.
The fire was extinguished by responding firefighters at 5:35 p.m. No one was reported to have been injured in the incident.
Butane also caused the fire that burned 39 houses in Barangay Catarman, Cordova Wednesday evening.
Investigations showed that butane was not the initial cause of the fire but was a big factor in helping ignite the blaze as the fire reached a butane refilling station located in the area.
Monitoring ordered
Meanwhile, Police Superintendent Julian Entoma, Operations Officer of Police Regional Office Region (PRO) -7 Regional Operations and Plans Division, has instructed the Cebu Provincial Police Office (CPPO) to monitor and check on the illegal selling and distribution of liquefied petroleum gas-refilled butane canisters in the southern Cebu. Entoma said that he met with Department of Enegry Region (DOE) -7 Director Antonio Labios, who went to PRO-7 yesterday morning to seek for coordination from the law enforcement group following the report.
"Akong gi-directan ang Cebu Provincial Police Office na actionan. I want this on Monday morning, kinahanglan na madakpan na or may ma-accomplish sila sa complaint sa atong regional director (sa DOE)," Entoma told reporters.
He also instructed police to monitor and check if there are people selling illegal gasoline in southern Cebu.
DOE-7 is concerned about reports that most of the residents in southern Cebu were using LPG-refilled butane canisters, which is considered hazardous.
Entoma also said that the agency has long been concerned about the issue as the use of LPG-refilled butane canisters poses risks to the public and is one of the major causes of fire incidents.
"Ang DOE, concerned man sila ani. Ang amo lang sa pulis, amoa lang gamiton ang among law enforcement function kay naapil man na sa among mandato, among i-implementar," Entoma said.
In addition, officials of both the DOE-7 and PRO-7 have also agreed during yesterday's meeting to intensify the campaign against individuals selling gasoline using soft drink bottles.
Labios said that he had asked for PRO-7's to help their agency on the campaign.
Labios said these individuals selling gasoline using soft drink bottles do not have certificates of standard compliance issued by their agency. — Mitchelle L. Palaubsnon, Christell Fatima M. Tudtud and Nino Earl B. Tumulak (FREEMAN)