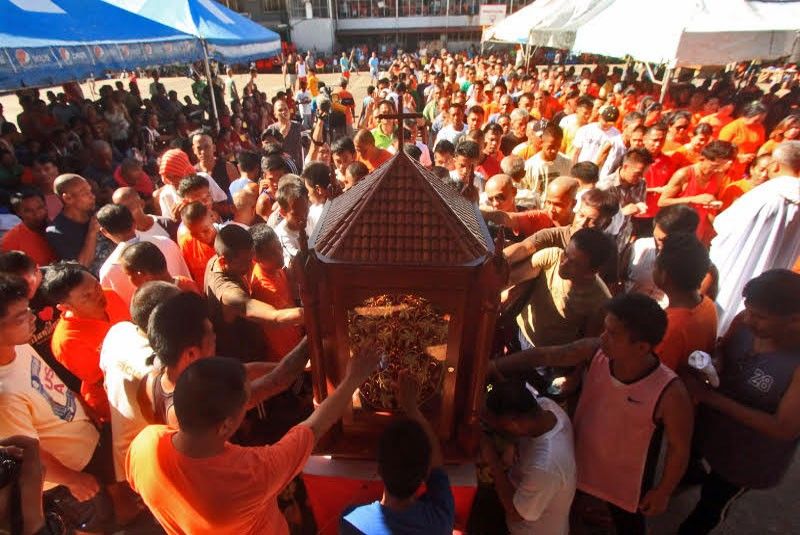 Inmates of the Cebu Provincial Detention and Rehabilitation Center pray to the image of Sto. Niño that visited the jail yesterday as part of the yearly Kaplag celebration.
Aldo Nelbert Banaynal
Santo Niño visits CPDRC inmates
CEBU, Philippines - The image of Santo Niño de Cebu visited the jail facility run by the Cebu provincial government to reach out to people isolated away from the society, bringing hope to convert sinners who seek to amend their lives.
This was one of the highlights for the 452nd anniversary of "Kaplag," which commemorates the discovery of the wooden image now known as Santo Niño de Cebu.
A concelebrated Mass was held at the open grounds near the Magellan's Cross to kick off the five-day religious event.
The pilgrim image left the Plaza Sugbo grounds at 1:16 p.m. for its motorcade to the Cebu Provincial Detention and Rehabilitation Center (CPDRC). It arrived there at 1:50 p.m.
The arrival of the pilgrim image was welcomed with a Mass participated by CPDRC inmates at the jail facility's chapel. The renowned dancing inmates of CPDRC offered a dance performance after the Mass.
The image of the Holy Child will stay in CPDRC for one day.
According to CPDRC prison guard Carl Dela Cruz, this event is for the 'renewal of faith' for the detainees, especially for the Christian prisoners.
"Ang pari gyud diri sa jail ang naningkamot nga mag-vigil diri (CPDRC)," Dela Cruz said.
The prison guard said it is also part of their task to secure the image of the Santo Niño.
In his homily during a Mass held at Plaza Sugbo, Fr. Pacifico Nohara, Jr., the rector of the Basilica Minore del Santo Niño de Cebu, touched on the importance of converting away from sinfulness to discover Jesus in this earthly journey.
Despite the trials and sufferings, the Augustinian priest challenged the Catholic faithful to seek Jesus, whose young form resembles that of the Santo Niño, because it is through Him that people are reconnected to God.
"Kining maong kapistahan nga atong pagasaulogon na usab, ang pagkakaplag, nagpahinumdom kanato sa panahon nga kita nawala usab. Lost from righteousness, lost in darkness, lost from sins we committed, lost and away from the love of God," he said.
"Mao na sa laing bahin, ato Siyang pasalamatan kay bisan pa man sa atong pagkawala pero dili Siya mutugot nga kita mawala hangtod sa kahangturan. Nagpakita Siya pag-usab kanato. We have been lost and have been found. The miracle of finding Jesus in our needs, finding our way back to Him," he added.
The pilgrim image of Santo Niño de Cebu stood beside the altar during the concelebrated Mass that served as the opening salvo of this year's anniversary before it was prepared for its transfer to the Cebu Provincial Detention and Rehabilitation Center. — with report from Maria Carmela Pasaol (FREEMAN)