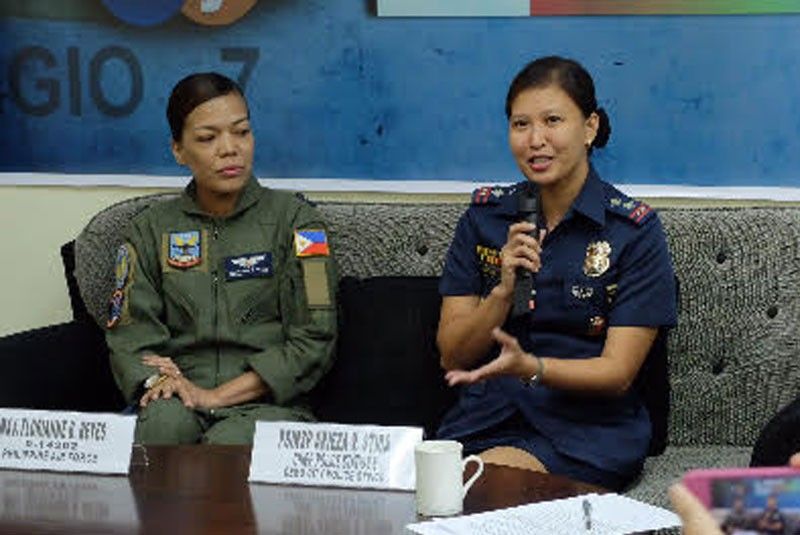 Major Florianne Reyes of Philippine Air Force and Police Senior Inspector Arieza Otida, chief of Talamban Police Station, shared how they managed to enter the professions dominated by men. Reyes and Otida were the guest speakers for the "Kapihan sa PIA-7 on women empowerment" last Wednesday.
Jay Rommel Labra
Two women excel in men's world
CEBU, Philippines - Two women have proven that gender is never a setback for excelling and conquering professions dominated by men.
Police Senior Inspector Arieza Otida, the lone female police station chief in Cebu City, and Major Florainne Reyes, a pilot of the Philippine Air Force, have set the bar high for women engagement in police and military forces.
Otida, 35, said women should never be intimidated in a world that regards females as "weak."
She said every being is unique regardless of his or her gender or sex, urging women to show and share their abilities to bring about change.
Reyes, on the other hand, stressed that women are as powerful as men.
The 34-year-old Reyes noted that women nowadays are already given equal opportunities as men, even in the Armed Forces.
Reyes said there are already significant changes in treating women in various disciplines, citing for instance the number of women accepted in the military.
The two Cebu-based officials were the panelists during a recent media forum organized by the Philippine Information Agency-7 in time for the culmination of the National Women's Month today.
Both of them said they did not dream of entering the male-dominated professions, but their parents influenced and inspired them to take and embrace the jobs.
Otida is a Political Science graduate while Reyes is a degree holder in Business Administration.
Otida and Reyes admitted that penetrating a man's profession has been a tough and challenging journey.
Otida, who heads the Police Station 8 or Talamban Police Station, said she is heading a station that oversees the most number of barangays affected by illegal drugs.
Otida said she has been joining anti-drug operations, reaching secluded areas in the mountain villages of Talamban.
She said her station was earlier recognized for having the highest number drug surrenderers in line with the government's anti-illegal drug campaign, dubbed "Oplan TokHang."
Otida, a mother of four, and Reyes, a mother of two, said they have been juggling work and family, which is also a daunting challenge.
Otida is married to a non-commissioned policeman while Reyes is married to her classmate who is also working at the Philippine Air Force.
Even if women are incomparable to men as to strength, Reyes said women have also passed rigorous physical activities as long as they meet the standards of the various trainings.
Reyes, who handled several significant positions, reminded women that one can excel regardless of gender as long as they are competent, quick and strong-willed.
"It's not about gender. It's about the individual's determination in wanting to excel in the profession," she said. (FREEMAN)