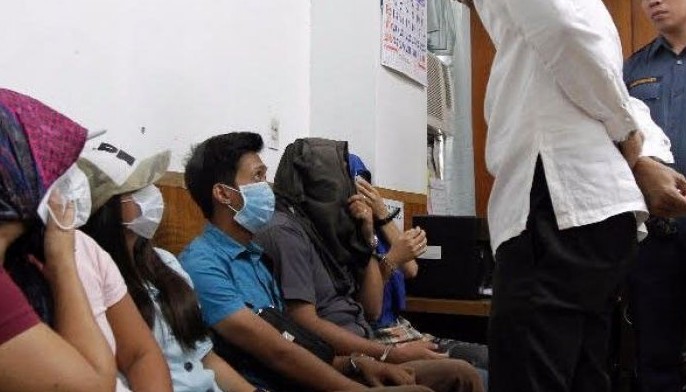 Lawyer Vincent Isles (in barong) talks to his clients during the filing of a criminal complaint against them at the Cebu Provincial Prosecutor's Office for allegedly attempting to kidnap minors in Minglanilla.
Jay Rommel Labra
For lack of probable cause; 4 of 6 accused of kidnapping freed
(The Freeman) - March 21, 2017 - 12:00am
CEBU, Philippines - For lack of probable cause, four of the six individuals sued before the Cebu Provincial Prosecutor's Office (CPPO) for allegedly luring children to get inside their van parked outside a school in the town of Minglanilla were released yesterday.
Prosecutor Liewellyn Bonghanoy ordered the release of Reymart Abobo, Frederico Dela Cruz, Estella Montes and Marian Sereño, since there was no evidence presented to implicate them to the alleged crime.
However, James Paradela, who was the one who asked one of the students to go with him to pick a guava across the street, and Rhea Mae Sagmon were charged with attempted kidnapping.
Bonghanoy recommended a P120,000-bail bond for each accused.
Lawyer Vincent Isles, who is assisting the accused, said they are supposed to post bail yesterday for Paradela and Sagmon before the Regional Trial Court of Talisay City, which has jurisdiction over the case, but they failed to beat the cut-off time.
He said the Minglanilla police, who arrested Paradela and Sagmon, promised to bring them to court early today to post bail for their temporary liberty while the case is still pending for trial.
Isles is confident that the attempted kidnapping case against his clients will be dismissed.
"It's merely a misunderstanding," he said.
The mother of a 10-year-old victim, however, thinks otherwise.
She said the suspects should pay for the crime they committed.
She said the alleged kidnapping incident had caused emotional disturbance not only to her child but to other victims as well.
She said it did not sit well with the victims' parents how the suspects reportedly referred the incident as just a "joke."
"As a parent, ang akong purpose ani (filing of complaint against the suspects) tungod kay grabe ang effect sa insidente sa akong anak. Human akong nadunggan ni-comment sila (suspects) nga joke. Wa ko kagusto ana," the mother told reporters yesterday.
"Pagkadungog nako nga joke ba. Joke? Kamo ingnon mo nga joke okay ra sa inyo?" she added.
The mother said she believed in what her daughter reported and narrated to them that they were lured to go with the suspects.
"Although akong anak niingon nga gigunitan lang siya wa siya gibitad, wa siya gipugos pero nahadlok siya kay niingon man nga pasakyon siya og van. Lain pud kaayo nga pakapinan sa akong anak nga gipasakay siya sa van," she said.
Last Thursday, the six accused, all educational consultants in a company that sells interactive materials for children, reportedly lured the children into their parked van outside the Minglanilla Central School.
Paradela allegedly grabbed one of the children to accompany him to pick a guava fruit by riding their L300 van.
One of the children refused, saying the guava fruit across their school is not yet ripe, and ran away from the suspect.
The children then reported the incident to their teacher. — Mylen P. Manto, Kristine B. Quintas (FREEMAN)