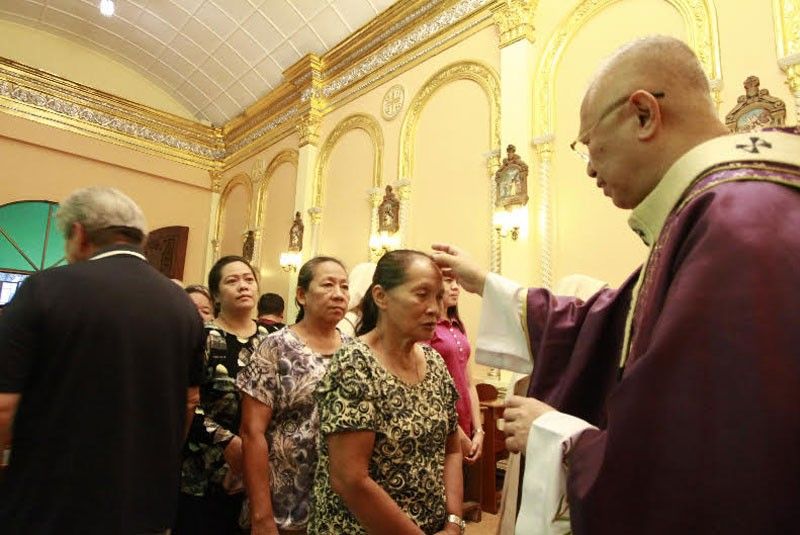 Archbishop Jose Palma of the Archdiocese of Cebu marks the forehead of a parishioner during an Ash Wednesday mass yesterday to signal the start of the Lenten season.
Kristine Joyce W. Campaña
Palma urges faithful: Reform, be humble
CEBU, Philippines - Archbishop Jose Palma has called on the faithful to focus on self-reformation and pilgrimage, as the Catholic Church ushered in the Lenten season.
In his Ash Wednesday Mass, he placed emphasis on the humility of the heart to acknowledge mistakes and change for the better.
"No one can say nga maayo gyud siya, nya wa gyud siya'y sayop. Ug tanan gusto niya maoy sundon. Ang idea is, kung tan-awon, ang Diyos lang ang makahatag nato og direction natong tanan," Palma said.
He enumerated in his homily the three aspects of life that build relationship with God who ardently loves his people: prayer, almsgiving and fasting.
Another important value of lent season is the ability to share immaterial things.
"Sayod ta nga it's the love seen in sharing," Palma said.
Roman Catholics normally fast during the 40-day Lenten season.
He explained that fasting does not necessarily require starvation, but rather to have control.
The gradual change that would take place, if one abstains from harmful daily habits, also aid the community in a bigger picture, Palma sad.
"Mao na siguro maningkamot nga mausab, mo-develop og righteous life. Unta kining kinabuhi nga mahinungdanon for society and for the community," Palma said.
"The spirit of lent is always a reminder that God is a God of mercy and compassion. Mao nga bisan unsa pa atong sala, we should remember sa iyang dakong gugma. Tanang sala, kung muduol lang gyud ta niya, naa'y kapatawaran . Unta, we are merciful in that sense and compassionate with each other," Palma added. (FREEMAN)