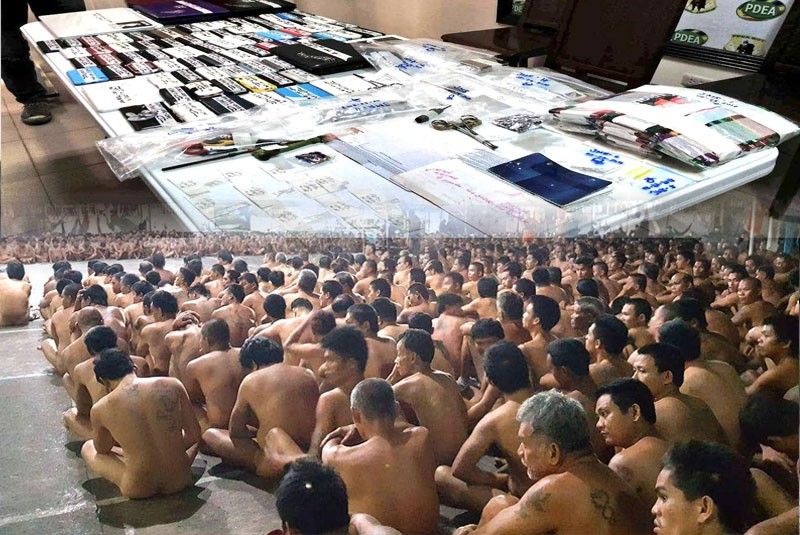 Prohibited items such as illegal drugs, money and cellular phones were confiscated during a joint dawn raid by the PDEA-7, military and police at the Cebu Provincial Detention and Rehabilitation Center yesterday. Naked detainees (below) wait outside as authorities search for contraband inside their cells
Photos By PDEA-7
Dawn raid at Cebu provincial jail yields: Drugs, money, phones
CEBU, Philippines - Authorities scored anew in their crackdown against illegal drugs in jail facilities, this time, at the Capitol-run Cebu Provincial Detention and Rehabilitation Center (CPDRC).
The greyhound operation yesterday dawn yielded communication devices and sachets of suspected shabu.
Astounded, inmates, many of whom were jolted from sleep, were gathered at the jail quadrangle stripped of their clothing as the raiding team scoured the facility.
Jail warden Gil Macato was reportedly not around during the operation but reportedly did not know about what was coming.
Authorities recovered 76 cellular phones, including those of a suspected drug personality; 19 medium sachets of shabu worth at least P30,000; cash amounting P92,000; laptop and media players; lighters; and drug paraphernalia.
Yogi Filemon Ruiz, PDEA-7 director, told reporters that the operation stemmed from information shared by the Office of the Governor about the presence of illegal drug activity inside the penitentiary.
"It was Governor (Hilario) Davide III who insisted to conduct an operation. He is very much concerned about the information nga nagpadayon ning mga illegal activities," Ruiz said.
The raiding team was composed of personnel from the Philippine Drug Enforcement Agency (PDEA)-7, Philippine National Police, and Armed Forces of the Philippines.
'Lax security'
Ruiz said he will be submitting an official report to Davide, which contains his observations at the jail, including the supposed laxity in its security system.
"Based on my professional observation, very lax ang security sa CPDRC. Kulang pa gyod. Ingon ana nga facility, kinahanglan na og kamay na bakal," he said.
One example that proves this point, Ruiz said, is a detainee being entrusted with a key of a gate.
In August last year, policemen were detailed to augment security at the provincial jail amid reports of a plot to rescue alleged drug personality Alvaro "Barok" Alvaro.
Alvaro, the alleged associate of slain suspected drug lord Jeffrey "Jaguar" Diaz, surrendered to the National Bureau of Investigation office in Bohol following the death of Diaz.
However, the police augmentation was pulled out four months after upon Davide's directive, Macato said in an interview last year.
Last month, signal jammers were installed at CPDRC supposedly to paralyze communications between the inmates and the outside world but this did not seem to be the case yesterday, Ruiz said.
"I don't think mi-effect ang jammer kay nakatawag pa man ko gahapon," he disclosed.
Ruiz said he was also dumbfounded by the presence of a plastic bag containing drug paraphernalia inside a conference room, which is supposedly intended only for authorized persons.
He could not confirm yet if the drug paraphernalia were evidence seized by the jail personnel.
"If it was evidence, it should have been submitted to PDEA or submitted as evidence. It raises questions," he said.
He added that the operation yesterday proved that illegal drugs are still rampant even inside the jail.
"Sige ta og kampanya sa gawas pero ang problema sa drugs naa diay pod sulod sa prisohan," he said.
Authorities will subject to forensic examination the mobile phones confiscated to find out possible illegal drug transactions facilitated by detainees.
Of the 76 cellphones confiscated, three belong to Barok, Ruiz disclosed.
He said they will investigate if Barok still continues his illegal activity inside the jail.
"We will confirm once we extract the data from his cellphones," he said.
Davide
Yesterday, Governor Hilario Davide III wanted Macato to explain why and how the contraband found its way to the jail.
"Nganong naa pa'y contraband despite the measures being undertaken? We got him as warden aron makuan na diha (to curb the entry of contraband)," he said.
Davide said they will have to determine the administrative sanctions that will be imposed against Macato but said he is looking at relieving some jail guards suspected to be cohorts of erring inmates.
"I will evaluate things pa. Di pa ta ka desider karon kay we have to evaluate first… basically, Macato is just trying to do his job well," he said.
Davide said he will meet with Macato and the CPDRC Task Force, which was formed last year, supposedly to look into the alleged illegal activities inside CPDRC and craft measures to put an end to the issue.
"Atong tan-awon what other measures atong mabuhat pa with the result of the operations kay naa man gihapon nasakmit nga drugs and cellphone," Davide said. (FREEMAN)