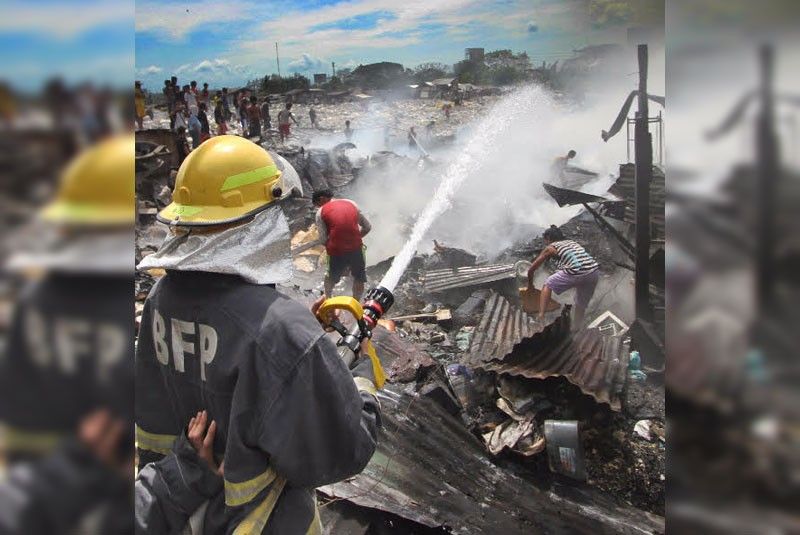 A firefighter battles the fire that struck a dumpsite in Barangay Umapad, Mandaue City yesterday morning.
Joy Torrejos
Mandaue City dumpsite fire destroys junkshop, 6 shanties
CEBU, Philippines - Fire gutted six shanties and a junkshop at the dumpsite of Purok Tambis, Barangay Umapad, Mandaue City yesterday morning.
Senior Police Officer 2 Cipriano Codilla of the Mandaue City Fire Station said the blaze originated from the middle portion of a clump of shanties in the area at around 10 a.m.
The alarm sent firetrucks from the Mandaue City Fire Station, Bantay Mandaue 161, as well as the fire brigades of barangays Paknaan and Cubacub rushing to Umapad to respond, especially after the fire was raised to second alarm.
Witnesses said Jonnifer Jordan, one of the residents, was reportedly seen burning some scrap materials in the area around the time the fire started.
Jordan allegedly went to sleep and left the items still burning. He was eventually awakened by shouts of alarm when the fire broke out.
His shanty and those of Antonio Jueves, Lolita Cosido, Estrella Jordan (his mother), Amelita Cosido and Maribel Pitogo were affected as well as the junkshop of Abner Balatero.
Codilla said the fire could have also started naturally with methane gas, which is a type of gas released by decomposing garbage, catching fire on its own.
"Ang kaning basura didto mosiga ra ning iya tungod sa presence sa methane gas, tungod anang nagtipun-og nga basura. Bisan pa og way modagkot, mag-aso ra man ni siya, di mabantayan sa mga molupyo nga mokalit la'g dako," he said.
He said the fire, which was placed under control around 10:30 a.m. and put out at 11:50 a.m., may have been a result of "spontaneous combustion" due to the hot weather.
No residents were reported injured during the incident, with left an estimated damage of around P35,000.
Umapad Barangay Captain Nelson Rubio said the affected residents were temporarily housed near the large chapel in Purok Tambis.
"Atoa silang gipangtagaan og pagkaon ug mga panginahanglan," he said. (FREEMAN)