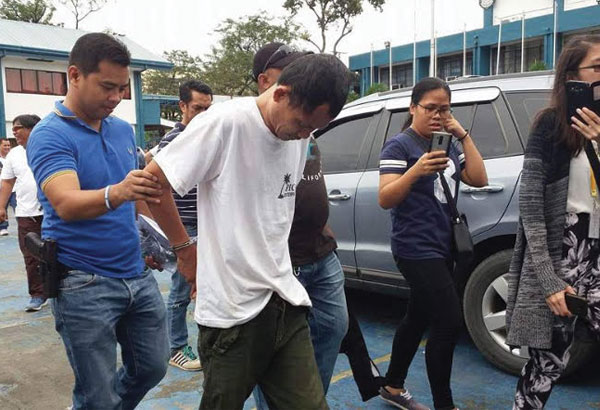 Security guard Jonathan Sanchez Sr., the suspect in the killing of lawyer Goering George Paderanga and his son Gerik Caesare Paderanga, is taken to the Police Regional Office-7 headquarters after his arrest. He was found sleeping in the house of his parents in Barangay Talamban, Cebu City. Jojo Ugdol of Banat News
Suspect in lawyer's slay arrested, admits crime
CEBU, Philippines - Police yesterday arrested the security guard to who shot a lawyer dead Thursday night.
Jonathan Sanchez, 36, was arrested in Barangay Talamban, Cebu City in a hot pursuit operation.
Superintendent Ryan Devaras, chief of the Investigation and Detective Management Branch of the Cebu City Police Office, said two teams from IMDB and the homicide group were deployed to hunt Sanchez who fled right after shooting father-and-son lawyers Goering George Paderanga Sr. and his son, Gerik Caesare outside their law firm along F. Ramos Street.
Gerik remained in a sensitive condition at the hospital as of yesterday.
Sanchez was arrested around 10:45 a.m. at the house of his pa-rents in Sitio Tac-an in Talamban.
Police Officer 3 Winston Ybañez said Sanchez was sleeping when they arrived at the house. Sanchez's mother told the police she was unaware of what his son did.
At the Police Regional Office-7 yesterday, Sanchez admitted pulling the trigger on the victims.
"Malangan ang mixer (cement mixer truck)… moagi naman na gud unya iya man giatangan ang dalan mao to sir," he told the media.
At the time of the shooting, Sanchez was securing an ongoing construction near the lawyers' firm.
Sanchez said no argument ensued between him and the lawyers and that no one ordered him to shoot them.
He said he shot Gerik first who was inside the Isuzu Trooper.
Fernando Ponce, who works at the Paderanga firm, said he saw the incident from about 10 meters way.
He corroborated Sanchez's statement that the suspect shot the son first. Sanchez shot the older Paderanga when the latter came out of the office to check on the commotion.
Gerik was hit in the nape while his father was hit in the chest.
"Abli ang windshield, walay daghang langas, gipusil diritso (referring to Gerik)… kalma lang siya nga namusil," Ponce said.
Sanchez is facing charges for murder and frustrated murder.
Mental problem?
Sanchez's wife, Charito, disclosed her husband was diagnosed with a mental problem in 2015.
Doctors at the Vicente Sotto Memorial Medical Center (VSMMC) made the diagnosis.
"Wala mi kahibalo ato ngano naing-ato siya kay di mana siya mutingog," she said amidst tears.
She suspects that the illness was triggered when Sanchez was terminated from work and they had no money to pay for her delivery of their fifth child.
She also said Sanchez used to use drugs a long time ago.
She said she was shocked upon hearing the news yesterday morning when police arrived at their house to invite her for questioning.
"Nangurog ko… wa ko kasabot sa akong gibati… wa nisulti nga nagkabikil na sila ana," she said.
PRO-7 Director Noli Taliño said anyone applying for a security guard position is supposed to undergo a neuropsychiatric examination. (FREEMAN)