107 hospitalized after spaghetti meal
December 22, 2016 | 12:00am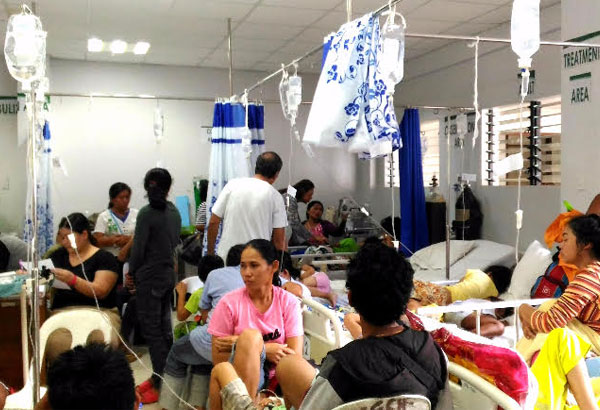 CEBU, Philippines - At least 107 residents of Sitio Tawagan in the mountain barangay of Sirao, Cebu City landed in the hospital Tuesday due to diarrhea and severe dehydration.
Nagiel Bañacia, head of the city's disaster team, said the city health office is now looking into information that the residents suffered from the ailments after eating spaghetti given by an owner of a flower farm there.
Bañacia is withholding the identity of the farm owner until investigation is concluded.
He said the disaster team had to go up the barangay Tuesday night after receiving reports several of those affected were medicating themselves. Many residents have already sought help at the Guba Community Hospital at this point.
"Mao na, kagabii sugod mi alas onse hangtud 4 a.m. What we did was nag-house-to-house visit mi in search for mga patients nga wa mangadto sa hospital ug nag-self-medicate," he said.
"Nadawat ang report Tuesday 9 p.m. na. It's because alarming na kaayo ang kadaghanon sa pasyente. Code red man gud, meaning, naalarma na ang hospital kay daghan na nangabot. Mao tong nisaka ta gabii," he added.
The Guba Community Hospital can accommodate only 50 patients, which was why four other doctors, eight nurses, and medical technologists had to be deployed there.
Bañacia said the city government will shoulder the hospital expenses using the disaster fund.
"Tinuod gyud among nakita na naa nay uban nga severely dehydrated.
In fact, naay usa ka patient nga 90 over 50 na ang iyahang blood pressure. Ato na gitabang sa iyang balay kay number one ila rason is wala silay kuwarta so karon, number one nato gibuhat, ang tanang expenses sa hospital because of this incident, i-charge nato sa disaster so tagaan sila sa medication for free," he told reporters yesterday.
The Cebu City Disaster Response and Mitigation Office also gave the patients food, water, among others.
"Para number one objective nato is ma-normalize ang situation. Kadtong 107, makauli na sila sa ilang mga balay so that we will have a happy Christmas," Bañacia said.
He said several of the residents affected are now confined at the Cebu City Medical Center, as well as at a private hospital. (FREEMAN)