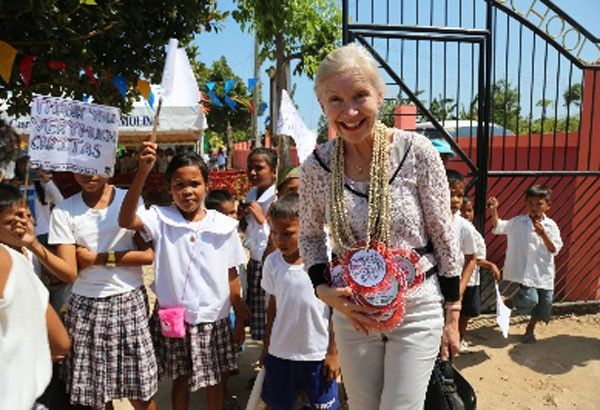 with photo: Students of the Malbago Elementary School in Bantayan greet Swiss Ambassador Andrea Reichlin with thank you posters and leis during the turnover of the newly-constructed school.
CARITAS PHOTO
Lessons from Yolanda: Building disaster-resilient structures, stronger communities (2nd of two-parts)
CEBU, Philippines - When super typhoon Yolanda wreaked havoc in northern
Cebu on November 8, 2013, it did not only destroy homes but schools, churches and businesses, too.
But just as non-government organizations were quick to respond to the need for housing, they also responded to the need for the reconstruction of the other structures that Yolanda destroyed.
Noah's Ark: School-cum-evacuation-center
Organizations that responded to the call of rebuilding the schools that were destroyed by Yolanda wanted to construct not just disaster-resilient structures but buildings that will also serve as evacuation centers. Thus, "Noah's Ark" was conceptualized.
Architect Erly Kris Faeldonia, Habitat for Humanity housing program manager for northern Cebu, said the "Noah's Ark" buildings are not the typical Department of Education school building designs.
Like the original vessel that was built to preserve lives when the great flood occurred, the modern Noah's Ark is designed to be a refuge for town residents who may be forced to leave their homes during natural or man-made calamities. The 60-square meter structure boasts of a kitchen and two toilet and bath facilities. The common area serves as both a classroom and as a living area for large numbers of people.
Habitat rebuilt the one classroom each in the municipalities of Medellin and Daanbantayan, Oboob Integrated School in Barangay Oboob and Sulangan School in Barangay Sulangan in Bantayan town.
A member of the worldwide Catholic charities, Caritas Internationalis, also built and recently turned over a disaster-resilient school to Barangay Malbago in Madridejos town.
Caritas Switzerland Chief Delegate to the Philippines Marcel Reymond, in the organization's website, said the Malbago Elementary School, which is one of the seven schools under its School Rehabilitation Program, can also serve as an evacuation center.
"The rehabilitated school will serve as evacuation area if a heavy typhoon or other calamity strikes the area. Disaster risk reduction and mitigation strategies are an integral part of the rehabilitation program," he said.
Reymond said the school has 12 newly-constructed classrooms with refurnished tables, chairs and multipurpose blackboards, which were designed in collaboration with the University of San Carlos in Cebu.
"In times of evacuation, the multipurpose blackboards can be used as separation wall inside the classrooms to provide more privacy for evacuees. During regular times they are used as shelves and for teaching," he explained.
The school, which is estimated to cost about P23.96 million (500,000 CHF) also employed 65 skilled and unskilled workers from the community. They were instructed in DRR (Disaster Risk Reduction) resilient construction techniques and are now TESDA-certified.
Malbago Elementary School, which serves as a home to a total of 500 kindergarten and elementary students, was the second completed school in the seven barangays covered by the program.
Located at the eastern coastal part of Bantayan Island, where majority of the people rely on fishing, farming and livestock raising, the school was among the heavily-damaged by Yolanda.
In Madridejos, at least 93 classrooms, including Malbago ES, were built and repaired by different humanitarian organizations.
Building back businesses, too
Though still recovering from the damage brought about by super typhoon Yolanda in 2013, businesses in Bantayan, poultry farms and resorts, have slowly picked up.
Bantayan Island, with its three towns – Sta. Fe, Madridejos and Bantayan – is considered the egg producing capital of Cebu and supplies 80 percent of the province's need. It is also a major supplier of poultry and eggs to the Visayas. Bantayan town alone has 56 poultry farms.
The Department of Agriculture estimated the damage to the poultry industry on the island at P421 million.
Wellington Chan Lim, a poultry and piggery farm owner, shared he has yet to recover the nearly P50 million damage to his businesses. He also had to close down four of his poultry farms in Madridejos and Sta. Fe towns because of workforce problems due to the massive rebuilding efforts in the island which attracted his laborers. The workers, he said, were in dire need of money after Yolanda and he could not force them to stay. Around 200 of 800 of Lim's workers left the poultry farm, affecting his business.
Lim now maintains two farms in barangays Mojon and Guiwanon in Bantayan town, with a consolidated number of least 130,000 chickens. He said egg production in Bantayan has decreased by 20 percent or 160,000 of the 800,000 total volume of eggs produced a day for Cebu, Negros, Panay and Leyte.
Of the total volume, Lim's farms produce over 100,000 eggs, which, he said are now priced at P5 each from the P4 price before, because of low production. Lim projects that he will recover from the losses caused by Yolanda four to five years from now.
Bantayan Mayor Art Despi, a poultry grower in Bantayan town, said the low production could also be attributed to chicken layers that are less productive. He added that many poultry growers in the town have left the country to work abroad instead.
The mayor is among the many poultry farm owners who availed of the Department of Trade and Industry grant of P175 million for businessmen in the island to rebuild their respective businesses.
The Chan Lim poultry farm in Madridejos is also suffering from the same fate.
Tom Chan Lim, son of the owner of the farm, said their farm has not yet recovered from the devastation of Yolanda. Tom is Wellington's nephew.
He said they have been producing 800 trays per day before but their production dropped to 100 trays after Yolanda. At present, they are producing at least 500 trays with 20,000 chickens.
The one-hectare farm has been operating for 12 years already.
To prevent the destruction caused by Yolanda, Tom said they have strengthened their poultry structures.
"Ang karaan namo nga kamalig single mao to nga dali matumba. So double ang gigamit namo karon. Among na-obserbahan nga mas gamay ang patay sa double nga kamalig," he said.
Poultry farm owners have also built barns made of concrete and steel to keep their chickens safe.
Although majority of the residents on the island have already reconstructed their homes, businesses have yet to recover from the calamity and regain the normal production rate before Yolanda happened.
Japanese national Juan Yagui, owner of Yooneek Beach Resort in Sta. Fe, said the super typhoon nearly wiped out his resort.
"The destruction was huge. I didn't know where to start. At that time, I was tempted to sell because I have personal problems. But, I had good talk with my employees and gave it a go," he said.
He said it was hard to recover because they he did not get any help neither from the government or NGO but only from family and friends. It took him a year to rebuild the resort gradually.
Funding, bureaucracyslow down recovery
The devastation caused by Yolanda is still very much evident when one visits Bantayan Island today, three years after the super typhoon hit the island. The slow recovery is the result of many factors.
Bantayan Mayor Despi said the construction of houses is snail-paced because of regulatory and bureaucratic factors. He cited, for example, that the National Housing Authority can only build houses on titled or donated lots. This is a problem, he said because most of the lots in the island do not have titles. He said only few residents in Bantayan have titled lots because the island is classified as a protected wildlife area under Presidential Proclamation 2151, signed by President Ferdinand Marcos in 1981.
Another problem, he said, is that the project contractor has not acquired an environmental compliance certificate (ECC) from the Department of Environment and Natural Resources.
According to Despi, the environmental court has issued an injunction order over the issuance of ECC following the complaint of environmental lawyer Antonio Oposa Jr, invoking the Bantayan Island Wilderness Area (BIWA).
Despi said if these problems won't be addressed immediately, the funding for the housing projects will be reverted back to the general fund, which is likely to happen if money remains idle.
So far, only 450 out of the 3,500 houses that the NHA was supposed to build have been completed.
But despite some setbacks, the National Economic and Development Authority in the region reports that more than 70 percent of the Yolanda rehabilitation projects in Central Visayas are already finished.
As of July 2016, NEDA-7 reports showed that 74 percent or 2,032 of the projects worth P9.43 billion have been completed, while, 17 percent or 484 projects worth P2.17 billion are still ongoing and 9 percent or 243 projects worth P1.15 billion have not yet started.
Meanwhile, the Cebu provincial government has turned over close to P7 million in financial assistance to Bantayan town for the Yolanda rehabilitation efforts.
Around P5.8 million has been allotted for the construction of 32 semi-permanent duplex-type houses for 65 families in the islets of Silagon and Sulangan.
The remaining P1 million will be spent for the establishment of pipeline and electrical connection in Unity Village, an established relocation site for typhoon survivors in Barangay Sillon.
The province will also take over the construction of the unfinished hospital building in Bantayan town, which was damaged by the super typhoon. When typhoon Yolanda hit northern Cebu, the Bantayan District Hospital's dietary, laundry and kitchen areas were damaged. The hospital's facade also collapsed.
The hospital is a 25-bed capacity facility. However, it has 60 to 80 out-patients per day, while its admission can reach 35 to 40 a month. It has three doctors and 28 nurses who work in three shifts. Some of the patients are still treated under tents, pending the completion of a two-level hospital that is disaster-resilient, said Dr. Nicolas James Najarro, chief of hospitals.
The nurses' section and wards are using the tents, which are placed in a space next to the old hospital building's site. It has an insulated ceiling and electric fans to keep the patients cool.
Najarro said the Department of Health (DOH) allocated P20 million in 2014 to build the hospital's first phase and an additional P10 million in 2015 for the second phase. However, he said the P10 million was realigned to the construction of a hospital ramp, which was not part of the original design.
Dr. Rene Catan, head of the Provincial Health Office, said the hospital needs up to P8 million to finish the project. What's lacking are fixtures, water, electricity, doors, toilet bowls and jalousies, among others.
Governor Hilario Davide III said the province will allocate funding for this. According to Catan, Mayor Despi also pledged to set aside at least P2 million from the town's budget to help fund the completion of the hospital building.
Once completed, Najarro said they will apply for a level 1 status. According to the DOH, a level 1 hospital must be able to provide minimal care management, health education and counseling, primary clinical laboratory, first level radiology, pharmacy (optional), general medicine, general pediatrics, general obstetrics and nonsurgical gynecology, minor surgery, emergency and outpatient service and patient transport service.
As of now, the primary health care facility, Najarro said, is servicing basic medical procedures similar to that of the Cebu City Medical Center operations and admissions, such as minor operations, pedia, pneumonia, gastroenteritis and the like. — /QSB (FREEMAN)