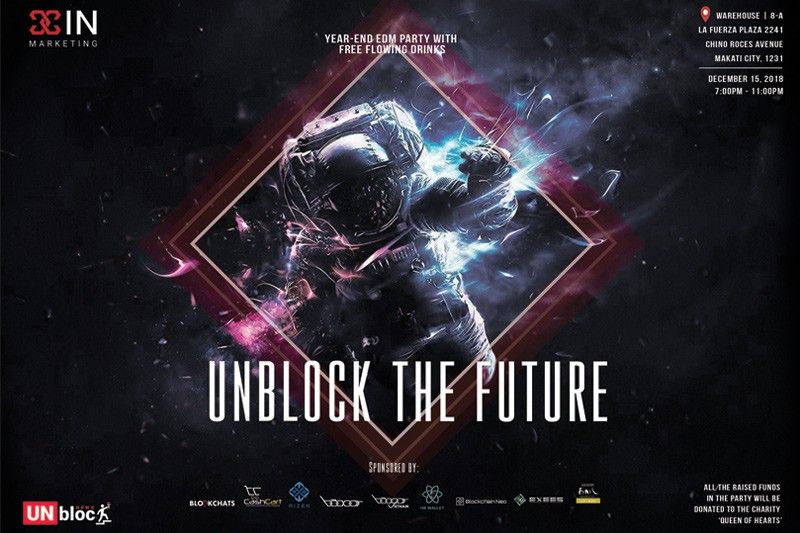 Organized by startup marketing agency XIN Marketing, Unblock Party will be full of jive and endless groovy music. It proceeds, on the other hand, will go to Queen of Hearts Foundation
Released
XIN Marketing's futuristic Unblock Party promises a night of fun and charity
(The Freeman) - November 29, 2018 - 10:30am
MANILA, Philippines — Happening on December 15 at Warehouse 8-A, La Fuerza Plaza in Makati City, Unblock Party promises a night of merrymaking and gift-giving.
Organized by startup marketing agency XIN Marketing, Unblock Party will be full of jive and endless groovy music, plus overflowing drinks. Special guests include DJ Lean Gonzales and his partners. Ms. Philippines Asia Pacific Tourism 2018 Ma. Mitzie Go Gil will also be in attendance.
For its gift-giving component, the party's proceeds will go to Queen of Hearts Foundation, a non-government organization that helps underprivileged youth through outreach programs. It also supports humanitarian efforts and women empowerment in the country.
Unblock.news will also be launched at the event. This website is set to cover the latest news, updates and trends in the world of blockchain technology and cryptocurrencies via a wide access to different articles, photos, videos and other interactive content.
Unblock.news provides a platform among people who share the same interest in the blockchain industry and cryptocurrency, and also provides management of their investment portfolios by monitoring cryptocurrencies in real-time.
Those who are curious about the blockchain technology, or those who just want to have a fun-filled night, are all invited.
Tickets will be sold at P249 each during pre-selling and it comes with a free planner. Pre-selling period is only until Decemeber 10, 2018. For walk-ins, tickets will be sold at P499 each. Purchase with Eventbrite through this link.
XIN Marketing focuses on delivering the remarkable knowledge of blockchain technology in the evolving virtual world, and is poised to present great achievements brought about by the said technology.
For further details, visit the official website here or check out the official Facebook event page here.