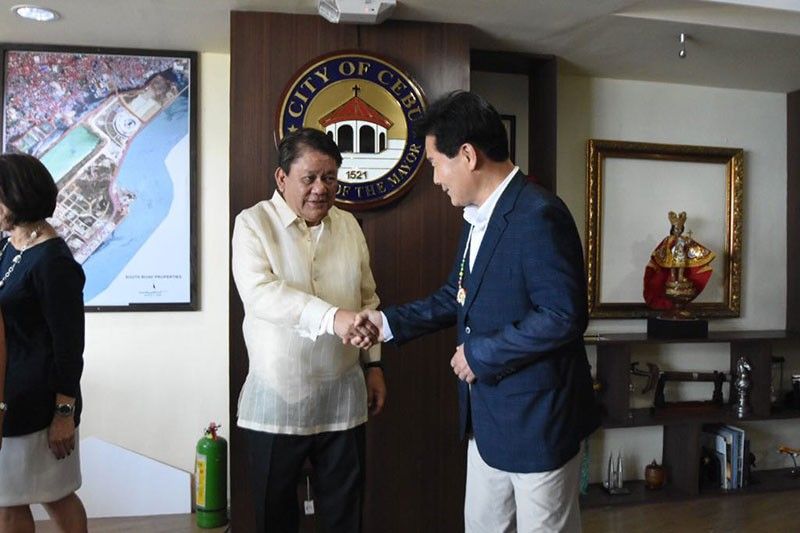 Yeosu, South Korea Mayor Ju Cheol-hyeon shakes hands with Cebu City Mayor Tomas Osmeña inside the latter's office at the Cebu City Hall yesterday.
Paul Jun E. Rosaroso
Korean city to fulfill Cebuana's dream
(The Freeman) - May 29, 2018 - 12:00am
CEBU, Philippines — When she was 16 years old, Jenny (not her real name) figured in a vehicular accident that deformed her right cheek and affected part of her vision.
Two weeks ago, or more than 14 years after the incident, Jenny, who hails from the mountain barangay of Taptap, Cebu City, received the good news that she would undergo constructive surgery in Yeosu, South Korea.
"Naatrasan ko'g jeep in 2004 maong na ing-ani akong nawong. Ma-fulfill na gyud akong dream nga maoperahan," she told reporters yesterday, requesting that her identity be withheld.
Despite her condition, Jenny was able to finish high school. In 2008, she was given a chance to work at the barangay.
When Mayor Tomas Osmeña learned of her story, the mayor invited her to work at the City Hall as part of the hospitality team assigned at the kitchen, a job she willingly accepted.
Jenny's surgery is among the pledges made by the City of Yeosu to Osmeña when the latter visited the Korean city earlier this month in a bid to reactivate a sisterhood agreement forged in 2011.
Yeosu government will shoulder all expenses related to her operation, except for her airfare, which will be borne by the Cebu City government.
Alvin Dizon, chairman of the Cebu City Sister-Cities Commission, said they are now preparing the paperwork for Jenny's expected travel to Korea for the operation.
"As the point person of the sister-cities program, I was specifically requested by the mayor to assist the lady from Barangay Taptap to prepare her travel (documents). We are preparing her papers," Dizon said.
Yesterday, Yeosu Mayor Ju Cheol-hyeon, along with other city officials, paid a courtesy visit on Osmeña.
Yeosu investment attraction officer Myung Seong-won, who was part of the Korean delegation, said they are expecting to collaborate with Cebu City in other areas in the future, especially on vegetable farming, raising mussels or "tahong," health, education, and cultural exchange.
"We came here in response to his (Osmeña's) visit to Yeosu. We now have the chance to see the developed tourism here as we share our experiences and strengthen our relations with each other. That's the purpose of our visit," said Myung.
Myung said Yeosu is a famous tourist attraction in South Korea, drawing in an average of 15 million visitors annually.
Meanwhile, Dizon said Yeosu is still identifying medical equipment and supplies to be donated to Cebu City.
He also said officials are still looking for an area within the city that can be used to culture mussels. — Marienel M. Janea (FREEMAN)