Cebu press freedom week 2023 Kapuso journos on AI: Embrace, but prepare for dangers
September 19, 2023 | 12:00am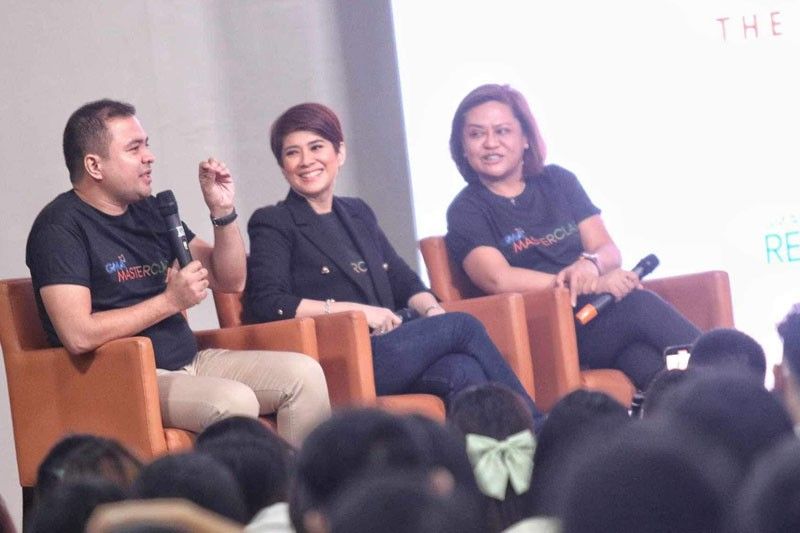 MANILA, Philippines — While journalists should not shy away from generative Artificial Intelligence (AI) – long been in use but has become a buzzword of late with the rise of ChatGPT – they must also tread carefully before fully adopting it as a tool in delivering facts and information.
GMA Network journalists Howie Severino, Pia Arcangel, Aileen Rae Perez, and Nikko Sereno shared their thoughts on the topic "Journalism in the Age of AI (Artificial Intelligence)" to an audience of students from various Cebu City universities in a media forum Monday, September 18, at the University of the Philippines Cebu Performing Arts Hall.
The talk was a Cebu Press Freedom Week Special of GMA Regional TV and Synergy's Masterclass Series which provides students and the academe all over the country an avenue for "learning and discourse on local and national issues."
It was the first in a series of media forums scheduled for the week-long 31st Cebu Press Freedom Week celebration that will also include discussions on human trafficking awareness and child-sensitive reporting, the art of the interview, laws covering different news beats, challenges and solutions in today's community journalism, and the role of newsrooms in an evolving digital space.
Severino, Editor-at-large of GMA News Online and consultant for GMA Integrated News, began by clarifying that AI (machines or computers that are programmed to think like humans) has been utilized by newsrooms for several years now, but recently generated a lot of hype with the popularity of ChatGPT, a type of AI that generates content in response to inputted prompts.
"All of us use Search, many of us are on social media where we see feeds. For motorists, we use Waze. All of these platforms and many other apps already use AI. It just became trendy because in the last several months, there became what we call generative AI. In particular, ChatGPT was generalized, which is an evolution of this earlier AI apps," said Severino.
The GMA News Pillar cited how ChatGPT is being used now on a wide scale, notably among students who attempt to circumvent actual school work by just typing in prompts on ChatGPT which will then "scan the internet for all the data and synthesize this universe of data that it has access to, and then write a review." It's not considered plagiarism in the sense that one is copying another human's work, but pretending it's yours is still a form of cheating, said Severino.
- 'Exciting times'-
Generative AI is still in its early stages, but Severino cautioned the industry to anticipate where this technology can go. Media workers should be first aware of the risks before they get too excited on its benefits.
"I still remember a little more than 10 years ago when social media exploded. There was so much excitement. The promise was, it will democratize the world. And in the beginning, with the Arab Spring [anti-government protests, uprisings and armed rebellions across the Arab world in the early 2010s], and the way it was spreading information, it seemed like the promise was coming true," said Severino.
"Until social media became weaponized. It was used by bad players to spread disinformation and hate. Researchers also discovered that hate and falsehoods actually would go viral than kindness and the truth. Social media became a toxic wasteland to a certain extent. Although most of us are still on social media, many of us have been burned. We're very wary after so much damage have been done."
Generative AI can be similarly "weaponized", mostly by political operators, Severino warned.
"Nobody really foresaw Facebook, and to a lesser extent, Twitter, to be used to spread disinformation. And disinformation has a big impact especially on those who are less educated than us who have fewer sources of information. Facebook of course is free for a lot of data plans. But to read good, quality journalism, very often you have to pay."
He added, "In the same way, AI can be weaponized. Because it can mimic human intelligence, what ill-intentioned humans can do can be done by AI on an exponential scale."
Aileen Rae Perez, Assistant Vice President and Deputy Head for Social Media of GMA Integrated News, pointed out how these days, one doesn't need to be a software expert to create uncannily real-looking deep-fakes. But if journalists will learn how to maximize and optimize AI, "personally I don't believe it will cause a decline in journalism. In fact I think it's exciting times," said Perez, whose department has long utilized AI for monitoring and data analytics.
"Yung mga natatakot mapalitan, I think yun yung ayaw mag-evolve. I always keep on explaining to people that we need to evolve or else we will dissolve."
- Upgrade skills-
Sereno, regional correspondent and "GMA Regional TV LIVE!" anchor, highlighted how AI has assisted him in the daily news grind.
"When we were assigned to unfamiliar places, we used to bring the huge foldable map in the office. But now there's Waze. Also as local journalists, our medium is Bisaya, but sometimes we are asked to write our scripts for national newscasts," he shared.
"So we use AI to translate to Tagalog, compared before where we had to consult the English-Cebuano-Tagalog dictionary in the newsroom. Lately we've also discovered an app that will transcribe interview sound bites."
Arcangel, "Saksi" and "24 Oras Weekend" anchor, admitted she has put off using generative AI as she's "afraid I might get used to it."
"As a journalist, the most important thing it can help us with is research. In that sense, it's a big help because a lot of the stuff we do takes a lot of extra man hours, like reading through studies, analyzing charts and data. AI can help in that sense, and I do look forward to being able to use it more efficiently than we already are," she said.
"Hesitation, I think, is just about right. We shouldn't blindly accept whatever is out there. We have to study it and see how it works for us. Once we know how to navigate through all of this, we should use it responsibly."
As journalists take advantage of AI tools, they also need to look for ways to counter possible problems it can create, said Severino. For one, workers – he gave cameramen as one example – in danger of being replaced by AI sooner than later should start upgrading their skills now.
Asked how media can still uphold credibility as audiences and readers doubt whether what they're consuming is AI-generated or not, Arcangel cited an article stating that "it's okay for legitimate news organizations to use generative AI, and they actually encourage it. But it's important to inform your audience that you are using AI. We should be helping audiences discern the difference."
"So for us journalists, let's not shy away from it, but let's also not immediately fully embrace it without knowing what it is," she said. "Let's work with it, and at the same time, let the audience know that that's exactly what we're doing. "
"That's how they'll trust you: when you're upfront and open about it."