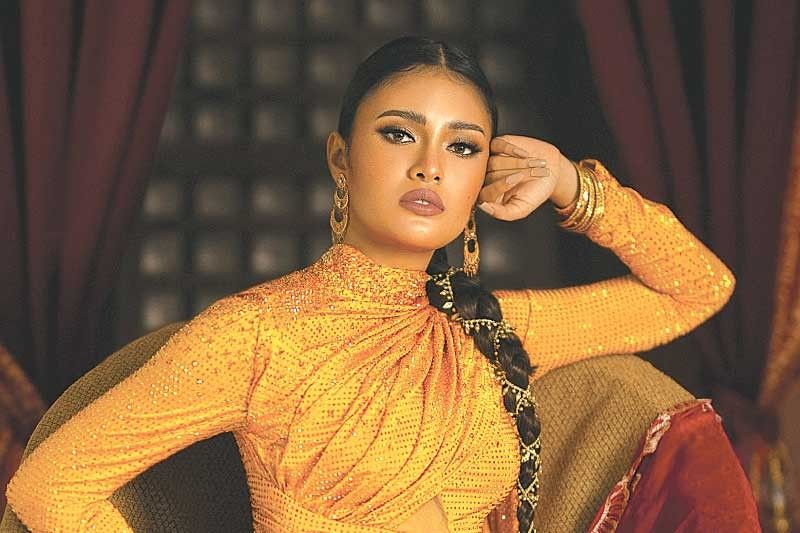 Rabiya appeals for kindness, admits almost losing identity
CEBU, Philippines — Rabiya Mateo virtually faced the Philippine press early morning yesterday (7 pm in Florida) before she officially enters the Miss Universe bubble on May 6 at the Seminole Hard Rock Hotel.
It is her first time out of the country and while she would have loved to check out the sights amidst the flurry of activity around her, pandemic restrictions meant Rabiya and her team must stay isolated as much as they can.
Shooting her teaser video with the Hollywood sign as her backdrop was one sentimental moment for the Iloilo native. Once the finals is over and done with, she hopes to reward herself with a trip to Disneyland.
"Rest assured I did my part. Hopefully on May 16 I make you proud," a cheerful Rabiya said.
In her Zoom conference that was aired live on Facebook, Rabiya talked of her preparations, how the constant scrutiny affected her, what she's saving her energies for, and how some over-zealous Pinoy pageant fans should just choose kindness.
On competing during a pandemic:
To be a candidate during this time is never easy. All of my trainings are done virtually. Good thing I'm with Mama J [Jonas Gaffud], we're living in one house. Being here in Florida is a big risk for me and my team. But the hope that you bring to people…it's like telling them that our dreams don't need to stop. We can still continue living despite the situation. That is the strongest message we are sending. I had my struggles but I continue to fight because I have a purpose. And I want Filipinos to feel the same way.
On being among the early favorites:
There's an added pressure. But you know how competitive I am. I'm never complacent. In the past days I've realized how different it is to be a Philippine candidate. There's all-out support from Filipinos all over the globe. Now it's all about destiny. So I'm really praying hard that the stars will be aligned for me again. But I'm happy. This is a privilege. It's a good [kind of] pressure, although there are some nights I'd wake up out of nowhere and my heart is racing. I feel like I'll be taking another board exam and the whole country is expecting me to be a topnotcher.
On what she is focusing on:
I really need to be careful with the scored events. This is a tip I got from Ms. Shamcey [Supsup]: Know when to peak. It's okay to conserve energy in some aspects of the competition. During the preliminary interview, I really need to do well. That's why I've been practicing. It's like having that winning perspective. It's gonna separate the best from the rest. I am also polishing my winning look. I've been preparing and doing it myself. I've been practicing what shade to use, if I'm doing my hair up or down. I've been supervised by professionals in the industry, so I'm confident.
On her 100-piece lookbook:
With my styling, we decided to tap designers from all over the Philippines. It's been more than a 100 designers who helped me in this journey. Can you imagine how crazy it is? We noticed how in the past years it's the textiles that were being highlighted. Now we wanted to focus on the craftsmanship and artistry of Filipino designers. I'd like to assure the pageant fans that they're going to see a lot of modern and stylish outfits coming out. The competition proper is going to start May 6 and I'm very much excited for my arrival outfit.
On racist remarks, bashing from Pinoys for other candidates esp. for Misses Canada, Thailand, and Indonesia:
It makes me really sad. I saw the post of Nova [Stevens of Canada] earlier today and I really feel sorry towards her because nobody deserves to be in that position. I've been bashed and people would tell me that's normal, you're a beauty queen. But I've seen how it has not only affected me but other candidates as well. We have a WhatsApp group and we would talk about it. Even Miss Chile was very open about her frustrations in reading her social media. From time to time, I would ask for a general meeting with my solid support group and I would tell them, once you see somebody getting bashed, you report that account, you correct them. I personally sent messages to Amanda [Obdam of Thailand] and Nova saying sorry. These hate online is not a reflection of who we are as Filipinos. With Miss Universe, the goal is to celebrate differences and to be with the girls in the causes they stand for. I do not tolerate bullying in any form. I do plan to make a video to appeal to the public to stop being rude because it costs nothing to be kind.
On MU president Paula Shugart saying the winner should connect with people, isn't trying too hard, and that social causes won't necessarily give one an edge:
The organization is looking for somebody who has holistic execution. I do agree with Ms. Paula simply because we need somebody relatable, who we can talk to. I always tell myself that a beauty queen isn't somebody in a pedestal, but someone who is also considered a public servant. We suffer from a lot of issues every day so she should be somebody who really gets in the work and involved in the community. I am praying the judges will see these qualities in me.
On who she looks forward to meeting:
I'm really looking forward to meet Adline Castelino, she's Miss India. She's very smart and sophisticated. I wish she'll be my roommate. I really want to know about my Indian roots. I never had the chance to see my dad and talk to him, so it will be like knowing his culture and my other half when I get to talk to Adline. Miss Australia is also pure Indian, but I think she migrated to Australia when she was quite young.
On the best advice from former MUP and her manager:
Miss Shamcey would always remind me to enjoy this journey. We share the trait of being competitive and we tend to zone out at times thinking about how much we want to win. But now it's about enjoying, and flourishing in those moments where you can build connections with different people all over the globe. Can you imagine that kind of opportunity? From Pia Wurtzbach, she told me not to open my social media anymore. Just post then close it right away. Because you don't want to disturb your inner peace, which is very important. The competition is a mental game and if you really want to win, you need to protect that peace. With Sir Jonas, he'd always remind me to be kind to the people around me, regardless of what their role is in your life. Treat them with respect, always greet people around you. He told me once that as humans we are not built to accept fame – it gets to our heads. Just always remember who Rabiya was before all this, what her purpose was.
On her lucky charm:
Some say that if you want to win, you should ask an item from a former winner. Hindi na ako nahiya, nag-message ako kay Pia, 'Baka may something ka na mapahiram sa akin?' She was so kind to let me borrow the earrings she wore at Miss Universe. So this is like the agimat na dala-dala ko ngayon.
On mom's reminders:
To have a humble heart. That regardless of the result, she is already proud of me. And that if I do win, have the heart to accept the responsibility. Kasi wala naman kaming background sa showbiz. This is new for us. And minsan, iba rin yung epekto sa nanay kapag nakikita ang anak niya in the spotlight.
On what she'd request from MU should she win:
This is an idea that came to me last night while watching my Bohol trip. I realized there are lots of students who can't afford a laptop. It really affects their studies. When I was in Cebu I talked to a girl named Joyce who didn't have a laptop so I gave her one from my personal pocket. Another student shared how she wasn't able to enroll because she didn't have a gadget and internet access. If I win, I get to talk to a lot of people and sponsors to help me build that program where I can provide something tangible for Filipino students.
On the relentless scrutiny:
There was a moment I felt I lost my identity because of what I see on social media. It's been really toxic. The good thing is, the organization gave me a life-coaching session which allowed me to find myself again. It may sound dramatic, but it sometimes crushes you to your core. I'm doing my best, trying to improve every day, and these are things fans don't see. They always expect perfection. They always compare you to somebody else. While I can't blame them because the former Miss Universe Philippines queens did a great job in lifting the standards – but I have a different identity. I'm not gonna change just to be in that mold. I'm going to represent myself the best way possible. That is my promise.