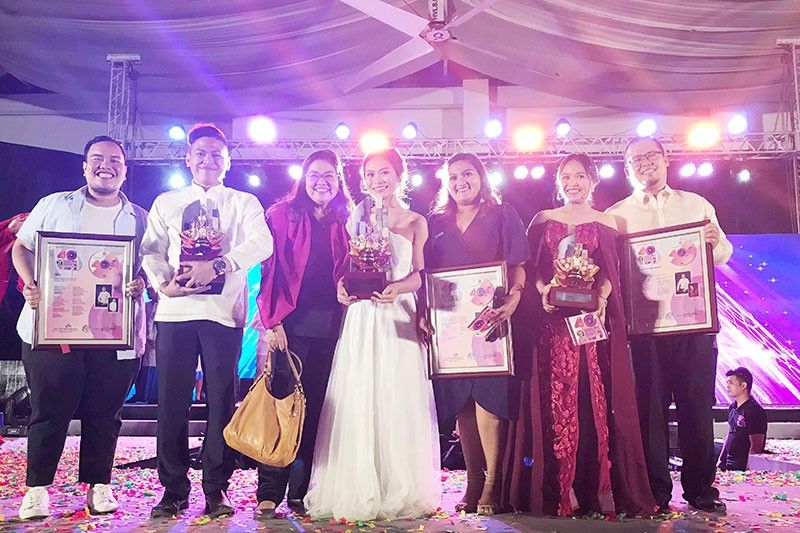 Kurt Fick, Barry Villacarillo, Cebu Popular Music Festival event organizer Gloria Villarojo, Orfeshaine Quinones, Josep Gara's representative, Leela Jae Laburada and Jay-Arr Librando
Boholano wins 40th Cebu Pop Music Festival
CEBU, Philippines — Joseph Gara's "Sugid ni Maria" emerged as the champion at the 40th Cebu Pop Music Festival held Friday night, Jan. 17, at the IC3 Convention Center.
The Bohol native, who was not present during the finals because he was in another country, penned a song about a person longing for someone he could no longer be with physically.
The song's interpreter, Orfeshaine Quiñones, was emotional after their entry was announced the winner.
"Wala mi ga-expect modaog kay ang akong gihunahuna lang kay ma-deliver nako ang kanta og tarong ug mahatagan nako sa sakto nga emosyon. Pagka-announce nga kami ang nakadaog kay nagpakusi pa gyud ko sa akong Ate kun tinuod ba gyud ni. Never mi nga nag-expect nga matagaan og ing-ani kadako nga recognition ang kanta nga simple lang unta nga base on a true story," Quiñones told The FREEMAN.
The 19-year-old Boholana revealed that it took only two weeks for Gara to finish the song.
"It's based on a true-to-life experience sa manghod sa composer ug paghuman og himo sa kanta, and after sa pag-record, dayon nga gi-submit na sa Cebu Pop," she said.
Quiñones said she feels grateful to have been chosen to give life to the song.
"Sa 'Sugid ni Maria' nga kanta gyud ko nakasuway makadaog nga ako mismo ang mi-interpret. Mao nga grabe kaayo akong kalipay ron mao nga emosyonal gihapon ko hangtud karon kay murag dili pa gyud fully masulod sa akong utok nga nidaog mi, grand prize pa gyud," Quiñones shared.
She also said that they faced a few trials before the grand finals such as travelling from Bohol to Cebu in order to join rehearsals. "Every time nga naay rehearsals kay motabok gyud mi og Cebu gikan sa Bohol kay dili ko ganahan sayangan ang dako nga chance nga nakaapil mi kay kini among pagka-apil lang sa Top 12 kay amo gyud ning giampo ni Señor Santo Niño," said Quiñones, whose team took home P100,000 and a Santo Niño trophy.
Placing second in this year's edition – which, unlike previous years, only had one category – was the entry titled "Abby," composed by 23-year-old Barry Villacarillo, who tapped Kurt Fick to interpret his song.
Villacarillo said "Abby" was originally in English and was once rejected when he submitted it to a national songwriting competition.
"Akong gi-translate and turned it to a Bisaya song kay para nako nindot og meaning, maka-relate ang kadaghanan and I don't want my songs to go to waste," he said.
A Señor Santo Niño devotee, Villacarillo said that he would go to the Minore del Santo Niño to pray for his success.
"Moadto gyud ko og Basilica with a heart nga kagustuhan gyud nako ug dili lang nga molabay lang. Mao nga karon, grabe ang blessings nga gihatag sa Santo Niño sa ako and I am forever thankful," he expressed.
Well-known music composer Jay-Arr Librando performed his own composition, "Gugma sa Kasulatan," together with Leela Jae Laburada.
For Librando, it was good to return to the yearly music celebration and still get a spot as third placer. "Malipayon ug mapasalamaton ko kay I am still given the chance nga maka-participate. It has been years nga nag-apil ko sa Cebu and I have entries nga midaog and naa sab ang wala but still mahimo nga part sa Top 12 is really a blessing sa Santo Niño."
In 2018, Librando's "Sugbuanong Ko," interpreted by Sheena Belarmino, won both the grand prize and the Best in Interpreter award.
This year's Best Interpreter awardee was 30-year-old Charmine Monternel who sang the composition of her father Fred Monternel, titled "Pailob Lang."
"Super happy nga midaog kay first time nako as an interpreter diri and wala ko ga-expect nga mapilian ko out of 12 nga maayo pud," Monterne said.
Winning Best Lyric Video was Frenyx Tarongoy's "Sugbuanong Musika, which was interpreted by acapella group The Basics, composed of young professionals Niña Claire Rivaca, Driane Paul Saberon, Cyril David Tan, Ian Mark Corrales, Dave Eroy, and Chreystle Gealogo (Sinulog Idol 2020 first runner-up).
Tasked to judge this year were Chiko Pineda, Bryan Balucan, Insoy Niñal, Amor Caparas, Butch Miraflor, Judge Simeon Dumdum Jr. and Dindin Ranillo.
The rest of the Cebu Pop 2020 entries were "Ayaw Gyud" by Floramie Mamolo and interpreted by Domiliza Estremos; "Bakho sa Kamingaw" by Richter Alegado and interpreted by Angele Lapinid; "Agalon kong Istrikto" by Hernando Maniwan and interpreted by Philipp Mancol; "Duha Na Ta" by Russel Alegado and interpreted by Vanessa Kaye Parame; "Estudyanteng Tambay" by Mateo Barulo Jr. and interpreted by Jerico Barberan; "IPTU" by Clefford Ray Duran and interpreted by Jun Villarta; and "Salamat Cebu" by Neil Salarda and interpreted by Yumae Baring.
Wowing the audience was Los Angeles-based Cebuana singer Rizza Navales who belted out Girlie Lapinid-Laspiñas' "Langit ug Yuta" and Beyonce's "Listen." In 1999, she participated in the Cebu Pop Music Festival as one of the interpreters.
Cebu's legendary all-male group, SAKDAP, also performed songs by Dionisio "Junnie" Enriquez Jr., one of Cebu's music industry pillars, who is famous for his composition "Musikang Binisaya."
Enriquez was presented with this year's ERG (Excellence-Recognition-Gratitude) Award for his vision and influence in Cebu's music industry.
The Cebu Pop Music Festival was founded by Congressman Eduardo R. Gullas and mounted yearly in partnership with the Cebu Arts Foundation Inc. as an offering to Señor Santo Niño de Cebu.