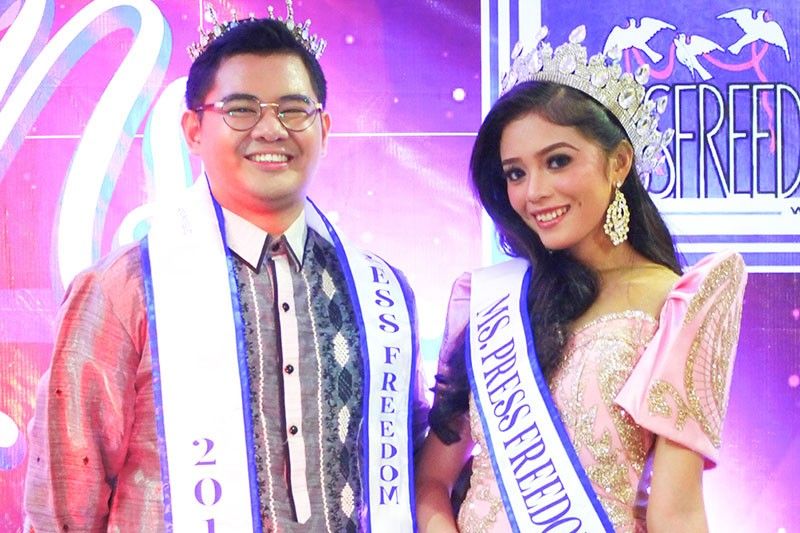 A three-peat and – finally! – a male winner for Freeman/Banat
Karla Rule
(The Freeman) - September 16, 2019 - 12:00am
Mr. & Miss Cebu Press Freedom 2019
CEBU, Philippines — The Freeman and Banat News opened the 27th Cebu Press Freedom Week with a bang as it reaped not only their 10th Miss Cebu Press Freedom crown, but also its very first Mister Cebu Press Freedom victory during the Coronation Night on Saturday at the Jade Hall of Cebu Business Hotel.
Crowned Mr. and Miss Cebu Press Freedom were the fair and fearless bets of The Freeman and Banat News, John Kendrick Ceciban and Ana Preciosa Bacalso, whose journeys to the crown had not at all been easy.
The pageant is the kickoff and one of the highlights of the annual Cebu Press Freedom Week celebrations. Members of Cebu's tri-media gather to showcase their beauty, grace, and wit throug the search, which also displays the intelligence, creativity, showmanship, and unity of Cebu's media practitioners.
Competing were four pairs representing Cebu Daily News Digital, The Freeman and Banat News, Sunstar Cebu and Super Balita, and the Kapisanan ng mga Brodkaster ng Pilipinas (KBP).
Ceciban and Bacalso each won P10,000, gift packs from Grab, Titay's and GT Cosmetics, a bouquet from PR Works, a stay at Golden Peak Hotel and Suites, and an all-expense paid trip to Jelly's Haven Resort in Bantayan Island.
Ceciban, The Freeman's online reporter and producer, is a 21-year-old Communication graduate from the University of San Jose-Recoletos. He said joining the tilt was a test of commitment and professionalism.
"I feel honored to have this title. There's a responsibility that we will be the face of the Cebu press so it's a big responsibility and an honor to have this title. Hopefully we will have a positive impact to the media community and educate more people about what we really do. The process really opened my eyes to the true and current situations of the industry," said Ceciban, a fresh graduate.
Despite being close to backing out minutes before the show, he was reminded of the value of integrity and commitment that each media worker practices. Ceciban, a student leader and advocate against fake news and misinformation, looks forward to educating the public about being smarter when it comes to digesting information.
"It has really been my passion to educate young people to know how to properly use social media, what it's for, what it's not, how to spot fake news. Hopefully with the backing of the organization and support of colleagues we can hold seminars so that the next generation will be made aware to come to right decisions since the media molds the decision-making of the society it reaches. It's a big responsibility but it's a fulfilling and honorable responsibility," he said
For Bacalso, Banat News' entertainment correspondent, she can finally breathe easy after her challenging quest. Despite sitting through pageants as part of her showbiz coverages, she personally didn't feel like she was cut out for the scene. It seems the two years she's spent as Mr. and Miss Press Freedom organizer was all to prepare her for the stage.
"It sounds so cliché but it's very overwhelming and I fell totally blessed that the pressure that I felt was reciprocated. I never expected to win. I thought it was going to be somebody else. Grabe ang ka-pressure,"said Bacalso, a Communication graduate from Cebu Normal University who has been with Banat – The Freeman's sister publication – for three years now.
The 22-year-old succeeded The Freeman's very own Lorraine Mitzi Ambrad, who also received her crown from former The Freeman Lifestyle Editorial Assistant Dezsa Rubio – making this a three-peat for The Freeman in the female category.
Bacalso admitted that she was riddled with doubts and pressure to make sure that she not only survives the evening, but also hopefully manage a back-to-back-to-back win for the team.
Previous Miss Cebu Press Freedom winners from The Freeman include Lani Ginete (2004), Ardelle Merton (2006), Rachelle Dangin Jimena (2007), Stacy Alcantara Garcia (2009), Grace Melanie Lacamiento (2012), Jessa Agua (2013), and Jean Marvette Demecillo (2014).
"I am really looking forward to taking on the responsibility. We all know that the industry needs a lift. The industry is not dying but there are a lot of challenges that we are facing. The transition from traditional to online is the biggest challenge right now," she said.
Kenneth Dwight Torres of SunStar Cebu and Donna Lavares of KBP placed first runners-up, Joworski Alipon of KBP and Wenilyn Sabalo of SunStar were second runners-up, while Gerard Vincent Francisco and Rosalie Abatayo, both from CDN Digital, finished third.