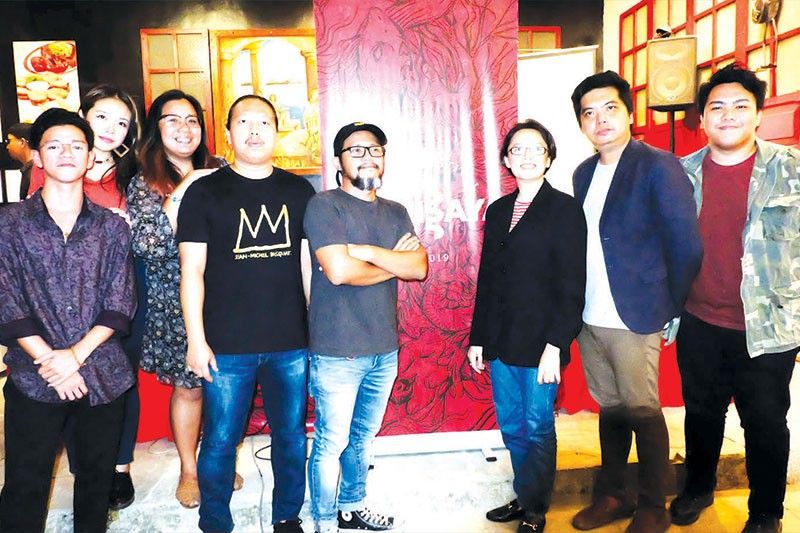 Binisaya Film Festival 2019 organizers and participants John Ahmed Durano, Krizzia Sayson, Dandan Aballe-Delos Reyes, Idden Delos Reyes, Kris Villarino, Grace Marie Lopez, Remton Zuasola and Joseph Tan
Photo by Joy Torrejos
The refreshing and the unusual at BINISAYA Film Fest 2019
Karla Rule
(The Freeman) - September 11, 2019 - 12:00am
CEBU, Philippines — For its ninth edition, the BINISAYA film festival has prepared a collection of thought-provoking films that not only dives into the imagination, but also teases the threads of reality as both worlds can be crazier than they seem.
This year, BINISAYA boasts not only of creativity but also of social responsibility through films that continuously push the envelope of thought, made by our very own Bisaya filmmakers.
The local film festival reaped seven of the strongest films that will represent the refreshing and the unusual.
"We are looking for filmmaker-driven films. Films that can blow our heads off, films that challenge the way we see cinema. Whether it is a crowd-pleaser or a mind f--k film, whether it's a school project or not. We are not looking for the best film, that is the work of the jury. We look for strong voices," said filmmaker and BINISAYA Film Festival founder Keith Deligero.
BINISAYA 2019 explores a world where dance is illegal, and where the working class reveals themselves. It presents how a dance craze is made, and shows how the mundane jeepney ride can escalate into an unexpectedly memorable experience. It makes sure that those left behind are seen, and takes us on a journey where human meat is part of the daily diet, and where a goldmine of Cebuano cinema is just one clearing operation away from total erasure.
Competing as official BINISAYA Film Festival entries are seven shorts, announced on Sept. 5 during a launch at Handuraw Pizza White Gold. There's "Victoriana" by Chloe Capatoy in which a young teenage girl breaks the rules for dance; "The Best Employee" by Alyssa Ashley Manugas where a no-speaking office guy and the head-full-of-theories gal reveal themselves and the inner mechanisms of the working class; "Budots" by Jay Rosas and Mark Limbaga which tells the beginnings of the freestyle dance craze; "Gitlo" by Bobby Villacarlos II where a man on a jeepney ride becomes more than a mere spectator of the view outside the window; "Gabii sa Nabilin" by Ronnie Gamboa Jr., an ode to those who are left behind; "Medium Rare" by Christian Naparota, where a man named Bert works as a chef in a world where human beings are subject to the meat consumption industry; and "Aksyon!" by Frank Go, about a 60-year-old cinephile who sells the original and only copies of Cebuano films in the streets of downtown Cebu, where tanods are bound to take illegal sellers like him away.
The call for entries began in January and ended in June. Alongside the seven competing films, BINISAYA will also hold an exhibition of full-length films, non-Bisaya shorts, and guest films from all over Asia.
Known as BINISAYA Horizons, the exhibition of non-Bisaya short films include "Viral Kids" by Arjanmar H. Rebeta of Camarines Sur, "Siyudad sa Bulawan" by Jarell Serencio of Davao, "Ang Nagliliyab na Kasaysayan ng Pamilya Dela Cruz" by Miguel Louie de Guzman of Batangas, "Mountain to Cry For" by Khurshid Kalabud Jr. of General Santos, "Fish Out of Water" by Mon Garilao of Bulacan, and "Nangungupahan" by Glenn Barit of Tuguegarao.
The Asian Shorts line-up will feature "A Cold Summer Night" by Yash Sawant of India, "Death of the Sound Man" by Sorayos Prapapan of Thailand, "Krampon" by Abdullah Sahin of Turkey, "War For Keyboard Warriors" by Lam Can-zhao of China, "Francis and Laika" by Mark Chua and Lam Li Shuen of Singapore, "Pulangui" by Bagane Fiola of the Philippines, and "Avashesh" by Manoj Babu Panta of Nepal.
The full-length feature films are "Huwebes" by Januar Yap, Kris Villarino, and Don Frasco, which is the culminating film of the BINISAYA Aslaw-adlaw series, and will serve as the festival's opening film.
"MARKADO: Bakunawa sa Duha Ka-Manglahing Takna" by Joe Bacus of Cagayan De Oro will also be gracing the screens, while this year's closing film is Deligero's award-winning work, "A Short History Of a Few Bad Things."
BINISAYA will also be bringing Kiri Dalena for the BINISAYA Talks. Dalena is a Filipina visual artist, filmmaker and human rights activist whose work deals with political and social injustice issues drawn from events throughout Philippine history. She is also co-founder of the filmmaking collective Southern Tagalog Exposure.
Festival Director Grace Marie Lopez takes pride in the alternative voice of BINISAYA as the festival offers a platform for filmmakers whose work will ultimately raise questions and discuss current situations. She believes that BINISAYA is able to maintain artistic freedom and promote independent expression by showing works that have the potential to not only entertain but also engage the community, and the country as a whole, as they continue to challenge the "undemanding" and "comfortable."
The three-day film festival will take place on October 16 to 18 at Ayala Center Cebu.
"We believe that it is our collective social responsibility and duty to preserve them. We will educate ourselves with stories on how a present-day Bisdak deals with everyday dispute and life concerns," said Lopez.
"We have the art. We have Cebuano films. We have cinema that speaks our language and celebrates our distinctiveness. Susihon nato ang atong festival."