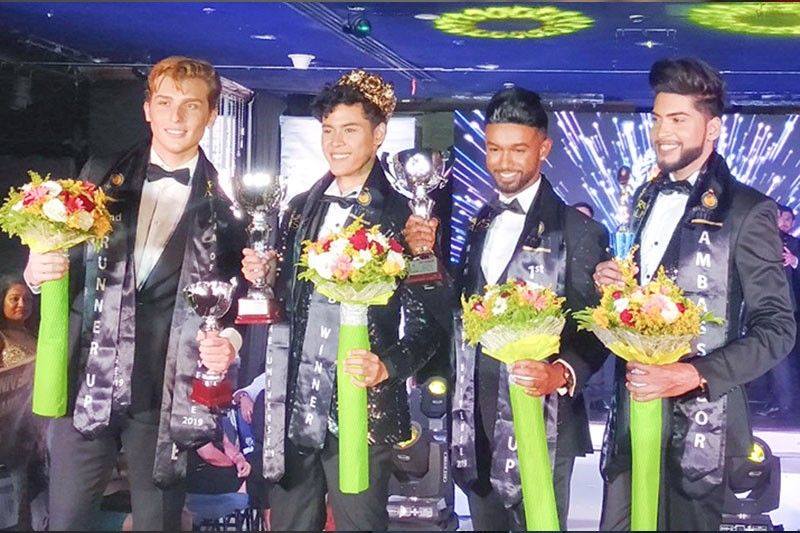 Thai model crowned first Man of the Universe
Karla Rule
(The Freeman) - September 9, 2019 - 12:00am
CEBU, Philippines — The Thai flag rose high at the inaugural staging of the international pageant Man of the Universe as its candidate, Wachiraputts Supathanasiree, won the title during the coronation night held Friday at Teatro Casino of PAGCOR at the Waterfront Cebu City Hotel and Casino.
Besting 12 other candidates from all over the world was 20-year-old model Wachiraputts "Maris Supa" Supathanasiree, who not only received $1000 cash and other sponsor prizes but also took home awards for Media's Choice and Best in Formal Wear.
During the final question and answer segment, Supathanasiree was asked about the importance of unity among nations, to which he replied that unity and diversity come hand in hand, and one's strengths can make up for another's weaknesses.
"One nation can do something, and another nation may not be able to do other things. If we come together, we can achieve all things together, altogether," he replied.
Currently a fourth year Business French student from the Assumption University in Thailand, Supathanasiree was surprised to be chosen as the grand winner having no prior experience in pageantry.
"I feel…actually there are no words to describe how I'm feeling right now. Outside, I may look calm and normal but inside, [screams]. Even now!" Supathanasiree exclaimed.
He thinks that it was his smile and personality that must have convinced the judges.
"This is my very, very first time. As you can see, this pageant is a brand new competition and it's very different from other competitions because aside from the glitz and glamor, it promotes diversity, humanity, and unity. And that's what the world needs right now," he said.
Supathanasiree is grateful for the opportunity, and that while travelling with new friends was already very rewarding, the feeling of having a tangible form of victory felt indescribable.
"It's been magical. Philippines and Cebu, and all the places I've been to, I enjoyed with my friends here and the organizing team as well. It's like going places with my new family," he added.
Supathanasiree has done his best and hopes that he gave the Land of Smiles something more to smile about. He is thankful for the support of everyone back home, and even strangers here in the country.
Trailing behind Supathanasiree is first runner-up (Man of Unity) Sagar Pawan Bhageloe, a 29-year-old Law student from the Netherlands who was also named Mr. Photogenic. Ukraine's Adel Serhal, a 21-year-old fashion model, placed second runner-up (Man of Diversity).
Other victors include 21-year-old Pampanga native Anthony Eatabillo Abuan of the Philippines, who made into the Top 7 and won Best National Costume and Best in Swimwear; and Prince Oomesh Luvusk, a 29-year-old professional dancer from Mauritius who was named Star Realms Ambassador.
Star Realms Entertainment Production President Gilbert Espiritu was very happy to have mounted the very first Man of the Universe competition, and looks forward to staging the competition in the following years in Cebu.