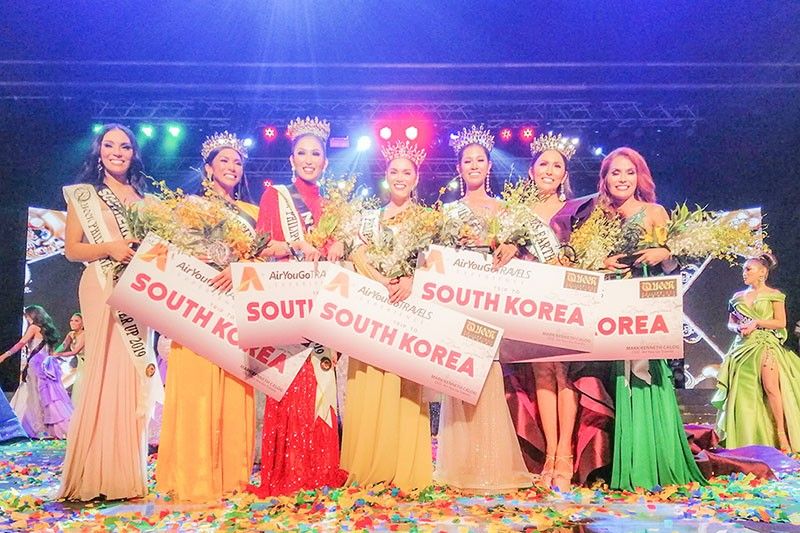 From one Leyte Queen to another and that Spratly scene-stealer
CEBU, Philippines — The Queen Philippines Universe crown still belongs to Leyte, as the candidate from the province's City of Ormoc was named successor of Samantha Dodson, the 2017 title-holder who also hails from the Eastern Visayas island.
Jess Labares, a 26-year-old Physical Therapy graduate, wasn't a runaway victor: She received no corporate or special award and, soft-spoken and prim and proper as she is, was easily overshadowed by flashier, flamboyant, funny crowd darlings.
But Labares, in an interview after her coronation, thinks she must have gotten the judges' nods because "I am natural, confident and authentic. I don't copy anyone. I am myself."
Told to choose between a knight in shining armor or a humble brave peasant during the casual interview for the Top 15 candidates, she picked the latter, saying, "Growing up, we all dreamed of a knight in shining armor. But I will choose a humble peasant because his small beginnings will teach him a lesson…He will learn a lot in life and maybe he can teach me somehow."
That answer earned her a spot in the Top 7, where they were asked whether they thought the digital age was a way to a better world or a disastrous future.
The second to answer in the final round, Labares admitted she was a bottle of nerves, even quipping, albeit in jest, if she could switch turns with the last candidate in line. She was concerned for nothing though, calmly hurdling the Q&A and ending the night as queen of them all.
"If I may define the digital age, I will definitely refer to social media which has negative and positive effects," she began. "It depends on how you use it. Positive, in that it enables you to communicate with loved ones even if you're far from each other. For the negative, it could be used as a tool to bully someone and it could greatly affect one's mental health, and that is not okay. It should not be tolerated."
Labares first joined Queen Philippines in 2017 as a representative of Isabela, Leyte, where she finished in the Top 7 and was awarded Miss Photogenic.
She is currently working on her papers with the goal of becoming the first female transgender flight attendant in the Philippines.
Giving Labares a good fight was Sheila Magpale III of South Cotabato who was not only named Queen Philippines World, but was also selected Best in Swimsuit and Best in Evening Gown.
Also bagging crowns were Ayesha Tolentino Lopez of NCR as Queen Philippines International, Angel Marie Madrigal of Maguindanao as Queen Philippines Earth (Best in National Costume) and Bridgette Salvatore of Sulu as Queen Philippines Tourism.
First and second runners-up are Paula Abellar of Siquijor (also a Miss Innocentrix awardee) and Charla Diaz of Southern Leyte (Miss Jonas Borces Salon), respectively.
Other awardees are Paula Martin of Bukidnon for Miss Photogenic, Lena Santos of Bulacan for Miss Congeniality, Janna Eliza Embalzado of Spratly Islands for Miss M Talent, Vhi Balolong of Pangasinan for Miss Maycynn Cosmetics, Aya Garcia of Zamboanga Sibugay as Shandar Muse, and Josa Bautista of Surigao del Sur as Miss Finessa and Social Media Princess.
The rest of the Top 15 finalists were the candidates from Antique, Cebu, Negros, Romblon, Lanao del Norte, Zamboanga Sibugay, Benguet and Samar.
Scoring the 35 candidates in their national costume, swimsuit, evening gown and interview was an esteemed panel composed of Bea Zobel de Ayala Jr., Tina Maristela Ocampo, Dimples Romana and Beauty Gonzalez of "Kadenang Ginto" fame, among others.
With Dimples and Beauty in attendance, a number of candidates wove the viral Daniela and Romina characters into their hilarious introductions. The National Issue of the Year was likewise fair game: Southern Leyte's bet appeared in a costume with four imaginary women strapped to her – introducing them as Kim, Maja, Bea and Julia.
But there was no doubt who was the star of the show: Her bid may have ended after the first cut (and thus the crowd's major source of amusement), but the 46-year-old candidate wearing the sash for Spratly Islands was a scene-stealer from the get-go, appearing in a jetski national costume complete with a ship, sailors, and dolphins as backdrop.
First held in 2009 as Queen Cebu, it was later on rebranded as Queen Philippines following the desire of many transwomen from outside Cebu to join the pageant.
"In 2009, we all went on this journey together: to give Cebu the best transgender pageant it has ever seen. Now we have become, after a decade, the best transgender pageant in the country. And we continue to become bigger," said host Jude Bacalso, who returned to the Queen stage with the task of introducing, in fabulous fashion, the panel of judges.
"We were in a quandary what to call the pageant. Should we go the route of Miss Gay Mandaue, one of the longest-running and respected pageants in Cebu? Because I'm a true believer in 'If it ain't broke, put a crown on it,' I suggested to call it after who we have inside all of us: a queen. And thus Queen was born. After that, pageants – transgender or otherwise – in the whole country, followed suit. And it all began here."
Founded by Cary Santiago and Wendell Quisido, the Queen Philippines pageant is set to return in 2021.