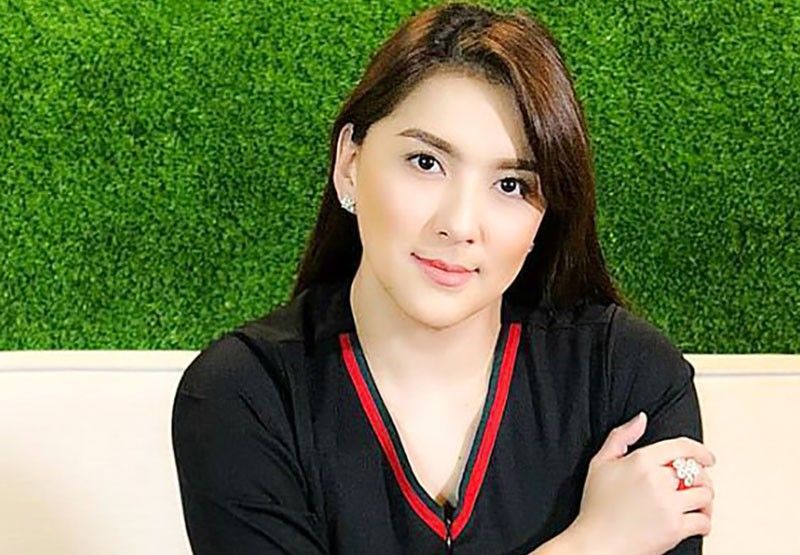 Ara Mina planning for another baby, more cafe branches
Actress and businesswoman Ara Mina was among the invited celebrities to the inaugural flight of SkyJet in San Vicente, Palawan on Tuesday, July 16.
In an interview with the media at Club Agutaya where the group was billetted, Ara said she is planning to put up another branch of her Hazelberry Café restaurant soon in the southern part of Metro Manila.
"We already have three branches of Hazelberry and we are happy with the response of our regular clientele. In fact, we are also open for franchising," said Ara.
Even if she is busy with her showbiz work, Ara is very hands-on in running Hazelberry. She prepares the pastries for baking herself. But she also trained an assistant to help her prepare the pastries.
"I am happy with the way my business has progressed through the years. I won't turn my back to acting but having a business to attend to sometimes takes a lot of my time and its success has motivated me to go on," she said.
Ara intimated that she is planning to have another baby next year that why she wants to make sure that her business, which also includes Ara's Secrets (a beauty product line), will put money on her table.
Aside from managing Hazelberry, she is also doing a movie with Sarah Geronimo for Viva Films. She is likewise open to doing a teleserye. Ara never forgets that she is first and foremost an actress.
Ara would like to express her thanks to Patrick Tan of SkyJet Airlines, Palawan Governor Jose Ch. Alvarez, Danilo B. Intong (DOT MIMAROPA Regional Director, Club Agutaya, Farm Belle, and TIEZA for the invitation to visit San Vicente, Palawan which is being promoted as a new tourist destination in Palawan.
***
Social media elite personality Bianca Valerio is the face of Belo 360° Liposuction. But there is so much more to her story than what meets the eye.
A self-confessed survivor of chronic depression and anxiety not too long ago, Bianca sort of lost her bearings when her only beloved brother met an untimely demise in 2017. Bianca revealed she didn't know how to cope then and found herself turning to food to alleviate the pain she never felt before to be so real in her life.
Finally, the denial stage for Bianca was over. "I acknowledged the problem. I knew I was in a crisis and I had to take control," she said.
And then her journey began with the realignment of her wellness goals. She went back to the gym and slowly shed off those unwanted pounds. As she got back into shape, Bianca admitted that her perspective positively changed along with it.
"I started feeling better in general. Instead of wallowing in pity for myself and my family because of my brother's loss because he was supposed to be the one to continue the legacy of my parents, I also began to learn life lessons along the way and discover new strengths from within me. I was on the road to recovery and I knew I needed to see this transformation through," she said.
On the physical side of her goals, Bianca said her tummy proved to be the problem area. "People think that when you lose weight, you can target a specific spot and make it smaller. That's not true. I had been working out for so long to make my tummy smaller. But I only managed to make it firmer, lost a few inches of it, but that was it."
That's when Bianca consulted with Dr. Vicki Belo whom she now calls her fairy godmother. "She's my answered prayer. She introduced me to Belo 360° Liposuction, a fat removal procedure that's minimally invasive and less aggressive than traditional liposuction. This consultation led me to my revenge body now," enthuses Bianca, who now boasts 34-24-38 vital stats.
During Bianca's launch as endorser of Belo 360° Liposuction at the Manila House recently, she said that more than feeling so good about her physical body today, she appreciates and celebrates life more.
She said, "I feel confident and validated. Why didn't I do this sooner? But more than that, I found enough encouragement to love myself again, to see myself in a whole new light, and to want to care for myself better. "