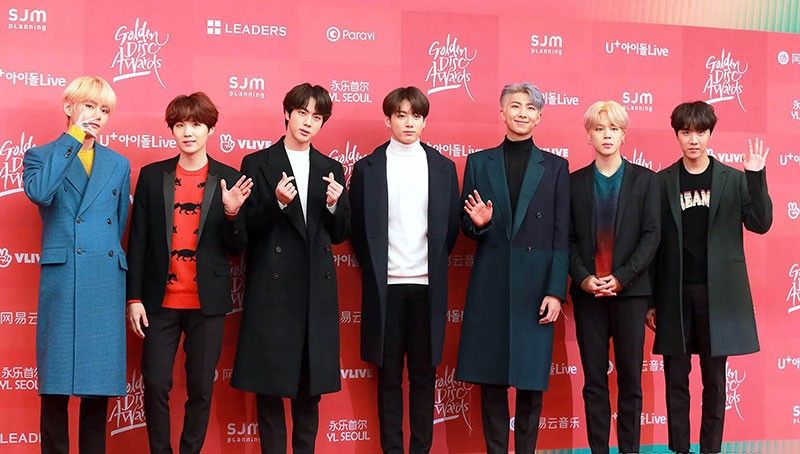 Seven reasons why fans can't get enough of BTS
(2nd of two parts)
CEBU, Philippines — One might wonder what makes BTS the biggest boy band of the here and now. I talked to fellow Cebuano fans and rounded up seven reasons why people can't seem to get enough of the South Korean band.
While you were playing, they work all night, every day
When I tell you that no one is as spoiled as ARMY, I'm not lying. You never run out of things to talk about in the fandom – every other day you wake up to a surprise. It can be a new song, a collaboration, or a project. Even on tour, they manage to work on new content while on the road, you'd wonder if they even rest.
In the past year we've already received a number of albums, song covers, tour and travel videos, solo releases, and collaborations. There's never a dull moment in the fandom. Not when BTS has its arsenal of fun stuff ready for fans to enjoy. And the way they put it out there, with so much mystery and teasing, adds to the fun or chaos, whichever way you look at it.
Apart from their cinema releases "Burn The Stage: The Movie" and "Love Yourself in Seoul," BTS also has online shows ("Run BTS!" every Tuesday) among other video content. They even have a rhythm game, and have introduced a bunch of characters in 2017 called BT21, with each member giving birth to a character they designed themselves according to their own personalities.
For a long time now, fans have suspected a running storyline in between BTS's music and the videos. It's a long story, but in a nutshell, the band has left a trail of Easter eggs that have churned theories from observant fans. This creative narrative has had fans studying BTS releases a lot more closely in search for clues. Just this year, Big Hit has put up a webtoon comic which might finally confirm and deny fan theories. Entitled "Save Me," the story, available on the Naver Webtoon site, is updated weekly.
In short, BTS is the gift that keeps on giving, especially for fans who can't watch live performances. While others have to wait for updates from artists, the ARMY is on its toes trying to keep up with all of this content.
In 2015, when BTS dropped "The Most Beautiful Moment In Life Pt. 1," they gained traction through the bop that was "Dope." Behind the choreography that earned them a lot of attention, the song talks about how they hustle "even if their youth rots in the studio," drenched in sweat from rehearsals, the daily grind, confronting those who "kill them before they can even try," setting themselves apart in toil while others play.
BTS also maintains a strong online presence through social media accounts they update themselves. On Twitter, BTS boasts a whopping 18.3 million followers. They also have a chat room where they communicate with fans. Usually, artists post updates of official appearances, whereas BTS post photos of their vacation, dates with members on rest days, their pets, and chat up a storm with ARMY about something random like the weather, the kind of fabric conditioner they use, and even mishaps late at night.
Being a relatable band of young people, BTS's activity presents an idea of closeness, and makes fans feel like they have an intimate friendship with the group. Turns out, apart from celebrating the youth and their ability to endure and persevere despite pressure, Big Hit Entertainment founder Bang Si-hyuk wanted this band of kids to also show sincerity, to be real boys who have no strings on them and openly share their personalities and struggles to others, and eventually become an example to audiences – a contrast to the perfect idols on TV. BTS is not afraid to break down in tears or look silly on and off-cam.
Bang Si-hyuk, who earned the moniker Hitman Bang as a veteran songwriter and lyricist, and an integral player in the early years of K-Pop groups, said in an interview with South Korean newspaper JoongAng: "I recently came across a company document from 2012, the year before BTS debuted, in which we were debating what kind of idol group to create. It said, 'What kind of hero is the youth of today looking for? Not someone who dogmatically preaches from above. Rather, it seems like they need a hero who can lend them a shoulder to lean on, even without speaking a single word."
"I didn't want them to be false idols," the CEO explained. "I wanted to create a BTS that could become a close friend."
"I purple you!"
Artists always say they love their fans, but BTS says they "purple" us. While there are a lot of pairings in between members, they're all outweighed by the mothership that is BTS and ARMY. With these two, they each give 50 percent. Or at the rate things are going, everyone gives a hundred percent each. In one of their concerts, V gave the color purple a new meaning by saying "I purple you." He reasoned that purple is the last color of the rainbow, therefore "I purple you" means something along the lines of "I will trust and love you for a long time." The expression has become a sort of slang for love and trust between BTS and ARMY.
Big Hit also credits BTS's success to the diversity of fans and the effort they put into streaming culture. As we say in the fandom, team work makes the dream work.
And you see it in the way ARMY wakes up to random "I miss you" and "I love you" messages from the members online. We hear it in their music through their fan songs as well. In "2!3!" they sing about taking all of the bad memories away at the count of three, and "hoping for more good days." In "Magic Shop," they tell ARMYs that they can be their escape and urge them to give themselves a fighting chance in the line: "You gave me the best of me, so you'll give you the best of you."
In "Paradise," they take down stereotypes about dreams and goals saying that it's okay to take things slow, that others have different goals ("Who says a dream must be something grand?"), and that it's okay to not have a dream just yet. In "Pied Piper," the band addresses their fans' habits, telling them to study instead of watch videos, well aware that parents and employers probably hate BTS and so they urge fans to attend to their own lives as well.
Last month, in celebration of the group's debut anniversary, at least a week was dedicated for fans during BTS Fiesta. From June 1, leading to their anniversary day on June 13, BTS gave ARMY a bunch of surprises like new photos, funny profiles, inside info, special music and other gifts that culminated in a live performance for lucky fans.
The septet has also makes it a point to go live right after award shows. After the Grammys, the band went live, poking fun at how they presented the Best R&B Album to H.E.R. It's something fans find endearing but also frustrating because going live means the group miss out on after-parties and potentially rubbing elbows with their own musical heroes.
In a 2018 interview with Entertainment Weekly, Jimin said, "We say this among ourselves a lot as well, but I think our fans are our everything. Without them, we wouldn't have been able to come this far, wouldn't have been able to perform, and wouldn't have been able to do the things we want to. I think they're the people that have risen together with us."
In a 2017 article by SportsSeoul, the members shared their experience at the Billboard Music Awards where they won Top Social Artist. They said that they have come to realize their popularity and have ARMY to thank for much of their success.
"[We express our love frequently] because ARMY is very precious to us and we are always grateful to them. Above all else, we do it because we truly love our fans," said V, while Jin wrapped up the interview saying, "We are who we are right now because of ARMY. Even now, we would not have been able to accomplish what we have without them."
When BTS received their Artist of the Year award at MAMA 2018, it was a bittersweet day for ARMYs everywhere. The boys broke down in tears during the emotional speech where Jin revealed that they had thought of disbanding in early 2018. But while they constantly worried about their journey, they were able to use ARMY's support as motivation and thanked their fans for the family they've built.
There are new ARMYs who want to go back in time and wish they were there from Day One. But things don't work that way and some of us took a little while to get here. Many of us reveal that we stumbled upon BTS when we needed them the most. It doesn't matter if you're late to the party; what's important is that you got here anyway.
BTS has become an inspiration, a stress reliever, and motivation for a lot of people. Finding out that we motivate them as well makes us feel a lot of things. Despite their worries, BTS has not given us a reason to leave their side.
Music and artist for healing
That is Big Hit's promise: it's written under the company logo that rolls out before every music video that is uploaded on their YouTube channel. In an interview with MTV News, RM explained the tagline saying that they want to "be a help for our friends and the world."
There's so many ways to become popular, and in this day and age, that 30 seconds of fame is a click away with the internet and your phone in your pocket. But what I like about BTS are the themes of their music. In a report by Forbes, a Big Hit spokesperson mused that the group's ascent is due to the "band's continuous efforts to understand their generation and communicate with the people through their music."
Indeed, upon debut, they tell listeners to pursue their own dreams instead of fitting themselves into the mold cut out for them by a "hellish society" through their first single "No More Dream." In a track called "N.O.," RM asks "Who will take responsibility [for us] living the lives of puppets?" They continue to challenge the rigid societal standards in their following albums, taking on the role of schoolboys who want to give a piece of their mind.
In the same MTV News interview, Suga said that being honest and expressing one's self is the core of Big Hit.
"He [Bang] always emphasized that we should sing about our own experiences, thoughts and feelings. That has always been at the center of our music. When we started out, some of us were still in our teens. I was in my early 20s. We talked about the issues that we faced, and that made BTS what it is today," said Suga, adding that their music is not just limited to Korea since young people all over the world "face similar pains, sorrows and problems."
A lot of their music is rooted in themes of mental health, the youth experience, their personal struggles, societal pressures, their dreams and the price they had to pay to get there, to name a few. Death is also presented in their videos. In "21st Century Girls," they urge listeners to tell the world of their strength and worth, "Go Go" talks about YOLO and FOMO culture and the deceptive gratification of consumerism, "Am I Wrong" bemoans of social ignorance and a world that has gone mad. And that's not all of it.
Their lyricism and idealism, even though sometimes their rebellion is only implied, speaks volumes especially at a time where it's not popular for artists like them to do so. During interviews, members openly talk about the work load, depression, anxiety, political issues, and supporting the LGBTQ community. In "Ddaeng," the rappers wish "small company friends" success in the future.
For their latest release, the "Love Yourself" trilogy discusses love in its abstract and turbulent form. The series is heavily centered on a positive self-image. You don't have to be a fan to be amazed when you hear a bunch of people sing these words out loud. If you can get thousands singing things like "I'm the one I should love in this world," "You can't stop me loving myself," "I'm learning how to love myself," "I know I'm all mine" and other uplifting lines, then you must be doing something good.
I mean, fans aren't just usernames on an app. These are real people with brothers, sisters and friends they can share these messages to. I guess what I'm trying to say is, their music is universal and impactful to impressionable youth who need guidance. It's such a shame that a lot of people don't get past the language barrier and act like the internet doesn't exist.
One of our proudest moments as ARMY was when BTS was invited to speak at the United Nations in September 2018 for the launch of the Generation Unlimited campaign. During the UN General Assembly, Kim Namjoon, flanked by BTS members, gave a speech in behalf of the band. He began with where he came from, who he is and proceeded to share the struggle of being true to himself, referencing the hurdles he and his members faced as a team. The 24-year-old then talked about how his experiences, choices, achievements and even mistakes make up his whole being. He shared that ever since their "Love Yourself" releases, the members have heard remarkable stories from their audiences and have learned a lot of things about themselves along the way. He ended the speech by encouraging others to accept themselves and speak out.
"Those stories constantly remind us of our responsibility. So let's all take one more step. We have learned to love ourselves, so now I urge you to speak yourself. I'd like to ask all of you, 'What is your name? What excites you and makes your heart beat?' Tell me your story. I want to hear your voice, and I want to hear your conviction. No matter who you are, where you're from, your skin color, your gender identity, just speak yourself. Find your name and find your voice by speaking yourself."
Personally, I've learned to become more understanding and forgiving of myself and of others with a lot of encouragement and reinforcement from these boys. My sister said that she is inspired to create new things, now more than ever. Now imagine what would happen if these fans pay it forward, spread kindness, share their talent, speak out, find courage, and love the way they know how? The idea of one person, two people, three, 900 and counting getting a little bit braver each day really fills me with pride and warms my heart.
Like calls to like
Don't laugh now, but ARMY actually stands for Adorable Representative MC for the Youth. I know, I know. I can't make this stuff up. But if being an ARMY means being outspoken on issues that affect the community, acting on things you are passionate about, being true to yourself, representing your peers, and standing up for others and yourself, then that might not be so bad. Ideally that's what being an ARMY is about, not just someone who moons over seven K-Pop boys on the internet. Just how big ARMY really is, maybe we should start with the sold-out shows and albums sold for perspective.
But focusing on goals, buying music, filling up stadiums, going viral, and making sure that the boys are pleased with wins, trophies, and records is not my favorite thing about the fans. For one, the community is diverse. I'm 21 years old, and while you may think that only kids like them, you'd be surprised that there are also young professionals, proper adults, parents, and even grandparents, men and women, who like them.
Let's look at their celebrity fans: from Kris Aquino, Maisie Williams, Liza Soberano, and even John Cena. When I go online, the fans are dangerously witty and share endless jokes. They also help in translations, make gorgeous fan art, churn out beautiful edits, upload amazing dance and song covers and creative fan fiction.
Fans also have a remarkable way of showing their love. Last year, BTS officially refused to receive gifts from fans especially at fan meets. That makes sense, since some fans can be very extravagant: I'm talking designer clothes, top-of the-line gadgets, luxury goods. On members' birthdays or milestones, fans instead celebrate through charity work and special projects. Apart from putting up ads and gathering for fun, they also donate to people in need, may it be in schools, hospitals, and their direct communities. Fans also team up for online campaigns like that of UNICEF's Force for Change fundraiser, collecting $1 million USD. A portion of the income from BTS's "Love Yourself" series and other related goods have gone to a direct donation for UNICEF.
It's all fun and games until someone gets salty. ARMYs take it upon themselves to be protective of BTS both from naysayers and even from fans who have off-tune demands and unhealthy ideas. And for good reason. It took a while for the whole fandom to be taken seriously as others outside the circle often dismiss BTS's success as Western validation and online popularity. You would be surprised to know that BTS is not mainstream just yet. ARMYs' decision to collectively support or disregard certain topics sometimes is a force that's fascinating even to me. They can make things trend when they feel like it, or not at all.
Closer to home, I love the overall friendliness that fandom brings. The January screening for example: While most arrived with their own cliques, everyone was exchanging warm smiles with one another. Groups gave out purple ribbons, stickers, photos, and little tokens, laughing with each other and exchanging jokes from time to time throughout the movie.
If someone spoils the fun, from inside or outside of the fandom, I have high hopes that they'll outgrow that behavior. For the most part, it is belongingness and basking in the joy when you find someone who like the same things as you do that makes this journey so much more enjoyable.
At the end of the day, it really is just clean, good fun. People become interested in things that entertain them, inspire them, spark their curiosity, or simply because they identify with it.
I know others think fandom is silly. But really, as someone who has been a fan of something her whole life, I think the culture is fascinating in ways more than one. If something puts you at ease, you're having fun and learning new things, and it makes you a better person, I see no reason to be afraid or embarrassed by it. Perhaps in reality, we are just passionate fans and BTS is just a really successful band. That's true. And yet despite the distance, it's still better to know them this way than to have not known them at all.