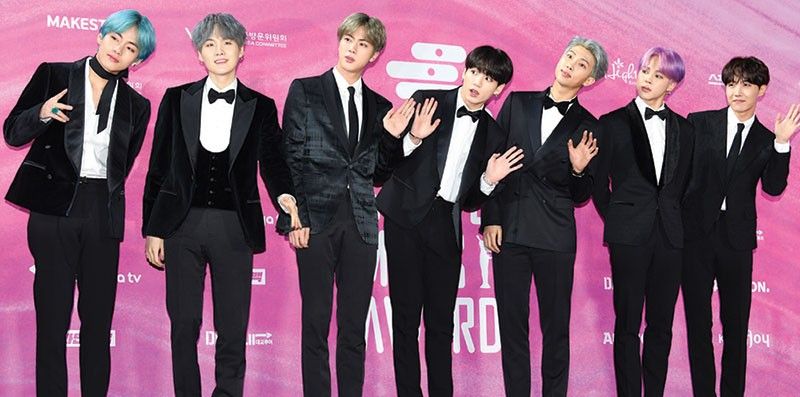 Seven reasons why fans can't get enough of BTS
(1st of two parts)
CEBU, Philippines — Two months after their cinematic debut, Korean group BTS achieved another feat with "BTS World Tour: Love Yourself in Seoul." Shot at the Seoul Olympic Stadium, the concert film opened in 3,800 cinemas in 95 countries in January during a one-day only release in what Forbes calls "the largest event cinema release ever." Due to popular demand, the film was given additional screenings for two more days, including here in the Philippines, on February 9 and 10 in SM cinemas nationwide.
In January, the organization ARMY of Cebu gathered 937 ARMYs (BTS fans) in a block screening of the concert film at the Cinema 8 of SM City Cebu. That's more than the 880 people who attended the organization's block screening of "Burn The Stage: The Movie" in November 2018.
Melrose Estares, head administrator of ARMY of Cebu, shared that the organization exists to "love, support, and be happy for BTS, and Cebu ARMYs."
In a report by Forbes via a press release from Big Hit Entertainment, the film's one-day release got 1.2 million admission and raked in $11.7 million worldwide, excluding Korea. Big Hit estimates that the admission numbers go up to 1.3 million, with a U.S. turnout that grossed $2.8 million across 1,002 cinemas.
One might wonder what makes BTS the biggest boy band of the here and now. Well I thought you'd never ask. Yes they can perform well, and if looks could kill, then I'm writing this story from my grave. But that's just the tip of the iceberg. I talked to fellow Cebuano fans and rounded up seven reasons why people can't seem to get enough of BTS. So kick back, relax, and let me tell you what my K-pop boys can do.
Someone's empty spot is their dream
Coming from a small company and debuting with an in-your-face hip-hop sound and a rough around the edges concept in 2013, BTS – which stands for Bangtan Sonyeondan (Bulletproof Boyscouts), and also Beyond The Scenes – had trouble being taken seriously. It was tough getting people to listen to you when you represent a company that was also still trying to cement their place in a stiff industry.
The boys were cut from broadcasts, were told that they wouldn't make it with an agency so small, and spent many nights in one room hoping things would be different the next day. Much of these scenes are painted in their music, where the seven members give ARMY an inside look at what it took to get to where they are today.
In a hidden track called "Sea" which was released in the 2018 EP "Love Yourself: Her," rapper Suga, among the band's main writers, says in one verse: Someone's empty spot is our dream. Overall, "Sea" is a personal track that talks about the septet's wants and struggles. That's just one of the many strings that make up the colorful tapestry of BTS's story, and much of it is reflected in their music.
Fast forward to 2019, BTS has become a global phenomenon, breaking records, and setting the bar higher for fellow artists. After kicking off the Love Yourself Tour in August 2018, BTS has gone to sold-out stadium shows across America, visiting countries in Europe and Asia. They released their first English language single alongside EDM artist Steve Aoki, performed for the Korea-France Friendship Concert in a summit in Paris, has won over 20 awards including the grand prize at the Asia Artist Awards, Artist of the Year at the Mnet Asian Music Awards, and Album of the Year for "Love Yourself: Tear" at the 2018 Melon Music Awards, and was given the honor of the Hwagwan Orders of Cultural Merit by the South Korean government – a feat the seven gentlemen did not imagine even in their wildest dreams.
On February, the boys were off to the 61st Grammy Awards to present an award. Their album, "Love Yourself: Tear" was nominated for Best Recording Package.
In a letter to the boys in an episode of "Bon Voyage," Big Hit Entertainment founder and songwriter Bang Si-hyuk writes to the boys about their beginnings and how things have changed for them three years since they began. The letter was written a month before the band's third anniversary.
"Seokjin, Yoongi, Namjoon, Hoseok, Jimin, Taehyung and Jungkook:
When I first met you, all of you were so young. I met you all in different times, but all of you seemed to be scared about something. Like you didn't know how to look at me. You couldn't look me in the eye well at all. I feel that I really pushed you boys a lot. I had a lot of greed and put you under my standard. I gave you a hard time, asking why you weren't trying to look far into the future. I'm sure all of you remember losing sleep over this. Because the place I pointed to is always too far and dark. Even so, you always somehow found that path and went further up than the place that I have pointed to. As I was walking with you, I finally realized it. Your anxiety was another face of desperation, and that's what pushes you to practice 'til late at night, against everything over the limit on your own.
But now I step back, I can see you getting better and better. Because there's no reason for me to raise my finger and point towards a place. With your own strength, you are finding your own path. But still thank you, I wouldn't say I am proud of you just yet, because I am a greedy person. Let's hold onto that until the day you become the best group in the world. On July 12, a year, no, three years later…I will look in your eyes and tell you personally from my lips that I am thankful you stayed by me, and for bringing me here and allowing me to dream."
When you put that kind of story beside the history the band is making years later, one might think that nothing is impossible – especially when you're willing to put in blood, sweat, and tears.
What a relief there's seven
When you first get into K-Pop, some people usually have a bias. That's one member of the group you hugely identify with, the apple of your eye, if you may. Over time, one learns to love the group as a whole. I could tell you why I love each member, but that's a tale for another day. For now, let's do a quick roll call of the seven.
We have leader Kim Namjoon, also known as RM – a rapper, producer, writer, and overall amazing guy. Beware of RM's intelligence and command, but be more wary of those dimples.
There's Kim Seokjin, the eldest who never runs out of dad jokes and hearts to give. Apart from his singing, Seokjin, who also goes by Jin, is known for his gorgeous looks, but not as much as for his IDGAF attitude and love for food.
There's Min Yoongi – rapper, producer, writer, and owner of the best gummy smile in the world. He also goes by Suga, and Agust D. Don't be fooled by his savagery; you need to handle a sentimental and thoughtful person like him with care.
Jung Hoseok, who makes up the trio of rappers, producers, and writers in the group, is known for his sunny disposition and bridging the older and younger members. He goes by his stage name J-Hope, nicknamed Hobi, and is among the group's main dancers and official sound effects machine. Witness him in his element on stage and you'll never forget his name.
Park Jimin is a vocalist and main dancer in one. While he's light and graceful as a feather and sounds like an angel, Jimin has an eye for mischief and an unending well of confidence in his body. Apart from that, he is also the group's first line of support, always there to give each member a boost.
Kim Taehyung, also known as V, has vocals, visuals, and a mind that is one in a million. V stands out for his vocal color and for his big heart, steady soul, and childlike wonder, easily making friends with others.
Then there's Jeon Jungkook, the youngest and among the brightest. Nicknamed the Golden Maknae (Golden Child), Jungkook is something of a prodigy who does extremely well in tasks given to him. As the center of the group, Jungkook excels in singing and dancing. But if there's anything he does best, it's putting a smile on his hyungs' faces.
When I tell you that BTS is seven bodies with one mind, that's probably true. For some reason, these boys are so in sync and in tune with each other. Not only when they dance but in how they make decisions, react, and think. While you can credit that to practice and discipline, the boys also share a strong bond. Each of them play a vital role in the group not just when it comes to performances. When someone is in pain, they share the load. When someone is praised, they receive the honor together. They go on dates on their days off, and get each other gifts.
While they are seven very different people from all walks of life (some come from well-off families, others had to dovetail as delivery boys) BTS members manage to get along well to the point that they're each other's dearest friends. When they're not together, they miss each other. They go on dates by the river on their days off.
They refer to their dorms as "home." While some of the members own luxury apartments in the snazziest parts of town, these gentlemen prefer to live together, even after over five years of being stuck with each other's faces.
While they fight and argue, these boys are brothers in every sense of the word. Their dynamic and unique relationship, whether between a couple of members or BTS as a whole, is something that you would also like to have in your own circles. When they're together, it's either a time of chaotic fun or a fluffy, heartwarming mess.
In their 2016 album "Wings," each member has a solo piece in the repertoire. Jungkook debuted at 15 years old and was practically raised by the older members. In the song, he shares the huge part the other boys have in his life: they brought him out of his shell, he feels like dying when they are sad, hurt when they are sick, that they were the ones who helped him begin.
"When I was 15 years old, I had nothing / The world was too big and I was small / Now I can't even imagine now / I was scentless and completely empty / I pray/ Love you my brother I've got brothers / I discovered emotions, I became me / So I'm me / Now I'm me," says the first couple of verses.
In an episode of "Run BTS!," Yoongi writes a poem about them facing the world together. Using the metaphor of flight and the currency of irony, Yoongi describes how they were once dreamers who have become someone's dream, and yet the higher they fly, the more difficult it is to breathe, the more "lights that burn upon us, the more shadows appear." Still, he takes comfort in his bandmates.
"What a relief, that we are seven. What a relief, that we are together," he ends the poem.
I like to think a lot has to come in place to put everything together. It would have been very different if they had made different decisions throughout the years. RM could have preferred to debut on his own, Jungkook could have chosen another agency, for starters. And yet here we are.
Here and real for their music
In the K-Pop music industry, everyone can sing and dance, and look beautiful while they're at it. The industry cherry-picks these hopefuls and trains them rigorously into becoming the perfect idols. Many of these aspirants train to debut, and upon debut enter a different chapter of their lives as they become a face in a scene saturated with idols who are seemingly just like them: beautiful, charming, and can heat up a stage.
So in a country where idols come a dime a dozen, apart from their presence on stage, BTS stands out because they write and produce their own music and they do it well. That's how it has always been since their debut.
All the members aid in writing and producing material. Suga, for one, was promoted into a full member of the Korea Music Copyright Association in 2018, becoming the first BTS member to receive full membership.
BTS and the creative team behind them are as hands-on as hands-on could get: from the development of an idea, to the production of the sound, and the execution of the whole thing alongside the performance, style, and choreography. The creative process is hugely collaborative and happens year-round according to Suga. In an interview with MTV News, he details that members submit songs to Bang who provides input on an ongoing basis, producers and members work alongside each other as "equal partners" in the whole process.
"If we think something is not good, we'll openly say it. If there's choreography, for example, and it feels like it's going to be too taxing on our physical resources – as I said, we're not getting any younger – we'll say so and then we'll make those changes," said J-Hope.
"A lot of evolution takes place in the recording booth too," Jimin added. "Lyrics and melody that may seem OK, [then] once we actually start recording it, we may identify some problems...we'll come together, we'll discuss it, then discuss the changes we can make."
A lot has to happen before anything gets out. In an industry where writing your own music isn't really a requirement, many people appreciate that kind of authenticity in BTS. While it's almost a norm to sing someone else's words and you really don't have to lay down your guts for everyone to see through your music, BTS is one of those groups that have their own voice. They have something to say and know how to say it through their music. They make people listen.
In an interview with Time in 2017, leader RM said that the members share a common dream to put out things they strongly identify with.
"We came together with a common dream to write, dance and produce music that reflects our musical backgrounds as well as our life values of acceptance, vulnerability and being successful," RM said.
Indeed, in several interviews and live broadcasts, the members are able to take their songs apart and explain just how they were able to put them together. So when you flip through their albums' credits, you see that the same set of people work on the songs, they list down the respective studio that this track was made in, each studio for each member-producer. (To be continued tomorrow)