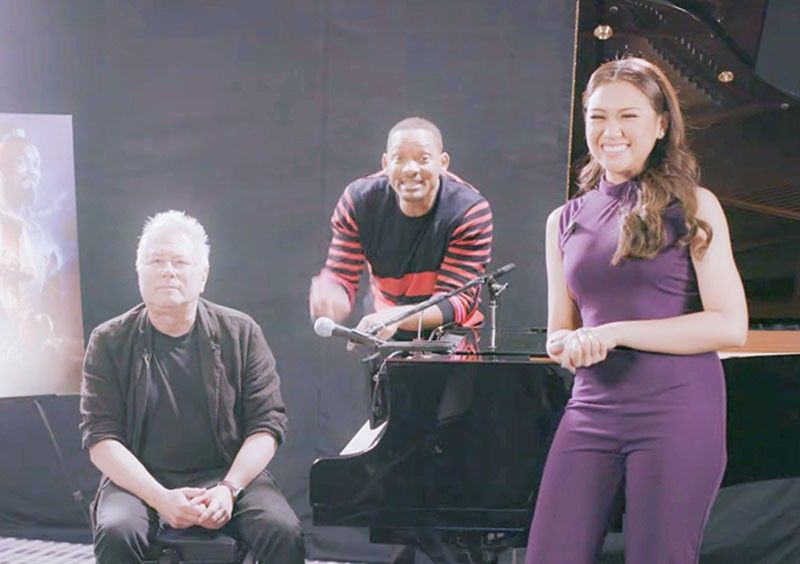 Morissette meets Will Smith, sings with 'A Whole New World' composer
CEBU, Philippines — It seems Cebuana singer Morissette Amon has found her very own genie, having been granted to live a magical moment most Disney fans could only imagine.
On a video uploaded by Disney Philippines, Morissette was sat on a flight bound for Japan, where a surprise by Disney was waiting for her.
"You're not going to believe it. But I think Disney just arranged for me to meet up with legendary composer, Alan Menken, and the Genie himself, Will Smith!" says the 23-year-old inside what seems to be her hotel room at the Ritz-Carlton in Tokyo, before erupting into a squeal of excitement.
The Minglanilla native, who laid her singing foundations through competitions like Little Big Star Cebu and finished strong on TV5's reality-singing competition "Star Factor" as a teen, recently teamed up with Darren Espanto to do their rendition of the Disney song "A Whole New World" from the 1992 animated film "Aladdin" in time for the release of the live-action remake which premiered last month.
In a strategy to localize marketing campaigns for their films, Disney has previously tapped other Filipino singers such as Rachelle Ann Go to sing the "Cinderella" theme song "A Dream is a Wish Your Heart Makes," Sarah Geronimo for "The Glow" of "Tangled," and Janella Salvador for "How Far I'll Go" of "Moana."
The 2019 remake follows the story of Aladdin, a "street rat" who finds a magical lamp and befriends the wish-granting Genie bound to it. He falls in love with the princess named Jasmine, and rivals the cunning and wicked Jafar. Directed by Guy Ritchie, the musical-fantasy stars Mena Massoud, Naomi Scott, Will Smith, Marwan Kenzari, Navid Negahban, Nasim Pedrad, and Billy Magnussen.
In the Disney Philippines video, Morissette walked in on "Aladdin" score composer Alan Menken and actor Will Smith, who portrayed the Genie in the live action version, jamming on the grand piano, the gentlemen warmly welcoming an elated Morissette.
"A lot of kids in the Philippines grew up to your music, including myself. And it's such an honor to be meeting you," Morissette told the Oscar-winning Menken, who had heard about the young singer through music and theater icon Lea Salonga.
Salonga not only performed "A Whole New World" as the singing voice of Princess Jasmine in the "Aladdin" animated film but was also among the panel of judges of "The Voice Philippines" where Morissette finished as a semi-finalist in 2013, opening a whole new world of opportunities for the upstart.
Merely known then as that promising Sarah Geronimo look-alike, the "ASAP" mainstay is now recognized as a breakthrough artist of her generation whose performances often reach viral status online.
Morissette then took the opportunity to ask the award-winning conductor, director, composer, songwriter and producer how it felt to revisit the music and the world of "Aladdin"after 27 years.
"It's incredible, it's great," replied Menken, who has scored for many Disney films such as "The Little Mermaid," "Beauty and the Beast," and "Pocahontas."
"It's kind of more contemporary. Working with Will... I didn't have to do anything."
Smith, a Grammy-winning rapper and award-winning actor, then wondered aloud if Menken and Morissette could indulge his little request of singing "A Whole New World"together. After gushing about how it was such an honor to be in the company of Menken and Smith, it was Morissette's turn to wow the gentlemen with her clear and powerful voice.
As of this writing, Morissette's little meet and greet is at #11 on YouTube PH's trending list, while the official video for her and Darren Espanto's "A Whole New World" performance is at #1 with over three million views since it came out on May 30.
On her Instagram handle, Morissette posted photos with Menken and Smith, revealing how challenging it was to keep things under wraps until the video came out. She had teased the meeting last month with a group photo at the Ritz accompanied with the caption "May binista lang kaming friend."
Apart from expressing her gratitude towards Disney, she shared that the quickie trip was worth it, giving a shout-out to Menken and Smith, along with a special acknowledgement to Lea Salonga who Morissette describes as "the original and forever Jasmine."
"Y'all don't know how difficult it was to keep this secret for quite some time," Morissette wrote on Instagram.
"We flew and stayed in Japan for only about 24 hours just for this then went back to the States at the time, and it was totally worth it! Never in my wildest dreams did I imagine getting to meet the award-winning composer behind a lot of Disney films, Mr. Alan Menken, and the incredible Will Smith playing the Genie in the live action remake of 'Aladdin'."