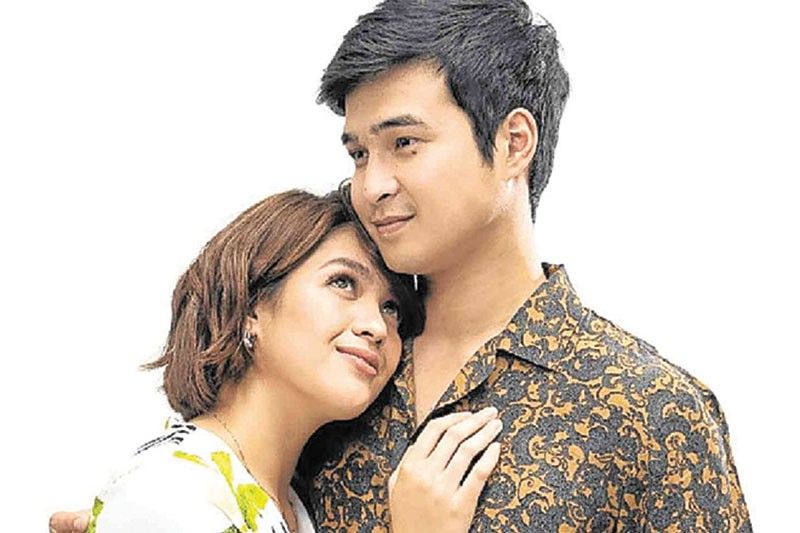 Jane Oineza and Jerome Ponce
'Finding You' launches Jerome Ponce as leading man
Newbie filmmaker Easy Ferrer started as a TV director in ABS-CBN before he was given the break to direct his own film in "Finding You" from Regal Entertainment which stars Jerome Ponce and Jane Oineza.
It's been his dream to be a film director. He had been writing and directing one-act stage plays in school from elementary until college in UP Diliman where he took up B.A. Film.
"When I joined Star Cinema, I was part of their creatives and after that I also joined the workshop of Sir Ricky Lee because I really wanted to have a career as a director," recalled Easy.
It was in 2017 when he pitched a story to Ms. Roselle Monteverde of Regal Entertainment. An opportunity eventually came his way and he grabbed it.
Direk Easy worked with Jerome and Jane in the teleserye "Nasaan Ka Nang Kailangan Kita" where he was an assistant director so there was no need to adjust to each other when they worked on "Finding You."
"Even if it's my first movie, they (Jerome and Jane) respected me. They are very collaborative. We have constant communication and they come to the set prepared. Since I've worked with them before, there was no tension. I didn't feel any doubt in what I am doing because they respected my vision of the film," he said.
What challenges did he encounter in helming his first movie?
"At first, when I looked at my stars, I felt fine. I felt it's okey because I have worked with them as an assistant director. But I realized, when you are the director, you carry all the responsibilities on your shoulder. I needed to look into every detail so that I can tell the story well based on my vision. There lies the difficulty so I consider 'Finding You' as my baptism of fire. This is what it is like to be a director. I did find some difficulty but I was able to surmount it and did what I have to do, and I am happy with the way the movie turned out."
"Finding You," the launching film of Jerome as a leading man, opens today in cinemas nationwide.
***
Carrying on the tradition of paying tribute to movie stars who have made an indelible mark in the industry through their significant bodies of work, this year's Icon Awards will be conferred upon Amalia Fuentes, Tirso Cruz III, Christopher de Leon, Joseph Estrada, Eddie Gutierrez, Anita Linda, Dante Rivero, Celia Rodriguez, Vilma Santos and Lorna Tolentino.
Meanwhile, as SPEEd joins in the celebration of the 100 years of Philippine Cinema, in partnership with the Film Development Council of the Philippines (FDCP) led by Chairperson Liza Diño, the group will also honor some of the industry's "unsung heroes" who work behind the camera.
These film workers are the backbones of movie projects.
For years, they have dedicated their talents, working tirelessly for long hours and deriving their professional satisfaction from their work behind the scenes.
Also included in the list are the three major studios that inspired new players in film production.
These are Sampaguita Pictures (represented by Marichu Vera Perez-Maceda) LVN Studios (Maroth de Leon) and Premiere Productions (Digna Santiago).
Completing the "Parangal Sa Sandaan" list are Armida Siguion-Reyna (posthumous), Val Iglesias, Vic Delotavo (posthumous), Romy Vitug, Romy Peralta, Lucy Quinto, Val Campbell, Rustica Carpio and Rosa Rosal.
The 100 years of Philippine Cinema was recognized through Presidential Proclamation 622 Series signed in November, assigning FDCP as lead agency for the celebration.
The editors' group has already unveiled the list of nominees for the third edition of The EDDYS.
"Citizen Jake," "Goyo," "Liway," "Rainbow's Sunset" and "Signal Rock" are the five films vying for the coveted best picture at this year's ceremony.
The EDDYS aims to encourage local filmmakers, producers, writers and actors to continue pursuing their passion for creating films that mirror the realities of our society.
The SPEEd is made up of entertainment editors of newspapers and tabloids circulated daily nationwide.
The non-profit organization, established in 2015, is led by Ian F. Farinas as president and Isah V. Red as chairman emeritus.